Katie Hargitt joined the IndyCar on NBC team in 2015, but was no stranger to motorsports or media work.
Hargitt is a former racer herself – she raced quarter midgets starting at the age of nine and moved into USAC midgets at the age of 15, and she continued racing until she was 21 – and began pursuing a career in media while at Ball State University.
She quickly got the attention of USAC and became a pit reporter with them, alongside several other gigs within the media realm.
"I loved it. I loved telling people's stories, even just around little (Muncie, Indiana), but I loved it. And I loved the people I got to meet, and the stories I got to tell," Hargitt told NBC Sports in discussing her early media career.
She quickly developed a demo reel that eventually got the attention of Mike King, then the lead announcer for the Indianapolis Motor Speedway Radio Network, who offered her a "tryout" of sorts at the 2013 Firestone Grand Prix of St. Petersburg, and her Verizon IndyCar Series reporting career was off and running.
Fast forward to 2018, her fourth season as a part of the IndyCar on NBC team, and Hargitt began looking at a new venture. She took note of several successful women within the IndyCar paddock, but also knew there were a lot more out there with the potential and the skill to work in the motorsports realm; they just lacked the connections and/or the resources to break into it.
"Ever since getting into IndyCar professionally, and racing in general professionally, I have seen this need for resources for women who are not necessarily drivers, because the women drivers are able to get attention, and therefore resources. The women behind the scenes – the mechanics, the engineers, the business women – don't necessarily get that same attention, therefore, no resources," Hargitt explained.
The idea led her to speak with Terry Lingner, producer of the NBCSN IndyCar telecasts, which then led to a conversation with Teresa Sabatine, Indianapolis Film Commissioner.
What she initially thought might be a single-day event at the Indianapolis Motor Speedway, one that would highlight all the motorsports careers young women could aspire to, quickly grew into something much bigger.
Now a non-profit dubbed Fuel the Female, Hargitt's newest venture aims to do exactly what its title says: metaphorically fuel girls and women to pursue careers within motorsports, or even in other STEM (science, technology, engineering, and mathematics) and business fields. In short, Hargitt hopes to use it to help empower women, no matter their career path.
"Now we are working on developing a scholarship for women who want to get into motorsports and need some assistance in their education. We're developing a mentorship program, and we'll also have some networking opportunities – so, just general events that anyone would be able to attend," she said in discussing her objectives and the projects associated with them.
All told, the process has taken Hargitt by surprise, notably because of how quickly it has gone.
"Everything is happening so fast," she exclaimed. "I feel like it should take years to get to where we are, just because of the incredible amount of support I have received, not only from people in the paddock but the general public."
She's even planned and held the first event for Fuel the Female as well. Back in May, during practice week ahead of Indianapolis 500 qualifying, Hargitt and the Fuel the Female team organized a day in which 60 female students from Indianapolis Public Schools came out to the Indianapolis Motor Speedway to meet and hear from a number of women who work within IndyCar in varying capacities.
Such women included Danica Patrick, Kate Gundlach (an assistant engineer for Chip Ganassi Racing), Cara Adams (the chief engineer for Firestone Racing) Lisa Boggs (the director of motorsports for Bridgestone Americas), Jessica Mace (a mechanic at Andretti Autosport), and Kate Guerra (Sr. manager, national media outreach, with INDYCAR).
And while Hargitt was certainly excited to kick off her program with such an event, she was also more than a little nervous.
"I was terrified going into the day, because I didn't know what to expect with high school girls," she revealed. "It could go one of two ways. They can either be fascinated and interested and want to know about motorsports, or they can be completely tuned out. Luckily, it was the first option."
Hargitt credited people like Lauren Guidotti (community outreach manager at IMS), Anne Fischgrund (Sr. manager VIP services at IMS), and Allison Melangton (Sr. VP of events for Hulman Motorsports and IMS) for helping to ensure that things went off without a hitch, and added that the students' involvement was genuinely incredible, with their willingness to be interactive and ask questions of the speakers making the event all the more powerful.
"We had fantastic students, and I was particularly impressed with one school in particular. All the girls introduced themselves to the speakers and shook hands with them and wanted to know more about their careers and reached out to us on social media – they wanted to know how they can stay involved and how can they know more about motorsports. I went into the day thinking 'If we can change a handful of girls' minds about what they can do with their lives, we've succeeded.' And I think we did that."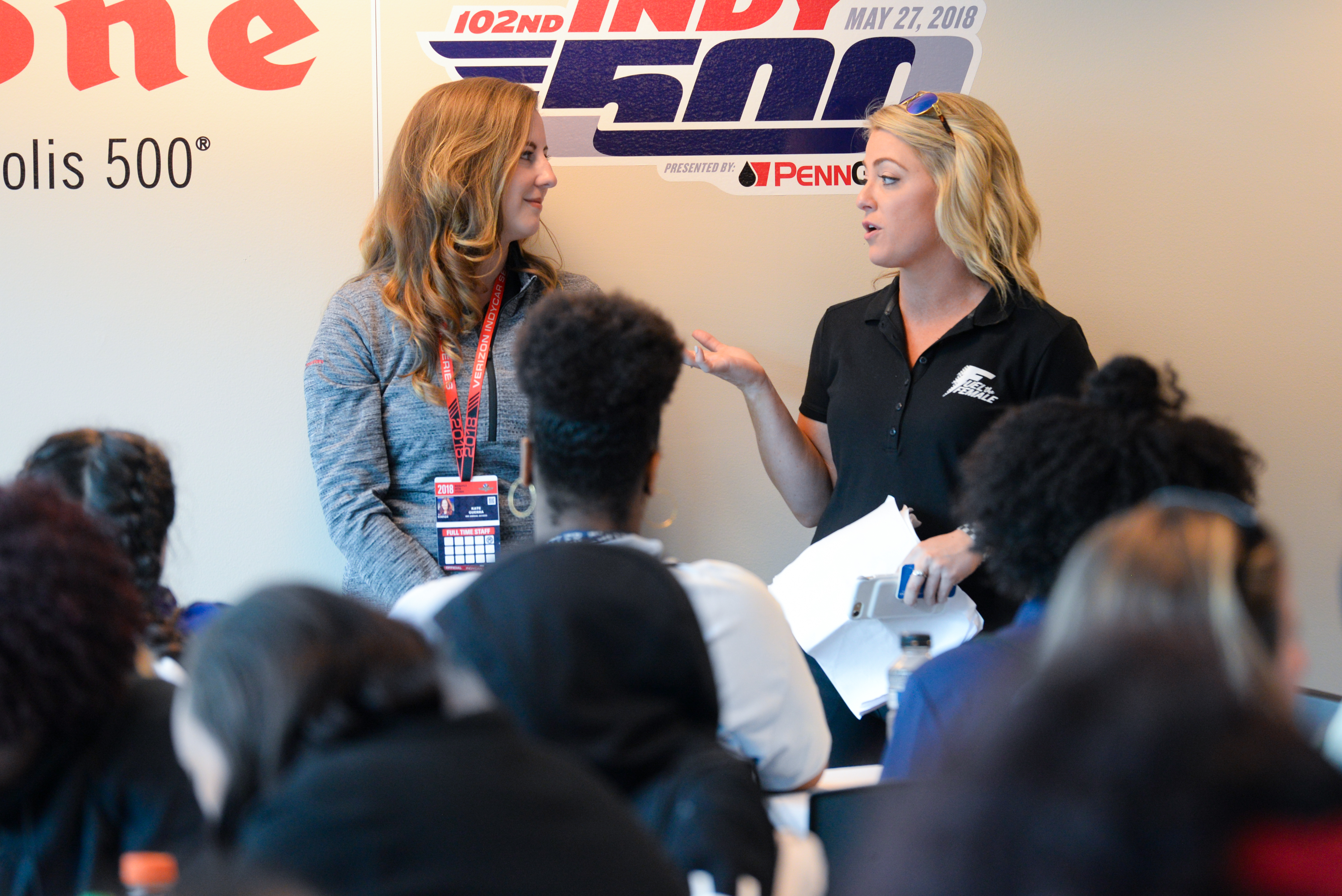 More events and plans are in the works, with recent projects including a slew of profile pieces on various women who work in racing – Brie Rentz (communications director at Ed Carpenter Racing), Gail Truess (AMR Safety Team driver with INDYCAR and pace car driver with the Mazda Road to Indy Presented by Cooper Tires), and Lauren Stewart (owner and operator of Lauren Stewart Promotions, and fiance of the late Bryan Clauson) are among those who have been profiled. Danielle Shepard (engineer at Ganassi) and Amanda Lund (engineer at Andretti Autosport) have also been featured on their Facebook page.
Hargitt described that her ultimate goal is to start raising funds to establish things like the aforementioned scholarships and mentorship programs to help up and coming women break into motorsports. And with their first big event already in the books, Hargitt can already see the potential impact of it all. She particularly noted how the students reacted to Danica Patrick's story, specifically her ventures outside of the sport.
"They were like '(Danica) is in her 30s and she did what? Like, she has businesses? You think I could have a business?' 'Yeah, girl, you could have a business!' 'Oh my gosh, here's what I want my business to be in,'" she said of conversations she had and overheard among the students. "Just, their brains really start to turn and their minds start to change – 'if she can do it, I can do it.'"
Hargitt added, "Seeing these women build their own brands and their own careers, and watching the students' eyes open up was enough to fill up my heart for a lifetime."
More information about Fuel the Female, including ways to get involved and donate to the cause, can be found on their website.