Courtesy: IMSA Wire Service
Dumas Leads Sahlen's Six Hours of The Glen Practice in CORE Autosport LMP2 Car
For the first time since the morning warm up for the 2017 Motul Petit Le Mans, an LMP2 car topped the time charts at the end of the first day of IMSA WeatherTech SportsCar Championship practice for the Sahlen's Six Hours of The Glen.
Romain Dumas did the honors in the No. 54 CORE Autosport ORECA 07 Gibson machine, clocking a best lap of one minute, 33.481 seconds (130.935 mph) around the 3.4-mile Watkins Glen International circuit. Even more impressively, it was Dumas' first time at Watkins Glen in 10 years.
"First of all, for sure the car is very good," said Dumas, who is sharing the No. 54 with co-drivers Colin Braun and Jon Bennett. "The balance is right. I didn't drive for 10 years here, so I just had to do some laps and improve myself more than the car. It's a good sign for the race. It's nice to be back here in this championship and in this car. So far, all looks great, so we have to continue."
It's been a good week for Dumas. Last Sunday, the Frenchman shattered the track record at the Pikes Peak International Hillclimb, navigating the 12.42-mile course in seven minutes, 57.148 seconds in an electric Volkswagen race car.
Dane Cameron posted the day's second-fastest time, which led the morning practice session at 1:33.562 (130.822 mph) in the No. 6 Acura Team Penske Acura ARX-05 DPi machine he shares with co-driver Juan Pablo Montoya. Coinicidentally, it was Montoya who last led a WeatherTech Championship practice in an LMP2 machine, when he paced the morning warm-up session prior to the 2017 WeatherTech Championship season finale at Road Atlanta.
Richard Westbrook, a winner at Watkins Glen in 2014, 2015 and 2016, led both GT Le Mans (GTLM) sessions on Friday, with his best time of 1:42.886 (118.966 mph) coming in the afternoon session aboard the No. 67 Ford Chip Ganassi Racing Ford GT he shares with Ryan Briscoe.
Sheldon van der Linde was quickest on the day in the GT Daytona (GTD) class in the No. 29 Montaplast by Land Motorsport Audi R8 LMS GT3. His best time, which also came in the afternoon session, was a 1:45.142 (116.413 mph). Van der Linde, co-driver Christopher Mies, and the Land team are competing in their first WeatherTech Championship race since the Mobil 1 Twelve Hours of Sebring.
WeatherTech Basking in Afterglow of Strong 24 Hours of Le Mans Performances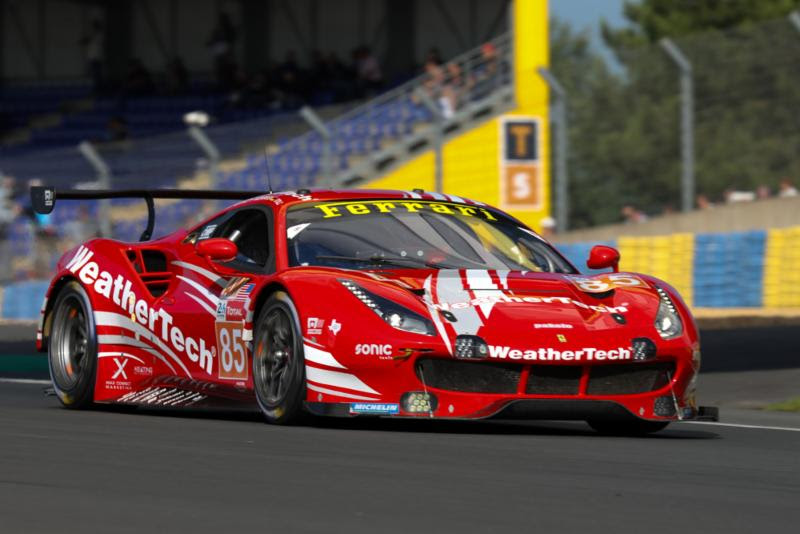 WeatherTech was well represented in the GTE Am class at the 24 Hours of Le Mans with a pair of Ferraris carrying the familiar logo.
The No. 84 JMW Motorsport Ferrari 488 GTE shared by Cooper MacNeil, Jeff Segal, and Liam Griffin sported a white WeatherTech livery similar to what the No. 63 Scuderia Corsa Ferrari team uses in the WeatherTech Championship GTD class. In addition, the red No. 85 Keating Motorsports Ferrari shared by Ben Keating, Jeroen Bleekemolen, and Luca Stolz also carried the logo.
WeatherTech got considerable screen time during the race telecast, as both cars ran among the leaders through much of the race. In the end, the No. 85 team finished on the podium in third, with the No. 84 fifth.
"Having two Ferrari 488s at Le Mans with the WeatherTech livery was very cool," said MacNeil. "I think WeatherTech had the most presence/identity of any two cars in the race. The combination of bringing our brand to Europe as well as supporting IMSA with our [WeatherTech Championship-branded] coaster giveaway at the parade to get both logos in front of the enthusiastic Le Mans fans.
"Both cars were well received and to have one on the podium and the other finish in the top five made for a very successful week in France."
A year after MacNeil stood on the Le Mans podium for the first time, Keating got the same experience this year with his third-place performance.
"This was my fourth Le Mans ever, and my first podium," Keating said. "This year and last year, I have been with WeatherTech. We were stablemates with WeatherTech in IMSA last year, and that fostered a great relationship with those guys. They've been a great partner for being able to go over there and pull off a run at Le Mans.
"It was just a really special experience. It was the first time in that race where I really felt like, 'We've got a shot' and that's a nice feeling to have when you're making the huge investment of time and money, and just blood, sweat and tears to make it over there for that race."
CJ Wilson Racing Returns to WeatherTech Championship Competition at Watkins Glen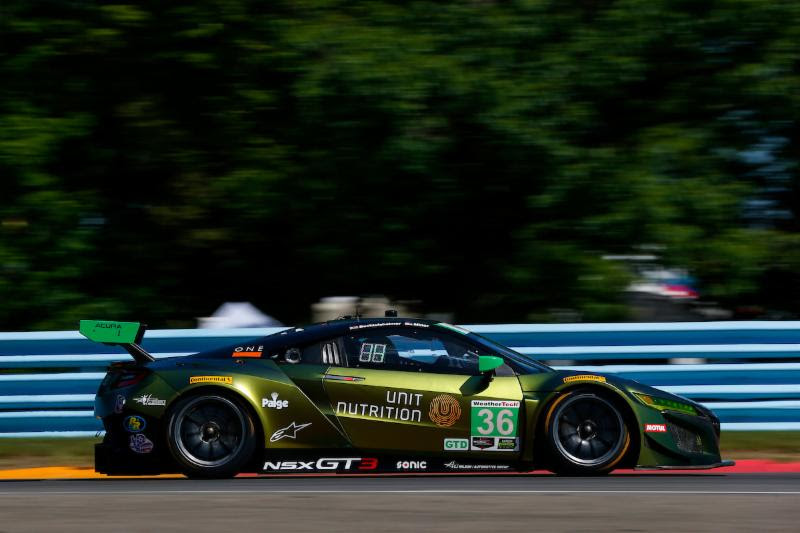 The No. 36 CJ Wilson Acura NSX GT3 is back in action at the Sahlen's Six Hours of The Glen with co-drivers Marc Miller and Till Bechtolsheimer. It is the team's second WeatherTech Championship race ever and its first since the Mobil 1 Twelve Hours of Sebring in March.
"We're just trying to shake off the cobwebs a little bit," said team owner C.J. Wilson, the former Major League Baseball pitcher. "I think a lot of the other teams have had a chance to get to know their cars a little bit better and we're still maybe a step behind. We made good progress today.
"We got to the point where we introduced different things by trying to push the setup and Till and Marc both had a lot of really good laps. We got a lot of time in, so now we just have to kind of dial in the car a little bit."
Wilson and Bechtolsheimer also were at the Pikes Peak Hillclimb last weekend driving Porsche Cayman GT4 Clubsport race cars up the mountain, though not quite as quickly as Dumas. Nevertheless, Wilson thoroughly enjoyed the experience.
"I had a chance to run Pikes Peak with Porsche and it was really super sketchy hilarious," Wilson said. "I was thinking how great it would be if I was racing here (at Watkins Glen), because there's no cliffs to fall off. People say, 'Man, the guardrails are really close at Watkins Glen,' but they're there. They're there to catch you if you push a little too far.
"It was a little bit uncomfortable, because on the actual race day, it snowed, it sleeted, it was windy, it was foggy, it was a little bit of everything that you wouldn't want to necessarily drive in, but it just sort of adds to the adventure. I'd love to go back and do it again if possible."
A final practice session for the WeatherTech championship rolls off at 8:00 a.m. ET, with qualifying set to begin at 11:35 a.m.