Round 10 of the 2018 Formula 1 season concludes a busy stretch of three races in a row between the end of June and early July, as the championship heads to the Silverstone Circuit for the British Grand Prix.
Max Verstappen and Red Bull Racing took advantage of Mercedes' blunders to win the Austrian Grand Prix, an outcome that left Mercedes, and Hamilton in particular, seething.
A trip to Silverstone may be just what the doctor ordered – Hamilton is the defending British Grand Prix winner, and his own home race will undoubtedly provide him with even more motivation to right the ship after the blunders at the Red Bull Ring.
Talking points ahead of the British Grand Prix are below.
Championship Fight Continues Its Twists and Turns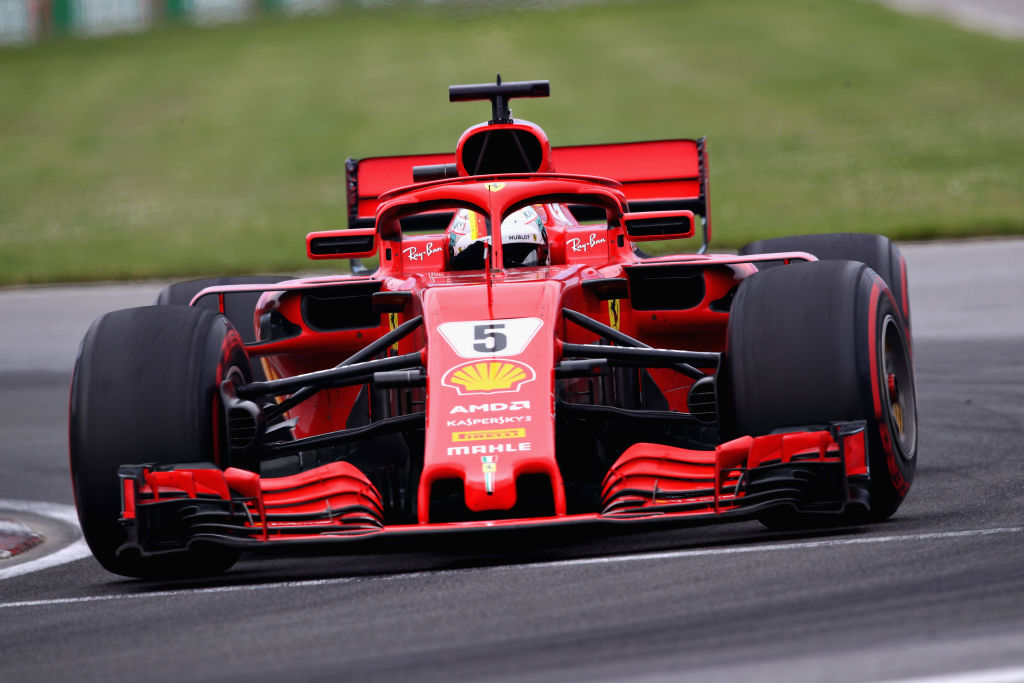 Sebastian Vettel is back in front of the driver's championship, leading Hamilton by one point – Ferrari also is back in front of the constructor's championship, by 10 points over Mercedes.
The ebb and flow of the championship has seen momentum in a constant state of flux between the two teams – it's almost as if this is becoming a championship no one wants to win.
Rest assured, the latter assessment is hyperbole, but it does not lessen to massive swings in momentum the season has seen.
Last week's Austrian Grand Prix is a perfect example. Ferrari was on the back foot entering Sunday's race – Mercedes locked out the front row, and was coming off a dominant win for Hamilton at the French Grand Prix, while Vettel started sixth after incurring a three-place grid penalty.
And with Hamilton and teammate Valtteri Bottas running 1-2 early on, it seemed like Mercedes would again roll to a seemingly easy win. But, following a hydraulic failure for Bottas, a strategic blunder for Hamilton, and then a power unit failure for Hamilton, Ferrari found itself with Kimi Raikkonen and Sebastian Vettel on the podium, while Mercedes was left with a double DNF – and Red Bull and Verstappen snuck through to steal the win.
Unpredictability is becoming a theme of the 2018 season, and it may well continue this weekend in Silverstone.
Opportunistic Red Bull Look to Steal More of the Spotlight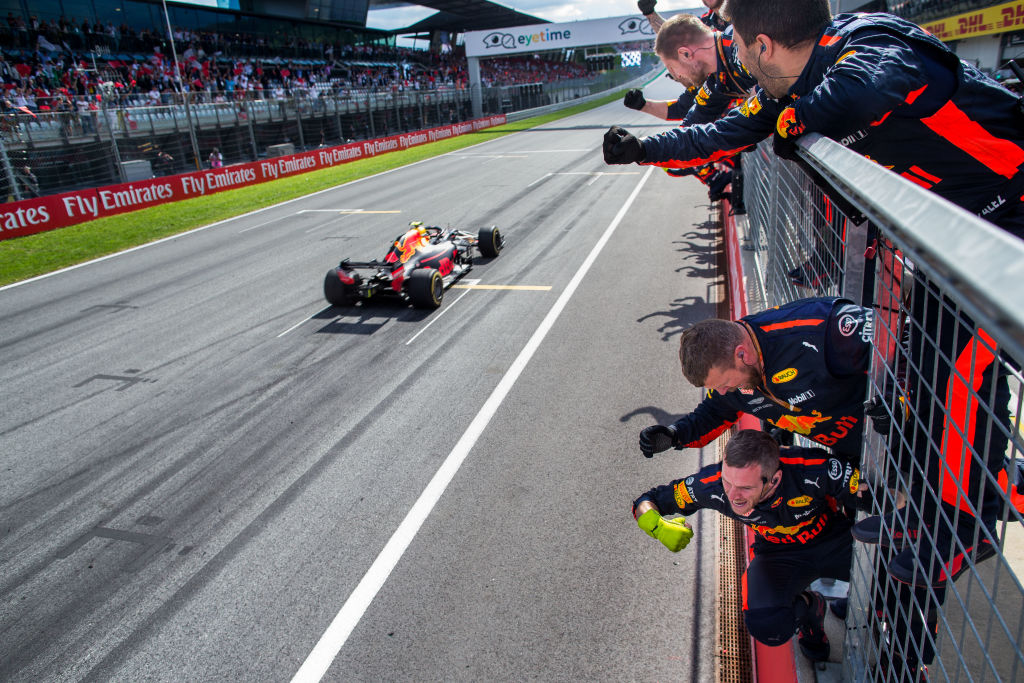 On sheer pace, Red Bull should probably not have three Grand Prix wins this year. They've only had raw, race winning pace – meaning they haven't had to rely on blunders from Ferrari and Mercedes to challenge for the win – at the Monaco Grand Prix.
Yet, Daniel Ricciardo has two wins on the board, and Max Verstappen is Formula 1's most recent winner, having taken the checkered flag in Austria.
But don't tell team principal Christian Horner that they shouldn't be considered title threats.
"Nine races, three victories, the same amount of wins as Ferrari and Mercedes," said Horner in a story on Formula1.com. "Our Achilles heel has been not scoring with both cars, either through reliability our other incidents."
He continued, "Formula 1 is full of ifs, buts and maybes, but if you look at the positions that we were in and should have been in then we should be leading the championship today – but the scoreboard is slightly different to that. We've closed the gap over the last few races, and there's still a long, long way to go. What are there, 12 races left? So I think you'd have to consider us as an outside contender. Certainly our determination within the team is to keep pushing and try and ensure that we're getting both cars ahead of our opponents."
The gaps in the driver's and constructor's championships both seem insurmountable at the moment – Ricciardo is the best of Red Bull drivers with 96 points, which leaves him 50 behind Vettel, while Red Bull as a team sit 58 points behind Ferrari in the constructor's.
But, if they don't have reliability issues, they can easily throw yet another wrench into the title picture.
Haas Keen to Build on Best Weekend in F1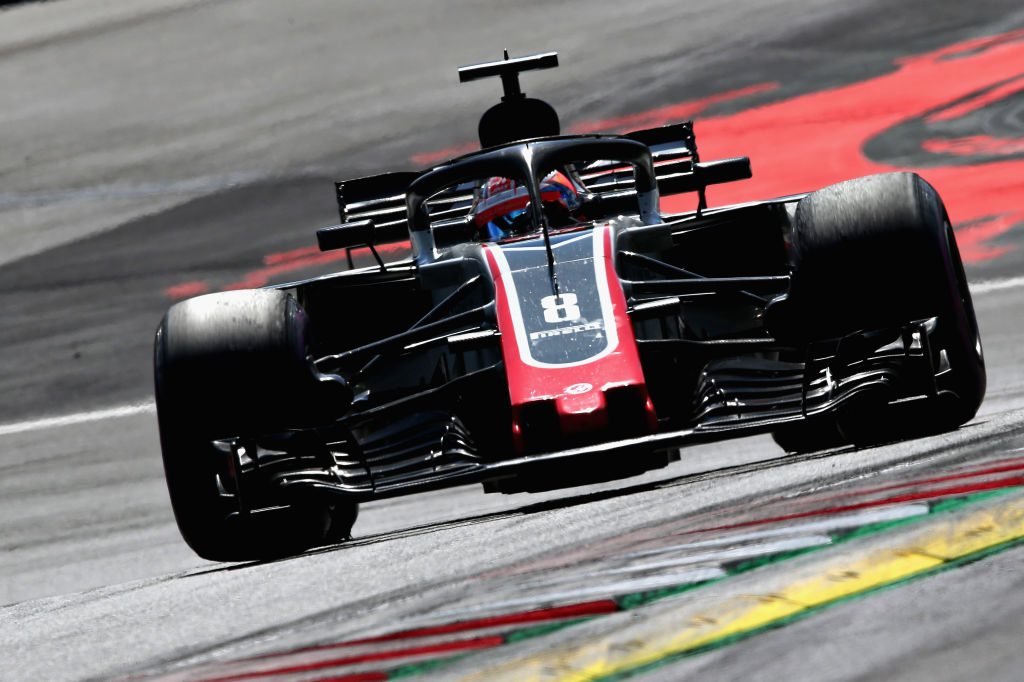 Despite showing pace good enough to battle well inside the points, Haas F1 has had a tough year. Prior to Austria, only Kevin Magnussen had scored for them in 2018, with Romain Grosjean having a big zero on the scoreboard.
And races like the Australian Grand Prix, when both Magnussen and Grosjean had the potential to finish on the podium, seemed to fall by the wayside, either by luck or error – in Australia, it was a pair of pit stop errors that cost them, as both drivers dropped out after exiting the pits with loose wheels.
But, Austria was the weekend they've been waiting for, as their impressive form finally netted them the results to match, with Grosjean finishing fourth and Magnussen in fifth.
It was their best result since entering F1 in 2016, and they'll look for even more of the same in Silverstone.
Misc.
Fernando Alonso finished eighth in Austria, but the wheels seem like they're coming off at McLaren. Alonso's finish was the team's first points scoring effort since the Spanish Grand Prix, and teammate Stoffel Vandoorne has not scored in five consecutive races. They showed promise early on, scoring in each of the first five races (including three double points finishes), but things have taken a dramatic turn for the worse in recent races.
Force India had their best outing of 2018 as a team in Austria, with Esteban Ocon and Sergio Perez finishing sixth and seventh. Outside of Perez's third place in Azerbaijan, Austria was the first time in 2018 that Force India has demonstrated the form that got them fourth place in the constructor's championship in each of the last two years. They'll look to build on that in Silverstone.
Charles Leclerc's stock continues to rise, as he has scored points in five of the last six races. Rumors are already starting to fly that he may replace Kimi Raikkonen at Ferrari next year – Leclerc is member of the Ferrari Driver Academy – and another points scoring effort will only add fuel to that fire.