To say it's been a difficult season thus far for Max Chilton is an understatement.
But Chilton, who comes into Sunday's Iowa Corn 300 at Iowa Speedway ranked 20th in the Verizon IndyCar Series standings, feels his team has strong potential to still make some significant gains this season.
"It's not gone to plan, to be honest," Chilton told MotorSportsTalk. "We're not where we want to be at the moment. … We came into (the season) knowing we could do a good job, but I think it's been a slightly more of a challenge than some people expected.
"That being said, though, I'd say we're the best new team. We had an 11th at Detroit and qualified mid-pack at Indianapolis, which is a good sign."
The 27-year-old native of Reigate, England moved to Carlin Racing for 2018 after spending his first two seasons in IndyCar racing with Chip Ganassi Racing. CGR scaled back from four to just two teams in 2018, freeing up Chilton to join Carlin in the latter's first-ever season in IndyCar racing.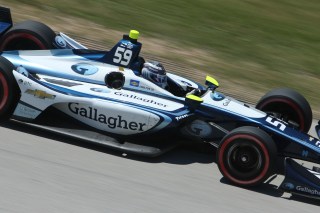 But while Carlin is new to IndyCar, it's not new to success in a variety of motorsports series around the world, including IndyCar's developmental league, Indy Lights.
"Carlin is a top motorsport team around the world and we have had huge success around the world running 22 race cars," Chilton said. "We also had success in Indy Lights in a short period of time.
"But considering I finished 11th in the championship last year, I thought we could aim for the same (this season). And possibly next year with Gallagher (primary sponsor) on board, I think we can attack the top-10.
"It's more of a challenge. The season is so intense, there's very little time for testing, so it's hard to make gains and move forward."
Chilton's top finish this season was 11th in the second race at Detroit's Belle Isle, followed by 12th at Texas. He comes to Iowa after a 17th-place finish two weeks ago at Road America.
"It's a different way of working," said of Carlin's IndyCar operation, which is based in Florida. "There's a lot of British people on our team.
"We definitely have a lot younger over-the-wall ages, and there's guys that have worked for Carlin for a while. That's enjoyable, but there's a lot of learning going on at the same time.
"The pit stops are not where we want them to be quite yet. And our strategy isn't quite where we want to be yet. That's the difference between us now and where the top teams are. Plus, we have engineers that have never done IndyCar before, so there's a huge amount of learning going on there, as well.
"Mechanically, our cars are faultless, I'd say that. I think they're equally the best out there as the top teams because they put in more hours than any other team, I can guarantee that, but we'll get there."
With seven races remaining, Chilton is 98 points out of 10th place in the IndyCar standings (currently occupied by Marco Andretti).
He's looking at the next two races – this weekend at Iowa, the shortest oval on the circuit at just .750-mile, and next weekend at Toronto – as pivotal to help turn things around.
Iowa could give Chilton his first top-10 finish of the season, as both he and Carlin have done well there in the past in Indy Lights racing.
"I've always enjoyed Iowa," Chilton said. "I had my first race win in America at Iowa in 2015 (in Indy Lights) with Carlin. I think Carlin has gone on to win at Iowa every year they've raced there in Indy Lights (since 2015).
"I feel like we have the knowledge and understanding of what you need to achieve out of your car to be successful there. That being said, that's easier said than done, especially when you only have 60 minutes to practice before qualifying (both practice and qualifying is Saturday). We have more of an upper-hand there than at other tracks because of what they've done there in the past."
And then the series moves on to the temporary street course next weekend at Toronto.
While he's disappointed at where he sits in the standings, Chilton has not lost focus on what he hopes to achieve in the season's remaining seven races.
"What we have to do is just focus on one-race results," he said. "If we can just get one race result that would mean everything.
"And yes, that would naturally help your standings, but I think it'd be embarrassing to say we're focused on where we are in the championship at the moment because we're not in that position to be going for a championship standing.
"We're just taking each race at a time and try to maximize each race weekend as it comes."