CORE autosport rose to the occasion for the second week in a row to take pole for Sunday's Mobil 1 SportsCar Grand Prix from Canadian Tire Motorsport Park.
Colin Braun piloted the No. 54 Oreca 07 Gibson to a quick time of 1:06.315, bettering Acura Team Penske's Dane Cameron by over two tenths of a second – Cameron's best lap was a 1:06.540 in the No. 6 Acura ARX-05 – to give CORE its second consecutive pole. In doing so, Braun utterly destroyed the previous track record (a 1:08.459 from Ricky Taylor, set last year) by over two seconds.
An elated Braun credited CORE for their recent run of success.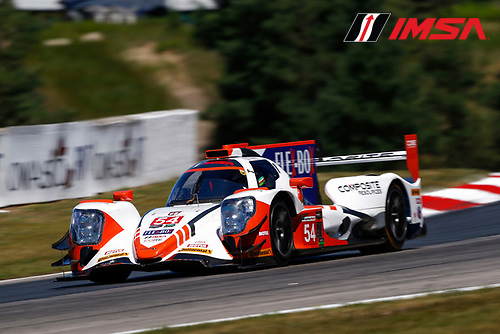 "It's a testament to these CORE autosport guys," Braun explain. "The ORECA is really fast and we were fast at The Glen. This car is just a blast to drive. I love it around here. It's probably my favorite racetrack. It's definitely a place I enjoy coming."
Robert Alon qualified an impressive third in JDC-Miller Motosports' No. 85 Oreca, while Renger Van Der Zande (No. 10 Cadillac DPi-V.R for Wayne Taylor Racing) and Jonathan Bomarito (No. 55 Mazda RT24-P for Mazda Team Joest) filled out the top five.
Of note: Helio Castroneves, who crashed heavily during Friday's second practice, qualified sixth in the sister No. 7 Acura for Penske, while Tequila Patron ESM qualified the No. 22 Nissan Onroak DPi in eighth (Pipo Derani and Ryan Dalziel share the lone entry from ESM this weekend, as the team ran short of spare engines following three separate engine failures during the weekend of the Sahlen's Six Hours of the Glen).
In GT Le Mans (GTLM), Nick Tandy put Porsche GT Team on the pole with a quick time of 1:13.517 in his No. 911 Porsche 911 RSR. Tandy beat out Ford Chip Ganassi Racing's Ryan Briscoe by over three tenths of a second – Briscoe's best lap was a 1:13.831 in the No. 67 Ford GT.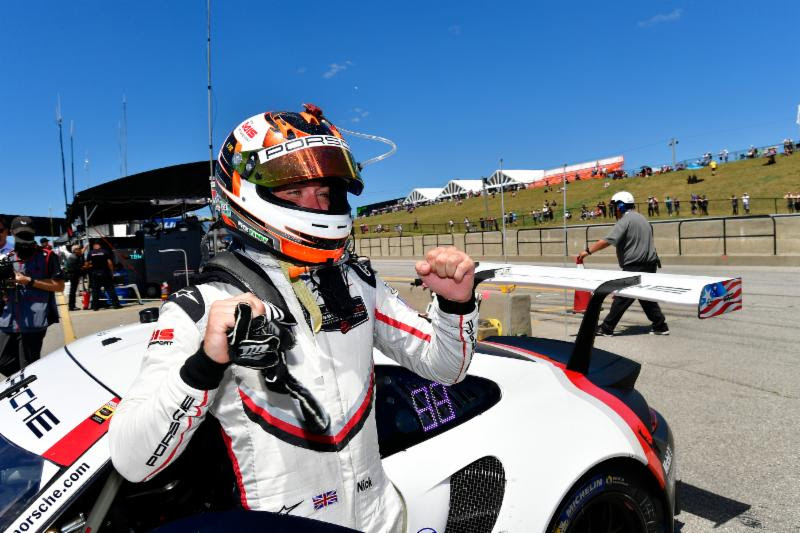 While pleased with the pole, Tandy kept his enthusiasm muted, highlighting that the race will be a much bigger challenge, especially in hot conditions they're expected to see on Sunday.
"I mean, qualifying is one thing. It's going to be hot this weekend. It's good we can bring our tires up to temperature and the Porsche is obviously really good on this track. We showed that last year. But the race is obviously not one lap long, so we'll see what the pace is going to be on the long run," Tandy detailed.
Jan Magnussen qualified third in No. 3 Corvette C7.R for Corvette Racing. Laurens Vanthoor (No. 912 Porsche) and Oliver Gavin (No. 4 Corvette) rounded out the top five.
In GT Daytona (GTD), 3GT Racing enjoyed a banner day with their Lexus RCF GT3 entries, with Jack Hawksworth (No. 15 Lexus) and Dominik Baumann (No. 14) qualifying 1-2. Hawkworth turned in a best lap of 1:15.581, roughly half a second quicker than Baumann, whose quick lap was 1:15.581.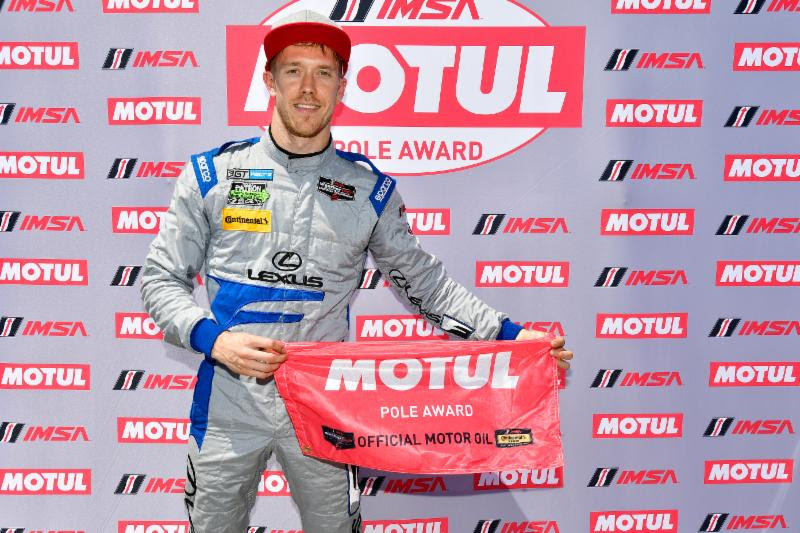 Hawksworth revealed that the high-speed nature of the track fits the Lexus platform form well, which helped them to a 1-2 in qualifying.
"We knew this would be a track that really suited us," said Hawksworth. "It's almost designed for our car, this type of track. We knew we were going to be strong. I'm really happy with how well we've been performing this whole week. We've been fast since the moment we came off the truck."
Bryan Sellers qualified third in the No. 48 Lamborghini Huracan GT3 for Paul Miller Racing, the current GTD championship leaders. Ben Keating (No. 33 Mercedes-AMG GT3 for Mercedes-AMG Team Riley Motorsports) and Michael Schein (No. 16 Porsche 911 GT3 R for Wright Motorsports) rounded out the top five.
Results can be found here. Sunday's Mobil 1 SportsCar Grand Prix rolls off at 1:55 p.m. ET, but will be televised at 4:00 p.m. ET