Josef Newgarden appeared to be headed toward his second dominant victory at Iowa Speedway in three years. He utterly decimated the field in the 2016 Iowa Corn Indy 300, leading all but 18 laps, and the 2018 iteration appeared to going in a similar direction.
Newgarden took the lead from Team Penske teammate Will Power on Lap 24, and he set sail from there, leading 229 laps and lapping the field all the way up to the top five in his No. 1 Hitachi Chevrolet.
However, Schmidt Peterson Motorsports' James Hinchcliffe had been stalking him through the second half of the race, and used traffic to close on Newgarden's gearbox with less than 50 laps remaining.
And when Newgarden had trouble lapping Power, Hinchcliffe pounced, slicing his No. 5 Arrow Electronics Honda to inside with 45 laps to go.
Newgarden then faded to over eight seconds behind Hinchcliffe, but a late yellow for a spinning Ed Carpenter appeared to give him new life as it erased Hinchcliffe's lead and gave Newgarden and Penske a chance to pit for fresh tires, which they elected to do.
However, with only five laps remaining, there was simply not enough time to run through the yellow procedure before the race concluded, and Newgarden never got a chance to race under green with the new tires.
The circumstances saw Hinchcliffe take the win, while Newgarden ended up fourth, the extra stop ultimately costing him a podium – he had been running second prior to pitting.
Though disappointed, Newgarden was gracious in defeat.
"This is IndyCar racing. You have to expect the unexpected," he explained. "It's never sorted out and locked up right at the beginning. We had a great No. 1 Hitachi Chevrolet and for the first half of the race, we had the car to beat. And it just fell away from us. Sometimes you can't predict exactly what you're going to need at the end of these things.Today, we didn't have exactly what it was that we needed but we'll come back and try it again. I think Hinch (James Hinchcliffe) did a great job. Congrats to him and Schmidt Peterson Motorsports."
Robert Wickens and his No. 7 Lucas Oil Honda for SPM also pulled the same strategy as Newgarden and pitted under the late yellow. And like Newgarden, the move cost them a podium – Wickens had been running third at the time, but ended up finishing fifth.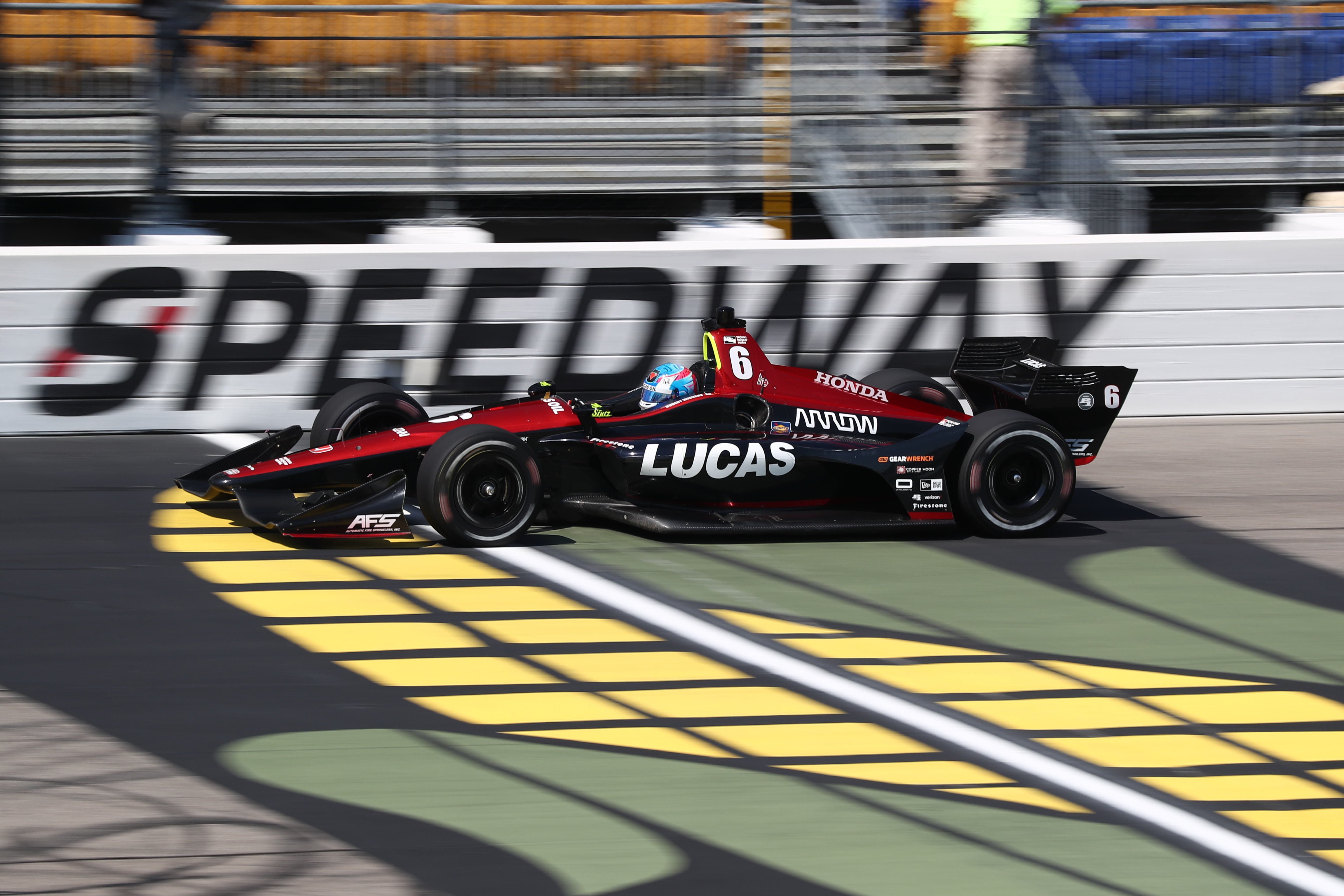 But, like Newgarden, Wickens was gracious afterward and highlighted that it remained a strong outing for SPM.
"In the end, it's a great day, great day for Honda, great day for Schmidt Peterson Motorsports. Two cars in the top five. It should have been a double podium and there would have been nothing sweeter than to celebrate Hinch's (James Hinchcliffe) win than being on the podium with him," Wickens revealed.
Pigot, Sato Inherit First Podiums of 2018
The mistimed pit stops for Newgarden and Wickens opened the door for Spencer Pigot and Takuma Sato to grab their first podium finishes of the 2018 Verizon IndyCar Series season.
And while luck certainly played a role in netting them second (Pigot) and third (Sato), their runs to the front were completely on merit.
Pigot had arguably the drive of the day. After qualifying a lowly 18th, the Ed Carpenter Racing driver methodically moved his No. 20 Fuzzy's Vodka Chevrolet forward and ran inside the top three in the second half of the race.
Similarly, Sato quietly worked his way forward after starting tenth to run inside the top five in the final 100 laps.
Both drivers ran fourth and fifth in the waning laps prior to the late yellow, and moved up to second and third when Newgarden and Wickens pitted.
And both were happy to inherit their places on the podium to cap off their best days of the season.
"It was a tough race out there," Pigot said afterward. "Right from the get-go, I knew that we had a fast car the way we were able to pass some people through the beginning of the race, and then as the stint went on, I just thought we got kind of stronger and stronger and was really able to close down and pass people. Yeah, I mean, I can't thank the guys enough. We made a few changes from qualifying yesterday. Obviously that was a little disappointing, but we kept our heads down, and the guys in pit lane did a great job and executed really well."
For Pigot, the result is a much needed shot in the arm after troublesome start saw him fail to score a top 10 until Race 1 of the Chevrolet Dual in Detroit (he finished 10th).
On the heels of an eighth place at the KOHLER Grand Prix at Road America, Pigot now has back-to-back top 10s.
"We've had a season that I think we could have executed a little bit better at times, but today everything went right, and we found ourselves on the podium, so it's definitely a great feeling," he added.
For Sato, the third-place result is his first podium since re-joining Rahal Letterman Lanigan Racing this year, and is his second top five in a row – he finished fourth at Road America. Further, it comes on a weekend in which they struggled initially – Sato was 16th fastest after first practice – and rebounded to get a strong result.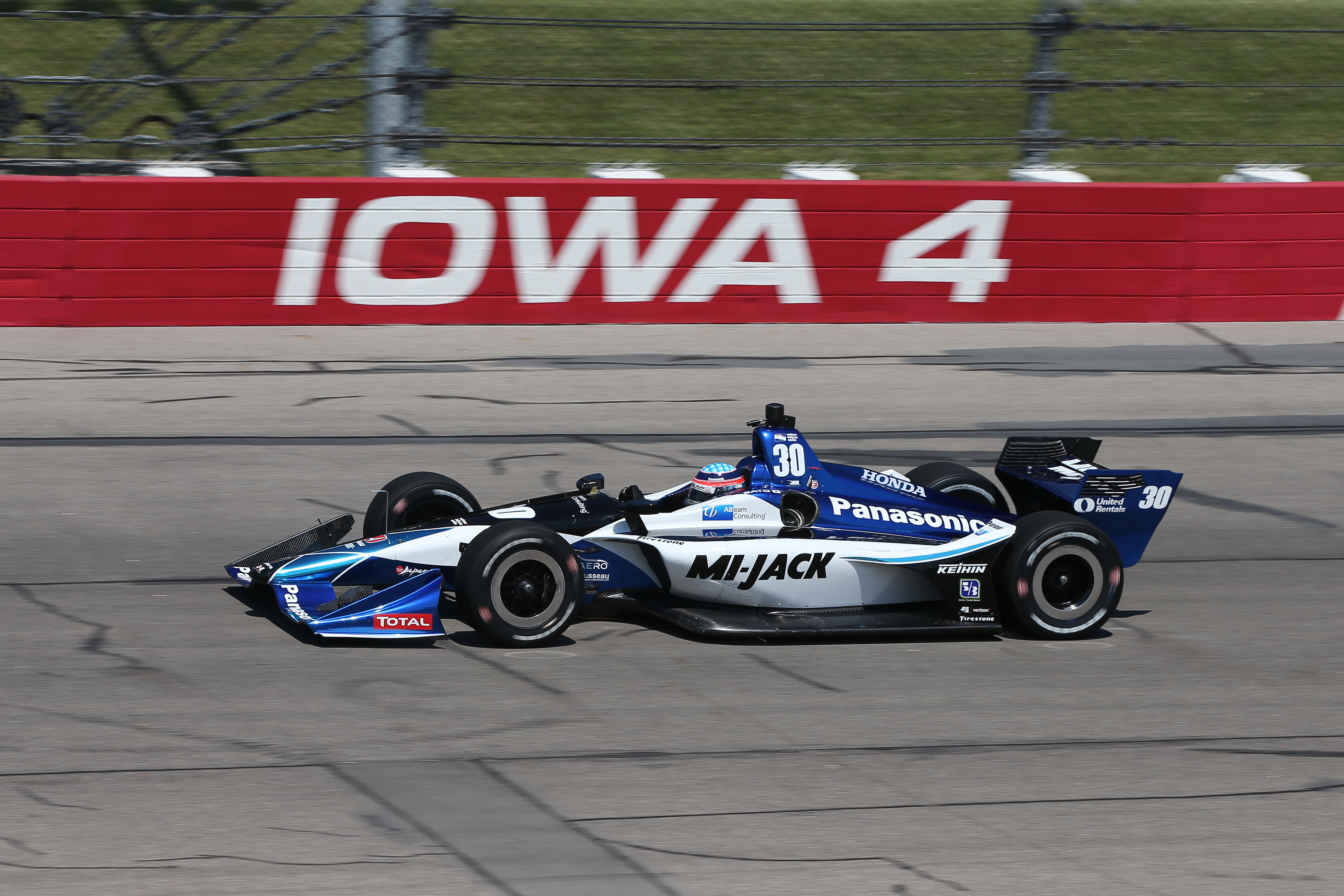 "I think we put on a really good race, and me particularly, obviously very happy to be on the podium, but this was a great achievement from Rahal Letterman Lanigan Racing because obviously I didn't think we had a podium finish car after the first practice session where Graham and I finished, I don't know, 17th, 19, things like that. We kept that last week. We really struggled, but I think all the engineering did a fantastic job moving up over the session, and in the end I think we pulled a really great car. So big thank you to the whole team, and the No. 30 car was fantastic today," Sato said afterward.
The results moved Newgarden up to second in the championship, while Wickens sits sixth, Sato 12th, and Pigot 14th.