It was a day of flag waving, so to speak, for James Hinchcliffe.
First, the Mayor of Hinchtown won under a yellow caution flag in Sunday's Iowa Corn 300 at Iowa Speedway.
Then it was time for Hinchcliffe to celebrate in victory lane, wrapping himself in a Canadian flag, showing pride for his homeland. Plus, it also gave Hinchcliffe and his team great momentum going into next Sunday's win in his native land with the Honda Indy Toronto in the streets of downtown Toronto.
Ed Carpenter brought out the caution on Lap 295 of the 300-lap race. Carpenter got loose and Takuma Sato made contact with Carpenter's left side of his front wing, bringing out the caution flag.
There was not enough time left on the .750-mile oval to resume the event under green flag conditions, giving Hinchcliffe and his Schmidt Peterson Motorsports Honda the win.
It was Hinchcliffe's second career win at Iowa to go along with his first win there in 2013, his first-ever repeat win at a racetrack on the series.
"Man what a way to do a win," Hinchcliffe told NBCSN. "Man, it feels good to do a double here at Iowa."
In addition, it was Hinchcliffe's sixth career IndyCar win and his first since at Long Beach in 2017.
It also gives him renewed confidence after a rough season and enhanced momentum heading to Toronto, not far from his hometown of Oakville, Ontario.
After playing second fiddle for most of the race to Josef Newgarden, who put on a dominant display from the opening laps, Hinchcliffe finally passed Newgarden on Lap 258 and set sail to victory.
It was some consolation for Hinchcliffe's team after failing to qualify for and missing this year's Indianapolis 500.
"For everybody at Schmidt Peterson Motorsports and the whole Arrow Electronics team, this is such a good feeling after what happened in May," Hinchcliffe told NBCSN. "We knew we had it in us.
"We didn't qualify the best, had a good car. … The last (pit) stop, that car was a rocket ship. Just going into Toronto like this, we're so stoked."
Spencer Pigot finished an IndyCar career-best second place — and also in his first IndyCar start at Iowa.
"Right from the get-go, I knew we had a fast car," Pigot told NBCSN. "Before we knew it, we were right up near the front. It was a real team effort, it was fun, tough, lots of close racing, but yeah, I enjoyed it."
Pigot was followed by Sato (his best finish of the season and third consecutive top-10 showing), Josef Newgarden and Hinchcliffe's SPM teammate, Robert Wickens in fifth.
"I think I was more surprised at how much he picked up," Newgarden said of Hinchcliffe catching and passing him. "I can't complain much, but it's a tough pill to swallow, seeing Hinch going by me. We just didn't have it at the end.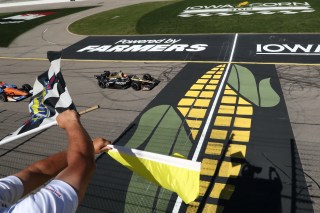 "For the first half of the race, we had a great car. It just went away from us. We tried to do what we could to be competitive there at the end (stopped for four tires with three laps left), but we just ran out of time. … Congrats to Hinch. He did a great job. They did a good job at the end and deserved to win."
Even though he fell short of his fourth win of the season, Newgarden managed to get a little bit of consolation, moving up to second in the standings, just 33 points now behind Scott Dixon, who remains on top even though he struggled to a 12th-place finish.
Newgarden was dominant throughout more than the first two-thirds of the race.
He lapped the entire field – with the exception of Hinchcliffe – in the first third of the 300-lap race.
It got even more difficult for his competitors: Newgarden went two laps up on every driver in 10th place or worse by Lap 127.
But by Lap 172, Hinchcliffe had closed Newgarden's lead to less than a half-second, while several other drivers got their lap back, as well.
Hinchcliffe's teammate, Wickens, was upset that his team called him in to pit with three laps left for tires, costing him a potential podium finish.
"It was the team's (decision to pit for tires)," Wickens said. "They said there was going to be one lap remaining and so we pit, thinking we were at least going to be on the podium and then they threw the checkered. So we threw away a podium and good points."
Sixth through 10th were pole sitter Will Power, Graham Rahal, Simon Pagenaud, Ed Carpenter and Alexander Rossi.
NOTES:
* Simon Pagenaud bounced back nicely from a blown engine during Saturday's final practice. Pagenaud finished eighth.
* Zach Veach, who finished 20th, suffered a minor fire in the pits on Lap 79, but the team quickly extinguished it and he was able to return to the track. Veach also had a fire during May's Indianapolis 500.
* Troubles continued for Veach on Lap 140 when he got loose coming out of Turn 2, tried to save it, but glanced off the outside wall. Veach's car did not sustain much damage and he was able to add two more laps under caution before the pits were opened.
* Alexander Rossi had a terrible pit stop on Lap 84. His car stalled as he left his pit stall. His team had to push him back and it took several seconds before the motor was able to re-fire. He lost close to one lap in time on the .750-mile track, leaving him two laps back by Lap 88. Even so, Rossi was able to turn a bad day into a not-so-bad day, finishing 10th.
* Sebastien Bourdais went an incredible 96 laps on his first tank of fuel. All other drivers stopped for fuel for the first time between 75 and 85 laps.
* Ryan Hunter-Reay, who had a strong weekend of practice and qualifying, spent much of the final third of the race with a suspension issue, preventing him from winning for a fourth time at Iowa. That included making an unscheduled pit stop on Lap 240 to see if it could find the source of the problem, but his pit crew could not do so. He returned to the track but once again hit the pits on Lap 287 for another examination; nothing was found once again. Hunter-Reay finished a disappointing 19th, 17 laps down.
"It was a nightmare of a day, an absolute nightmare," Hunter-Reay told NBCSN. "The radio didn't work. I couldn't talk to (his crew), but I could hear them. I had a massive vibration that I couldn't tell them about. The left rear was wobbling around. They couldn't find it at first. I nearly crashed 30 times. I'm just lucky I'm okay and the car is okay and we got away from it because we had a horrible day. Hopefully we can go to Toronto, get back on top and win that one."