It may be one of the more non-descript races on the Verizon IndyCar Series schedule, but in a way, winning Sunday's Iowa Corn 300 at Iowa Speedway was like winning the Indianapolis 500 for James Hinchcliffe.
Sure, there weren't 250,000-plus fans in the stands – although there still was a decent crowd at the .750-mile oval in the middle of Iowa's corn country.
And no, there wasn't Indy's pomp and circumstances such as "Back Home Again In Indiana" and the celebratory post-race chug of milk in victory lane.
But for a season that has been highlighted by failing to qualify for the Indy 500 – uh, err, make that a season that has been LOWLIGHTED by missing the Indy 500 – Hinchcliffe's win Sunday was in some way as important and impactful as winning the Greatest Spectacle in Racing.
"Very good day, very good day," Hinchcliffe said in Sunday's post-race press conference. "The best day. You know, it's so nice to be back up top after kind of the season that we've had, obviously the month of May that we had."
If you look at Hinchcliffe's overall season to date – minus the Indy 500 embarrassment – he hasn't really had that bad of a year overall.
Including Sunday's win, he now has four top-fives, eight overall top-10s and an 11th and 16th (both Belle Isle races) in the 10 races he's qualified for.
But this has also been a season that has been marked by – and will likely forever be marked by – the ignominious disaster at Indianapolis. It's something Hinch and his team will likely never, ever be able to shake.
That's why Sunday's victory, regardless of where it came at, is so very important in the overall scheme of things in 2018 for the Mayor of Hinchtown and his team.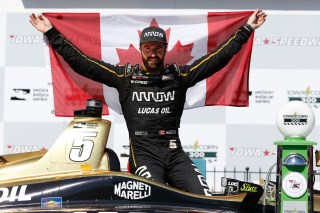 Prior to the 500, Hinchcliffe was as high as fourth and no lower than sixth in the Verizon IndyCar Series standings.
With Sunday's win, he moved up from 11th (where he was since missing the 500) to eighth in the INDYCAR standings. With six races remaining, he's still 131 points behind series leader Scott Dixon.
A long shot for the championship indeed, but what a Cinderella story it Hinch uses Sunday's triumph to become the hottest driver on the circuit going forward.
In a way, Hinchcliffe has seemed to be in somewhat of a fog since missing Indy. While he tried to put his usual positive, smiling happy face on everywhere he went, there's no denying that missing the biggest race in the world has continued to gnaw at him and his psyche.
He'll be the first to admit it.
"Something like what happened to this team in May can really get you down," Hinchcliffe said. "I mean, obviously that's our Super Bowl, our Wimbledon, our Masters all wrapped into one.
"To miss it was a huge blow for every single member of the team. I mean, I don't know if anybody saw the NBC feature that aired before the race, but we had grown men like in tears, like a lot of them in a lot of tears on bump day there. It just shows how much it means to us.
"To not make it can very easily just get a group down and you can get despondent. You can kind of lose track of what the real goal is and lose motivation. But no one in this group suffered from that at all. If anything, it fueled us and made us want to perform better and push harder and work harder."
Hinch had pretty much conceded Sunday's win to Josef Newgarden, who dominated the race until Lap 258 of the 300-lap event, when somehow, some way, Hinchcliffe slipped past Newgarden and sailed on to victory – helped, of course, by a late caution that prevented the race from having one final restart.
"Josef was just so dominant, I didn't think we had anything for him," Hinchcliffe said. "I thought we were kind of running for second to be honest, and then that last stop, the aero crew just nailed it on the pit stop, gave us a really good change, and the car just came alive.
"Was able to put it wherever I needed to to get through traffic, and that's the only reason I was able to catch Josef and ultimately get by him was just our ability through traffic."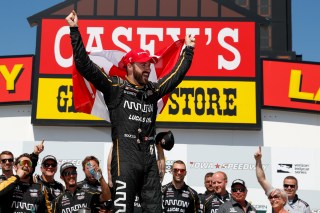 Earlier Sunday, before the race, I came across something on the web. It mentioned how July 20 will mark the 49th anniversary of man landing on the moon, and the infamous words late astronaut Neil Armstrong said: "That's one small step for man, one giant leap for mankind."
As I began writing this column, that same phrase popped back in my mind, because it is so appropriate in Hinchcliffe's case.
By winning Iowa, it may have been one small step for Hinch, but it also was one giant leap for him and his team to move past Indy once and for all.
Instead of dreading going back to Indy next year, now he can focus on bouncing back to win the 500, which would be one of the biggest giant leaps IndyCar racing has ever seen.
"Yeah, people are going to keep talking about it until we go back, right?" Hinchcliffe said. "Even if the conversation dies for the next little while, as soon as May 1st comes around, it's going to come back up. Yeah, for sure.
"If we just keep doing what we've been doing and not focus on it, and when we get back to Indy next year, not think about it, just kind of put it out of our heads, I think we'll be in good shape."