The Mazda Road to Indy Presented by Cooper Tires kicked off its weekend on the streets of Toronto on Friday. The Indy Lights Presented by Cooper Tires held practice, while the Cooper Tires USF2000 Championship Powered by Mazda and the Pro Mazda Championship Presented by Cooper Tires held their first qualifying sessions of the weekend (Race 1 qualifying for USF2000, while Pro Mazda held qualifying for Race 1 and Race 2).
Quick recaps of those sessions for all three series are below.
Pro Mazda: VeeKay Sweeps Toronto Poles

Rinus VeeKay entered the weekend 46 points down to Parker Thompson in the championship and in need of a banner outing in order to make up ground. And he got his weekend off to a perfect start by capturing the pole for both Pro Mazda races, taking a pair of crucial championship points in the process.
Race 1 sees David Malukas, the winner of both races at Road America, flank VeeKay on the front row, with Thompson qualifying third ahead of Sting Ray Robb and Robert Megennis.
Race 2 again sees VeeKay and Malukas on the front row, though Thompson will start 14th and last on the grid after not setting a time due to an electrical issue. Megennis, Harrison Scott, and Sting Ray Robb round out the top five starting spots for Race 2.
In all, it means the door could be open for VeeKay to gain significant ground on Thompson in the championship hunt.
USF2000: Dickerson Takes Race 1 Pole, Kirkwood to Start Third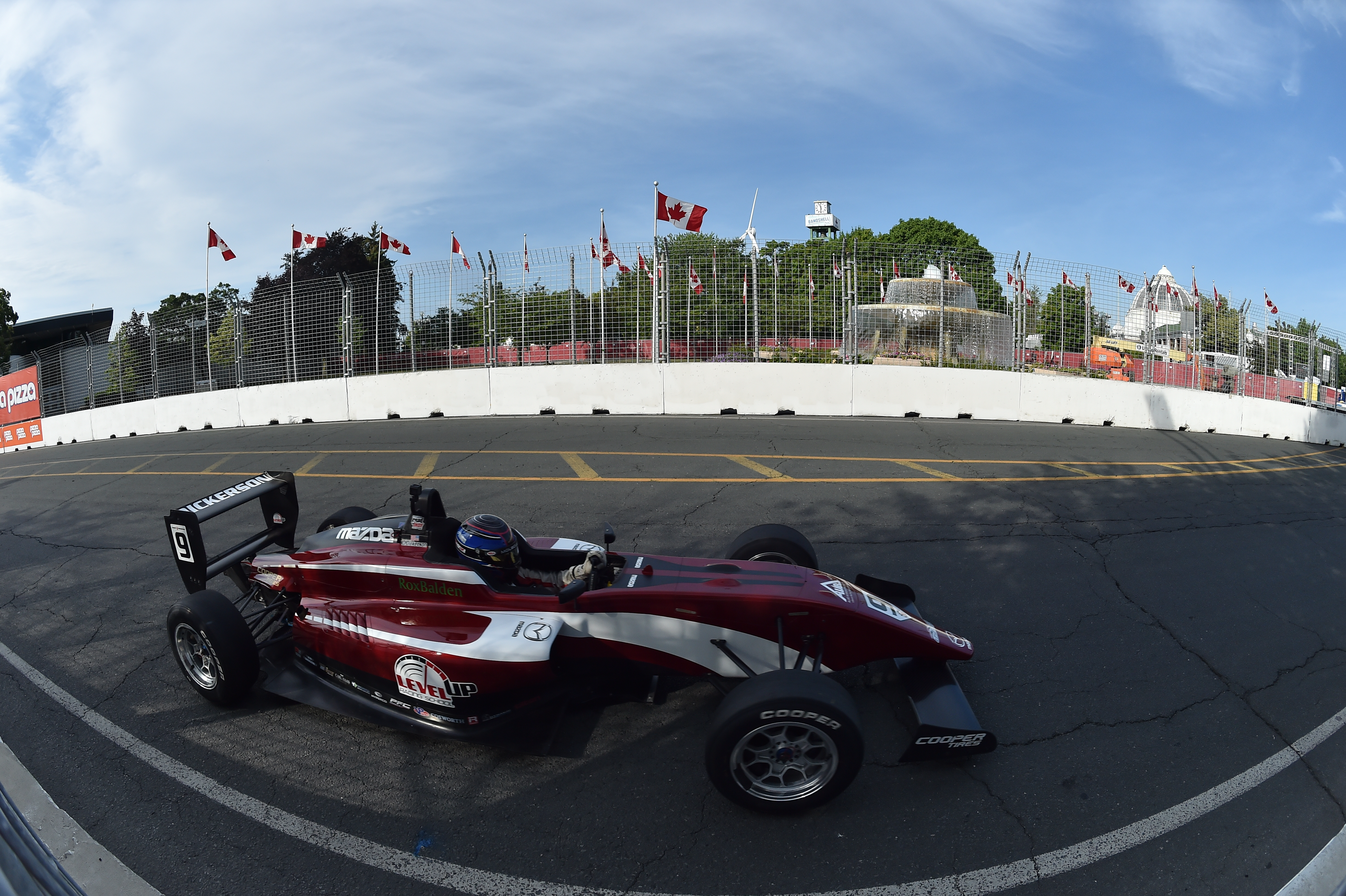 Dakota Dickerson claimed the pole for Race 1 of the USF2000 weekend at Toronto in only his second weekend with ArmsUp Motorsports – he joined the team at Road America at the end of June.
However, he was not the driver with the fastest time at the end of the session. That driver was points leader Kyle Kirkwood, but he, Kaylen Frederick, and a host of others were penalized for not slowing down for a yellow flag.
Once everything was sorted out, the reshuffled order resulted in a pole for Dickerson.
Kaylen Frederick, who has three second place finishes in a row entering the weekend, will start Race 1 in second while Kirkwood will start third. Rasmus Lindh and Darren Keane rounded out the top five.
Of note: Alex Baron, currently second in the USF2000 championship, is conspicuous in his absence, as Swan-RJB Motorsports, the team with whom Baron competes, is not entered at Toronto. This means that Kirkwood, whose next closest rival is Frederick, is essentially 115 points up on "second place" Frederick, who is in position to overtake Baron this weekend.
Indy Lights: Franzoni Tops Friday Practice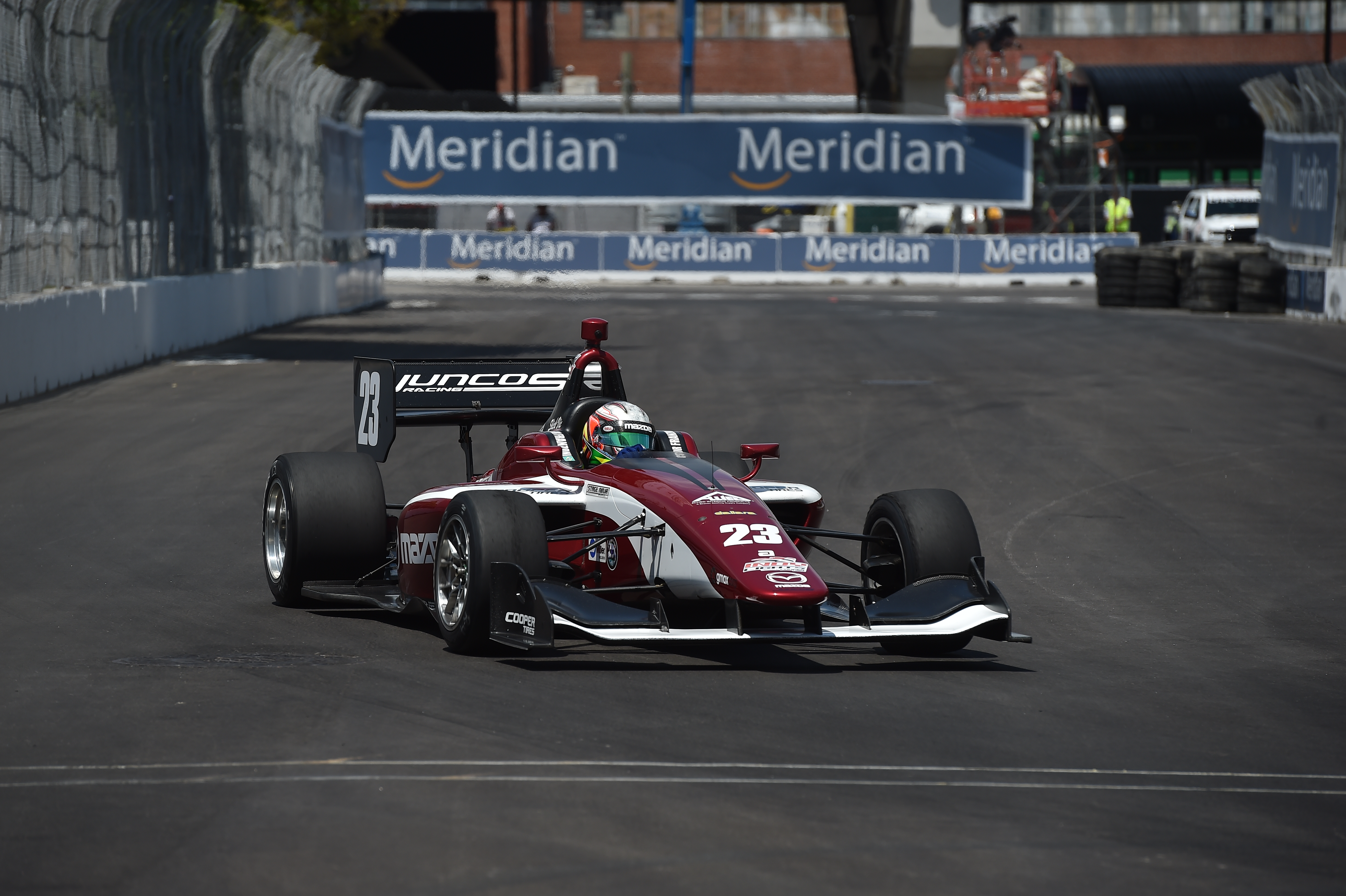 Friday practice for Indy Lights saw Victor Franzoni go to the top of the board, followed by Santi Urrutia. Championship combatants Pato O'Ward and Colton Herta ended up third and fourth, with Ryan Norman, Aaron Telitz, and Dalton Kellett rounding out the field.
All three series will complete their first races of the weekend on Saturday. Pro Mazda will be the first to do so at 10:50 a.m. ET, followed by USF2000 at 11:45 a.m. ET. Race 1 for Indy Lights rolls off at 12:40 p.m. ET.