Despite scraping the Turn 8 wall heading to the checkered flag in the Fast 6 final round of qualifying Saturday, Josef Newgarden was not to be denied the pole for Sunday's Honda Indy Toronto.
Watch the full qualifying session at 5 p.m. ET this afternoon on NBCSN.
Now Newgarden goes for his second consecutive win at Toronto and third in the last four races on Sunday.
MORE: Best way for Josef Newgarden to forget Iowa is to win at Toronto
Newgarden earned his fourth pole of the 2018 season (also at Barber Motorsports Park, Texas and Road America – he also won at Birmingham and Road America, as well as Phoenix) with a best time of 59.4956 seconds at 108.068 mph. It is also the sixth pole of his career.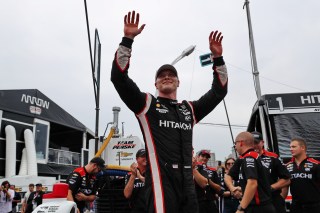 Newgarden and the other 22 drivers in the field had to deal with intermittent rain throughout the overall qualifying session.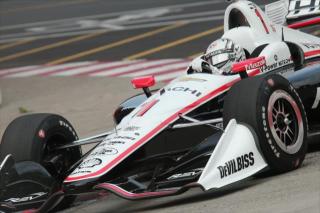 "It started drying up towards the end (of the Fast 6)" Newgarden told the IndyCar Network. "In the middle it started raining more intensely and then the last two laps got progressively better and that last lap was going to be the one to nail it. The car has been incredible this weekend.
"We've got all three of us (Team Penske drivers) in the Fast 6, that's all you can ask for today, and now we go to tomorrow to focus on the race. … The last lap, I knew I had to go for it here. I knew we can get the pole, I gave it everything I could and we got it."
Verizon IndyCar Series points leader Scott Dixon will start on the outside of the front row with a combination of 59.6920 seconds at 107.713 mph.
"We were up a ton on the last lap and probably got a bit too much on Turn 5 and almost spun," Dixon told the IndyCar Radio Network. "It sucks. We had plenty to get the pole, but that's what it is."
As for the rest of the Fast 6, Simon Pagenaud took third (59.7630 seconds at 107.585 mph) and fourth was teammate Will Power (59.8818 seconds at 107.372 mph), followed by Alexander Rossi (1:00.6273 at 106.051) and Ryan Hunter-Reay (1:00.6615 at 105.991).
"We needed one more lap," Power told ICRN with a laugh. "We're disappointed because we should have been further up, but that's racing."
Rain had somewhat of an impact on the early part of the first session. But after moderate showers, they dissipated for the remainder of the first two groups of qualifying.
However, raindrops returned during the Round of 12 elimination qualifying, causing several drivers to pit during the session for sticker red tires.
James Hinchcliffe spun crossing the finish line in the final minutes of the Round of 12 session, and then slipped out of Turn 3 on the final lap, knocking him out of the Top 6. To add insult to injury, Hinchcliffe also received a penalty for the spin.
"That last lap was everything we had," Hinchcliffe told the IndyCar Radio Network. "The Arrow car was getting better every session. The rain and conditions kind of threw us for a loop. It's a shame, if we didn't have that spin, I think we could have transferred into the Fast Six. Still, I think we can race from here and give the hometown fans here a good result."
Hinchcliffe is a native of suburban Toronto and is coming off a win last Sunday at Iowa Speedway.
The Fast 6 were Dixon, Hunter-Reay, Pagenaud, Newgarden, Rossi and Power. Those that qualified seventh through 12th were Takuma Sato, Jordan King, James Hinchcliffe and Schmidt Peterson teammate Robert Wickens, Conor Daly and Matheus Leist.
"It's a shame," Sato told the IndyCar Radio Network. "Obviously, we tried. We went to the new reds and then the black tires. It was still drizzling, so the new reds had good grip, but unfortunately we lost it. It's a pity but it's a game, so we're okay.
"We're very positive for tomorrow. Through the weekend, we've been strong on the black tires. So I think tomorrow will be very interesting. We'll keep our heads down, do our job and hopefully we'll be strong."
Added Wickens, who will start alongside teammate and fellow Canadian Hinchcliffe on Row 5, "That (Round of 12) session was pretty chaotic.
"Hindsight is always 20-20, you always could do things differently if you could re-do it again. We had to settle for P10 today but I think with the perfect storm, we could have made the Fast 6 … but Top 10 isn't that bad, either."
How each qualifying group played out:
In Group 1, those that moved on to the Round of 12 were Josef Newgarden, Alexander Rossi, Scott Dixon, James Hinchcliffe, Jordan King and Conor Daly.
Those that did not move on were Graham Rahal, Tony Kanaan, Sebastien Bourdais, Rene Binder and Ed Kones.
In Group 2, those that moved on were Will Power, Ryan Hunter-Reay, Simon Pagenaud, Takuma Sato, Robert Wickens and Matheus Leist.
Those that did not move on were Marco Andretti, Spencer Pigot, Ma Chilton, Charlie Kimball, Zach Veach and Zachary Claman De Melo.
Round 2 of qualifying – the top 12 in the first two sessions – featured Newgarden, Hinchcliffe, Dixon, King, Rossi, Daly, Leist, Wickens, Power, Pagenaud, Hunter-Reay and Sato.
There were several incidents during the overall session.
Ed Jones spun in Turn 11 during the first qualifying group, coming to rest backwards, bringing out a brief red flag stoppage.
Tony Kanaan also got loose but was able to gather the car back under control.
In the second qualifying group, Zach Veach spun as the session ended. To his credit, Veach did not hit anything, but was towed back to the paddock.
Sunday's Honda Indy Toronto will be carried live at 3 p.m. ET on NBCSN, followed by a replay of the Indy Lights at 6 p.m. ET.