Saturday was a bit of a carnage-filled day for all three series of the Mazda Road to Indy Presented by Cooper Tires, as all three series were affected by multiple caution periods for incidents on track.
The Indy Lights Presented by Cooper Tires saw one championship contender take his fifth win of the year, while the other saw his day end early against the wall.
Similarly, the Pro Mazda Championship Presented by Cooper Tires saw one title rival gain ground by taking a dominant victory, while the other was one of several drivers to be involved in a crash – and one incident saw a driver get airborne in one of the scarier looking accidents Pro Mazda has seen in a while.
And in the Cooper Tires USF2000 Championship Powered by Mazda, the runaway championship leader took his fifth win in a row to increase his already enormous points lead.
Reports on all three races are below.
Indy Lights: O'Ward Takes Victory as Herta Crashes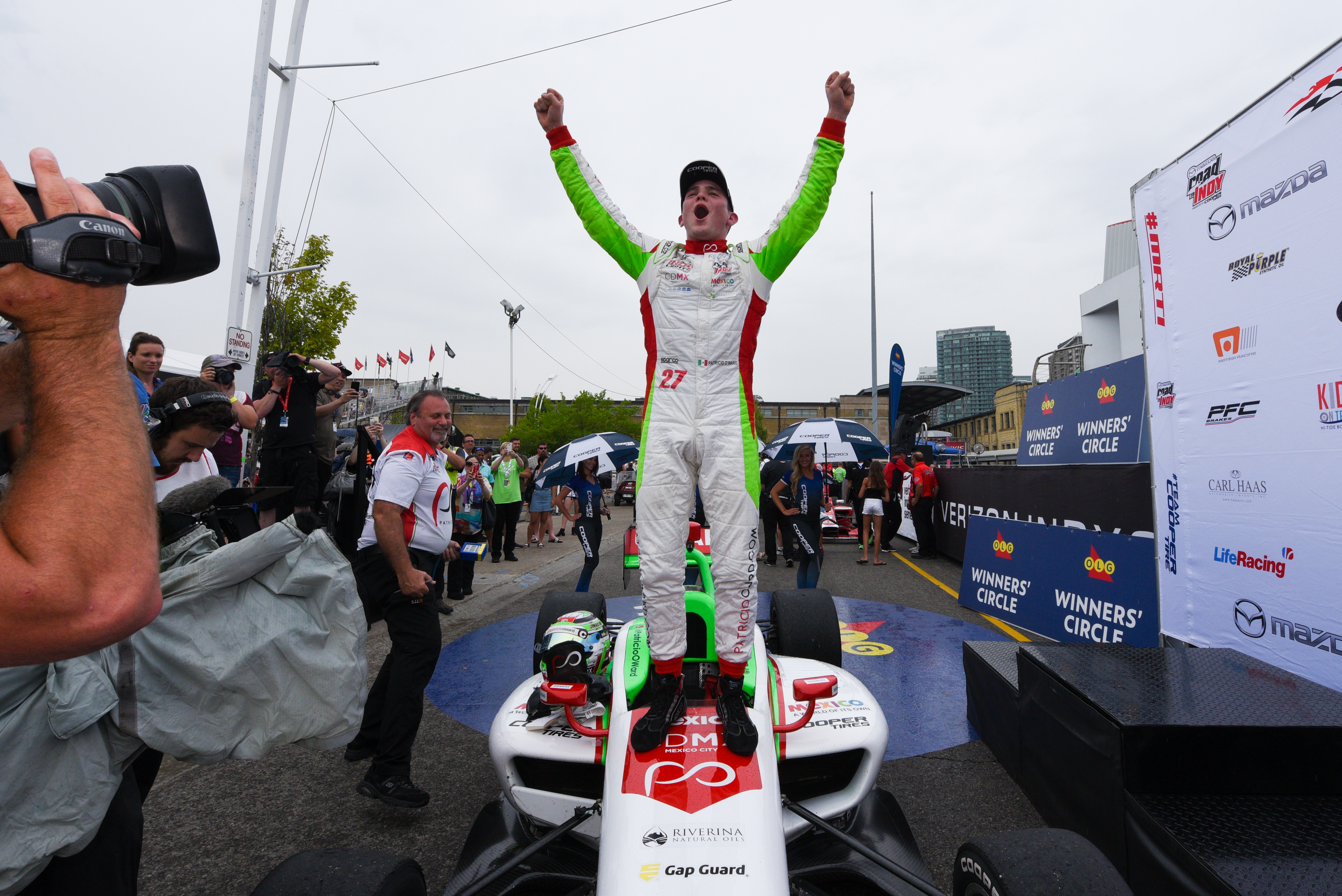 Pato O'Ward came out on top in Indy Lights Race 1, while title rival Colton Herta crashed for only the second time this year.
O'Ward took the lead on the start after the pole sitting Herta struggled to get away – Herta detailed that Santi Urrutia, who started third, had gotten under the back of Herta's car and just slightly lifted it off the ground, which bogged Herta down when the green flag waved.
It allowed O'Ward to surge into the lead ahead of Aaron Telitz and Ryan Norman, while Herta fell to fourth and Urrutia fell to seventh – Urrutia eventually came into the pits to allow his No. 5 Belardi Auto Racing team to assess the damage, as he suffered a hole in the nose cone.
Herta began charging forward, passing both Norman and Telitz to run second behind O'Ward, and he even got within a couple car lengths of him. However, Herta's charge came to an abrupt end on Lap 23 when he impacted the Turn 5 wall on exit, damaging the right side of his Dallara IL-15.
Racing resumed in Lap 26, with O'Ward maintaining a lead over the Belardi teammates of Telitz and Urrutia, who used an earlier yellow for Dalton Kellett – Kellett gently nosed his car into the tire barriers before continuing – to catch up to the field.
Urrutia and Telitz battled for second, and Urrutia came out on top after an outside pass in Turn 3, but he cut across the nose of his teammate entering the corner, causing a broken wing for Telitz.
Urrutia then set his sights on O'Ward, but with a light rain starting to fall, Urrutia spun exiting Turn 8. Victor Franzoni then crashed in Turn 5, bringing out a final caution. And with the series unable to clean things up in time get back going, the race ended under yellow.
O'Ward was left to take the win, followed by Urrutia and Ryan Norman, who survived the chaos to take his first podium finish of the year. Telitz ended up fourth with Kellett and fifth. Franzoni and Herta were credited with sixth and seventh.
O'Ward that, despite leading every lap, the race was from easy, due tricky conditions, highlighting a light rain that hit the track during the race.
"That was one of the hardest races of the season, mentally and physically," O'Ward revealed. I had to be very careful. I saw the rain getting harder and harder, and you never know what to expect. Some corners here are a real risk in the rain. I tried to keep it clean and do everything in my power to keep the car on the track and not make any mistakes
Race 2 rolls off at 12:25 p.m. on Sunday. O'Ward now leads Herta by eight points.
Pro Mazda: VeeKay Wins Crash-Filled Race 1 as Thompson Falters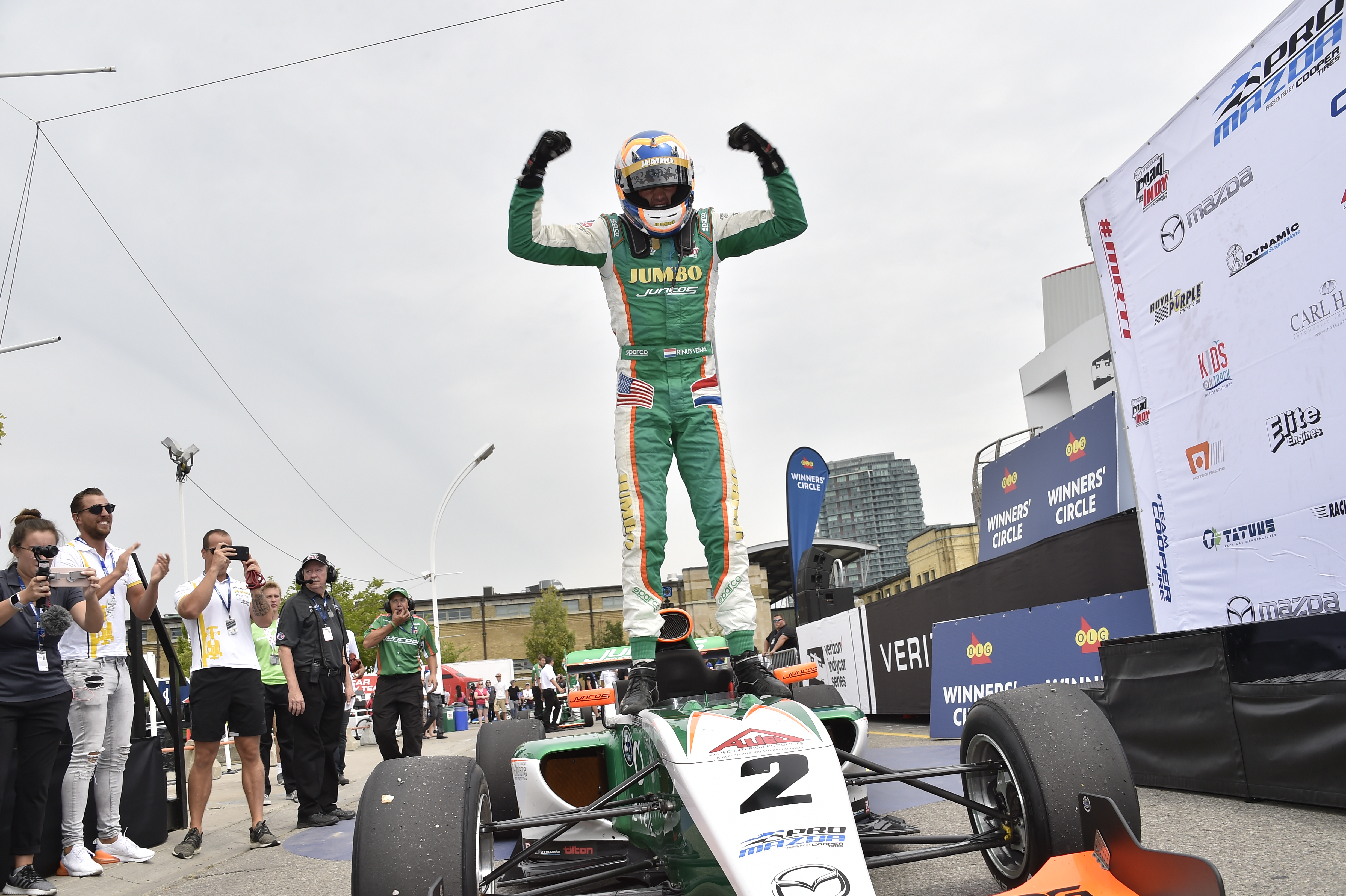 Rinus VeeKay dominated Race 1 in Toronto to take his third victory of the year, but his run to an unchallenged victory felt like somewhat of an afterthought in a race heavily affected by crashes.
The carnage began with a frightening incident on Lap 1, in which RP Motorsport driver Harrison Scott launched over Sting Ray Robb entering Turn 3. Scott had tried to pass Antonio Serravalle on inside but accidentally clipped the Exclusive Autosport driver, damaging Scott's car and causing him to hit the back of Sting Ray Robb.
Scott was subsequently launched up and over Robb and landed upside down in the Turn 3 runoff area. Serravalle, Robb, and Andres Gutierrez were also involved, while Robert Megennis went off in Turn 1 in a separate incident – the combination of everything resulted in a full course caution.
Racing resumed on Lap 8, with Rinus VeeKay leading Parker Thompson and David Malukas, but their battle for second ended in tears one lap later when they made contact in Turn 1. Malukas tried diving inside of Thompson, but the two got together, sending Malukas into the wall and damaging the rear suspension of Thompson. Both dropped out, and the incident opened the door for VeeKay to gain significant ground on points leader Thompson.
Racing resumed again on Lap 13, but another caution flew one lap later when Kris Wright ended up in the Turn 8 tire barriers.
A final restart on lap 19 saw VeeKay take off away from the field and he cruised home in the final laps to take the win. His Juncos Racing teammate Carlos Cunha took advantage of the carnage to finish second after starting 11th, while Raul Guzman survived an intense battle with Oliver Askew and Nikita Lastochkin to finish third – Askew and Lastochkin ended up fourth and fifth.
VeeKay described afterward that, while he feels sympathy for championship rivals Thompson and Malukas, winning on a when when the struggled is a big help to his title chances.
"I feel badly for them, but to have Parker and David not finish is a boost for me in the championship," VeeKay revealed. "It was hard with all the yellows as well, since there was so much time spent not completely focused on the race. I knew the guys that were close to me in lap times were out, so I just had to do a good restart and set the quickest race lap. I focused on that and not hitting any walls, just being very clean."
Results are below. Race 2 rolls off Sunday at 10:40 a.m. ET, with VeeKay again starting on the pole, while Thompson will start 14th. VeeKay now sits 26 points behind Thompson in the championship.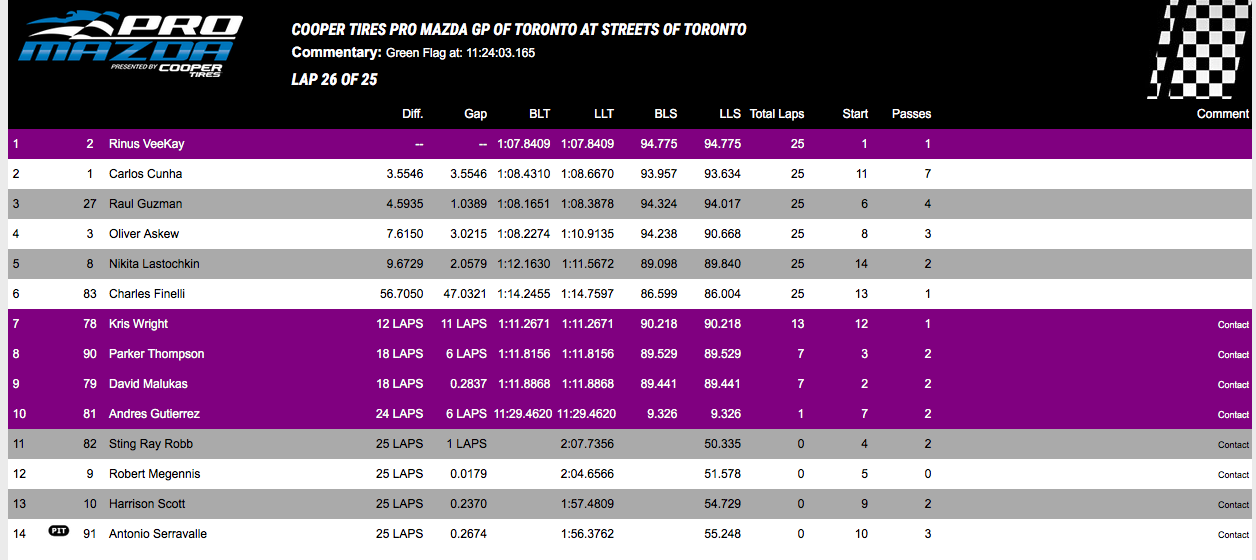 USF2000: Kirkwood Takes Fifth Win in a Row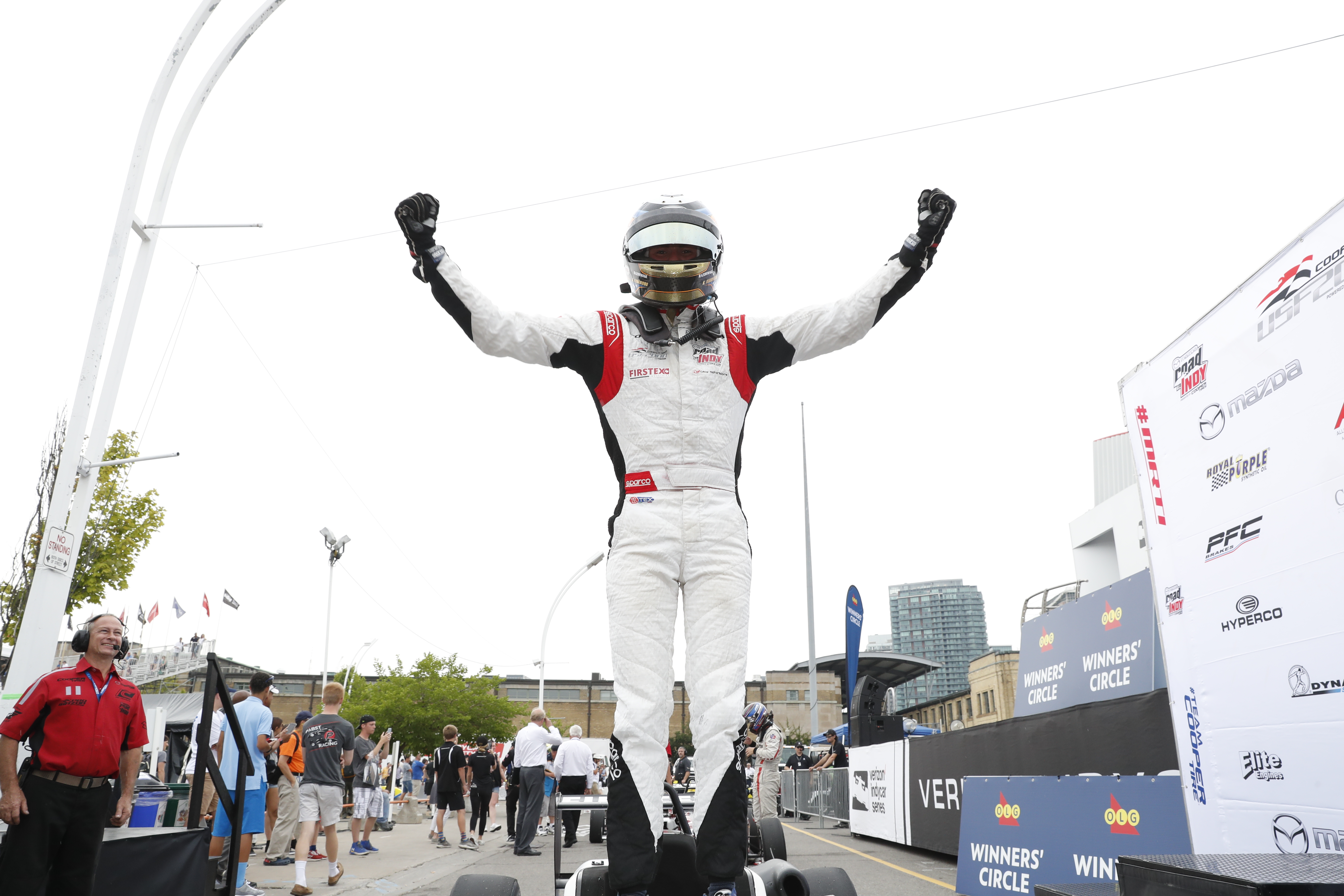 Kyle Kirkwood continued to bully the USF2000 field on Saturday, taking the lead right off the start – he started third, but passed pole sitter Dakota Dickerson and Kaylen Frederick in Turn 1 – and led every lap from there, with a late caution sealing the victory for him as the race ended under yellow.
The victory is Kirkwood's fifth in a row, and sixth of the 2018 season.
"We started third but I timed the start perfectly and I was on Dakota's gearbox the entire way into Turn 1. He left the door open just a little bit and I was able to take it," Kirkwood of his opening lap pass. "We had one caution but I kept that gap and honestly, it couldn't have gone any better. Now that we have a big lead I can charge after wins as hard as I can."
Behind Kirkwood, Dickerson came home in second for his first podium of 2018, while Frederick finished third, his fourth podium finish in a row. Rasmus Lindh and Keith Donegan completed the top five.
Results are below. Race rolls off Sunday morning at 9:45 a.m.