In a race that at times got rather chaotic, Scott Dixon remained patient and focused, capturing Sunday's 34th annual edition of the Honda Indy Toronto.
Dixon really put on an exhibition on the temporary street course around Toronto's Exhibition Place, taking the lead from pole sitter Josef Newgarden when the latter glanced off the wall on Lap 33 and – with the exception of cycling through on a few pit stops – never really let the lead get too far out of his hands.
"I'm worn out, man, it was definitely a physical race," Dixon told NBCSN. "The car was superb. We just needed some clean air and we were able to check out."
The win was Dixon's third career triumph at Toronto. His previous two wins there both came in 2013.
It also was his 44th career INDYCAR win and third of the 2018 season, and comes one week before his 38th birthday (July 22). The four-time IndyCar champion, in pursuit of his fifth career title, also is now tied A.J. Foyt for second place on the INDYCAR career top-fives list.
The win helped Dixon not only remain the points leader in the Verizon IndyCar Series with five races remaining, but also padded his margin from 33 to 62 points over Josef Newgarden.
"It was definitely a tough race, definitely tough on the restarts," Dixon said. "We just have to keep these points rolling. … Huge congrats to the team. I'm stoked. This is awesome."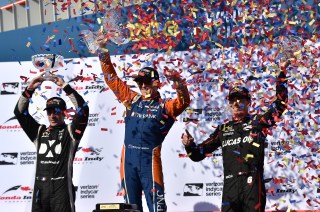 As for Dixon markedly increasing his lead in the points, Newgarden — who won this race last year and two of the previous three races there — told NBCSN, "Yeah, we can get him, absolutely. We've got a long way to go. This doesn't help, but we've got plenty of racing left, we have to keep our head up and we'll be just fine. We have fast cars that are the best in the business. We get our mistakes sorted out and we'll be just fine."
Dixon won by 5.2701 seconds over runner-up Simon Pagenaud, the latter enjoying one of his best days in a season that has had its share of struggles. It was Pagenaud's first-ever podium in nine tries in Toronto.
"It was hard racing, good racing, man, I really had fun," Pagenaud told NBCSN. "It was a blast to drive. Really difficult, but when you have a good result like this, it's very rewarding. I think we showed we're back, so I'm excited.
"We've had good seasons. We've had not so-good seasons. The big thing is to bounce back and I think we're doing just that. We're working diligently in the background and I think it showed this weekend."
Canadian and rookie INDYCAR driver Robert Wickens finished third, followed by fellow Canadian countryman and Schmidt Peterson Motorsports teammate, James Hinchcliffe, and Charlie Kimball (who earned a season-best and top finish for the new Carlin Racing team).
"It was amazing," Wickens told NBCSN, shortly after donning the Canadian flag on his shoulders. "Normally, I'm not an overly teary-eyed guy, but that was really cool.
"I can't thank the Toronto fans enough. This whole week has been such a whirlwind of emotions. To stand on the podium in my first professional home race, I couldn't ask for anything better."
It was Wickens' third podium showing in the first 12 races of his first INDYCAR season.
"We had a great car in the race," Wickens said. "I don't think anyone had anything for Scott today. Dixie was in a class of his own today."
Added Hinchcliffe, who won last week at Iowa, "I'm really proud of the boys, happy for Robby (Wickens) and it's awesome to have two (SPM) cars in the top-5 here in Toronto."
Sixth through 10th were Tony Kanaan, Zach Veach, Alexander Rossi, Josef Newgarden and Marco Andretti, who likely would have finished perhaps as high as fourth had he not been forced to pit for a splash of fuel with two laps remaining.
"I just saw the collector (fuel indicator light) go on and my heart just sunk," Andretti told NBCSN. "We had a top-4 pace. I'm really disappointed. I maybe had a shot at a podium, but definitely fourth."
Meanwhile, Kanaan told NBCSN, "I wanted to come here and have a good result. This is the best result of the year for us so far. Everything went well."
There were several incidents in the 85-lap race:
* On Lap 13, rookie Ed Jones became the first driver to come into the pits for service and promptly stalled it for several seconds. He finally was able to get going, just barely in front of race leader Josef Newgarden, keeping Jones from going a lap down.
* On Lap 23, Sebastien Bourdais spun in Turn 1 and bounced off the tire wall. He was able to back up and get going again, negating the need for a caution flag. Bourdais took his car to pit road to replace the rear wing that was damaged in the incident.
* On Lap 29, Andretti Autosport teammates Ryan Hunter-Reay and Alexander Rossi both suffered mishaps that brought out the caution flag. Hunter-Reay spun in Turn 3 and then could not get his car restarted before assistance arrived to get him going again. Then, almost at the same time, Rossi suffered front wing damage after contact with Will Power on the long back straightaway. Hunter-Reay (rear wing), Rossi (front wing) and Power (rear suspension) all eventually came to the pits for repairs, losing valuable time.
* On the restart on Lap 34, Hunter-Reay, Will Power, Max Chilton, Sebastien Bourdais, Alexander Rossi and Graham Rahal all crashed in Turn 1. This came just seconds after pole sitter Josef Newgarden slammed the wall heading into Turn 1, dropping him from near the front of the pack to 13th place. Rossi actually was launched into the air and sailed over Rahal's car.
"Man, it's not a DNF, but it's kind of like a DNF in the season," said Power, who finished 18th. "We're still going to keep pushing away. There's double points at the end (in the season finale at Sonoma), and that can be a 100 point swing, so we're still in the game."
* On Lap 44, rookie Rene Binder stalled in Turn 8 shortly after Newgarden and Ed Jones twice bounced off each other but were able to continue on.
* On Lap 68, Takuma Sato hit the Turn 2 wall hard and took his car off-course, ending his day.
* On Lap 77, Spencer Pigot, who had been enjoying a fairly good run, suffered a suspension failure and headed for the pits, also calling it a day.
The series now enjoys a weekend off — although several teams will test Tuesday at Mid-Ohio Sports Car Course — with the next race scheduled for Sunday, July 29, at Mid-Ohio.