Sunday morning's final warm-up for this afternoon's Honda Indy Toronto saw plenty of speed – but also some incidents that could impact drivers and cars for the race itself.
Scott Dixon (59.1394 seconds at 108.719 mph) outlasted pole sitter Josef Newgarden (59.3694 seconds at 108.300 mph) by 0.2290 seconds to take the quickest and fastest honors for the warm-up session.
As for on-track incidents, with about seven minutes to go, Jordan King lost control coming into Turn 10 and went straight into the tire wall, resulting in significant damage to his car. King is qualified eighth for today's race.
King told the IndyCar Radio Network that his team didn't believe the damage was too bad and that it could be repaired for the race at 3:30 p.m. ET (live on NBCSN).
"The steering wheel kicked back a bit and it just slightly slipped out of my hand and that was it," King said. "The damage is not too bad."
As the checkered flag came out to end the session, and not far from where King hit the tire wall, veteran driver Tony Kanaan spun coming out of Turn 10 and heading into Turn 11 but did not make any contact.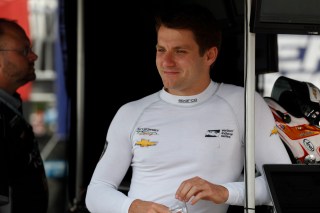 At the same time, Ryan Hunter-Reay carried his car into the run-off area in Turn 3 but was able to exit under his own power and continue on.
The rest of the top 5 in the practice session were Hunter-Reay (59.4536 seconds at 108.145 mph), Marco Andretti (59.5365 at 107.994) and Graham Rahal (59.5645 at 107.943).
Sixth through 10th were Ed Jones (59.5690 at 107.935), Conor Daly (59.7888 at 107.539), Takuma Sato (59.7907 at 107.535), Simon Pagenaud (59.7930 at 107.531) and Tony Kanaan (1:00.2212 at 106.766).