Holly Shelton is riding high after setting a milestone for a female driver in a national midget series feature event on dirt this past weekend.
The Sacramento, California-area resident recorded the highest finish ever for a female dirt national midget series driver with a runner-up finish last Friday at the POWRi Lucas Oil National Midget League double-header weekend at Valley Speedway in Grain Valley, Missouri.
Shelton broke her own national record for top finish by a woman in a national dirt event – she finished third in a USAC race at Lawrenceburg, Indiana, last year.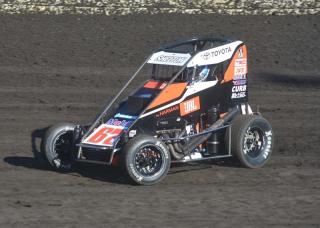 One night after setting her new national record, Shelton and her Keith Kunz Motorsports Toyota roared back Saturday to finish third (started on the outside pole) in the second half of the weekend double-header, making her the first female dirt driver ever on the national midget circuit to earn back-to-back podium finishes.
"It's cool making history as a female, but my number one thing is I just want to win," said Shelton, who will be graduating from Cal-State Sacramento with a B.A. in Criminal Justice this fall. "Truthfully, on the track I don't even remember that I'm a girl. I'm just racing all the guys with the same goal they have – to win."
Only one other woman has finished second in either a USAC or POWRi midget feature – Sarah McCune at Winchester (Ind.) Speedway in 1999 – but that was on pavement, not dirt.
The record-setting weekend was great consolation for Shelton, who missed three races earlier this season due to surgery and then sat out three other races last month after suffering a race-related concussion.
"It felt good," she said of her back-to-back podium finishes. "It builds up my confidence. The car is fast and we keep getting better and we want to build on it."
Shelton was one of four women that competed in midget competition this weekend. The others were 19-year-old Maria Cofer and 16-year-olds Holley Hollan and Presley Truedson.
"It's awesome seeing all the little girls come up to me excited to see me at the track," Shelton said. "Hopefully, it encourages them to pursue their dreams as well and, as the years go on, more girls will get into it."