Last year's visit to the streets of Toronto for the Mazda Road to Indy Presented by Cooper Tires proved to be a pivotal point in the championship chase that year.
Kyle Kaiser swept both races in the Indy Lights Presented by Cooper Tires, and doing so gave him firm control over the championship, and he all but clinched it ahead of the season finale at Watkins Glen – Kaiser needed to only start that event to wrap up the title.
And in the Cooper Tires USF2000 Championship Powered by Mazda, while Parker Thompson swept the weekend, Oliver Askew was caught up in a crash in Race 2. Combine that with a second place finish from 2017 title rival Rinus VeeKay – VeeKay also finished third in Race 1 – and it kept the championship within reach of VeeKay, who took it all the way to the finale at The Glen.
The 2018 visit north of the border will likely be remembered for a similar impact on the MRTI championships, both in Indy Lights and USF2000 and, maybe most significantly, in the Pro Mazda Championship Presented by Cooper Tires.
A look at big stories to emerge from a wild weekend on the streets of Toronto is below.
Indy Lights
Santi Urrutia's championship hopes were teetering entering the weekend – he was 49 points out of the lead and had been vastly overshadowed by title combatants Pato O'Ward and Colton Herta for most of the season. But, his Race 2 victory combined with a second place in Race 1 to close him to within 40 points of O'Ward for the championship lead. He's still a bit of a long shot, but his chances look much brighter leaving Toronto than they did entering.
More significantly, Colton Herta's title hopes may have taken an enormous hit. After crashing in Race 1 qualifying, just after grabbing the pole as well, Herta suffered a thumb fracture that he aggravated again after crashing during Race 1. It forced the team to recommend Herta essentially sit out Race 2 – he pulled off after running only a couple laps and finished sixth – and he dropped to 18 points behind O'Ward, who won Race 1 and finished second in Race 2. The margin is hardly a commanding one for O'Ward, but with the next stop at the ultra-physical Mid-Ohio Sports Car Course, Herta's injured hand could remain a factor in the coming races and allow O'Ward to widen the margin.
One can't help but feel bad for Victor Franzoni. Coming off the high of winning his first Indy Lights Race at Road America, Franzoni's season took a turn for the worse. He crashed in Race 1 and then pulled off in Race 2 in order to conserve finances and resources – Franzoni detailed afterward that the budget is tight for him this year and crash damage from Race 1 does him no good. It would be a genuine shame if Franzoni's season was derailed by funding issues, as the likeable Brazilian has made great progress all year and has the potential to make it as a Verizon IndyCar Series driver. He just needs the backing to get there.
Pro Mazda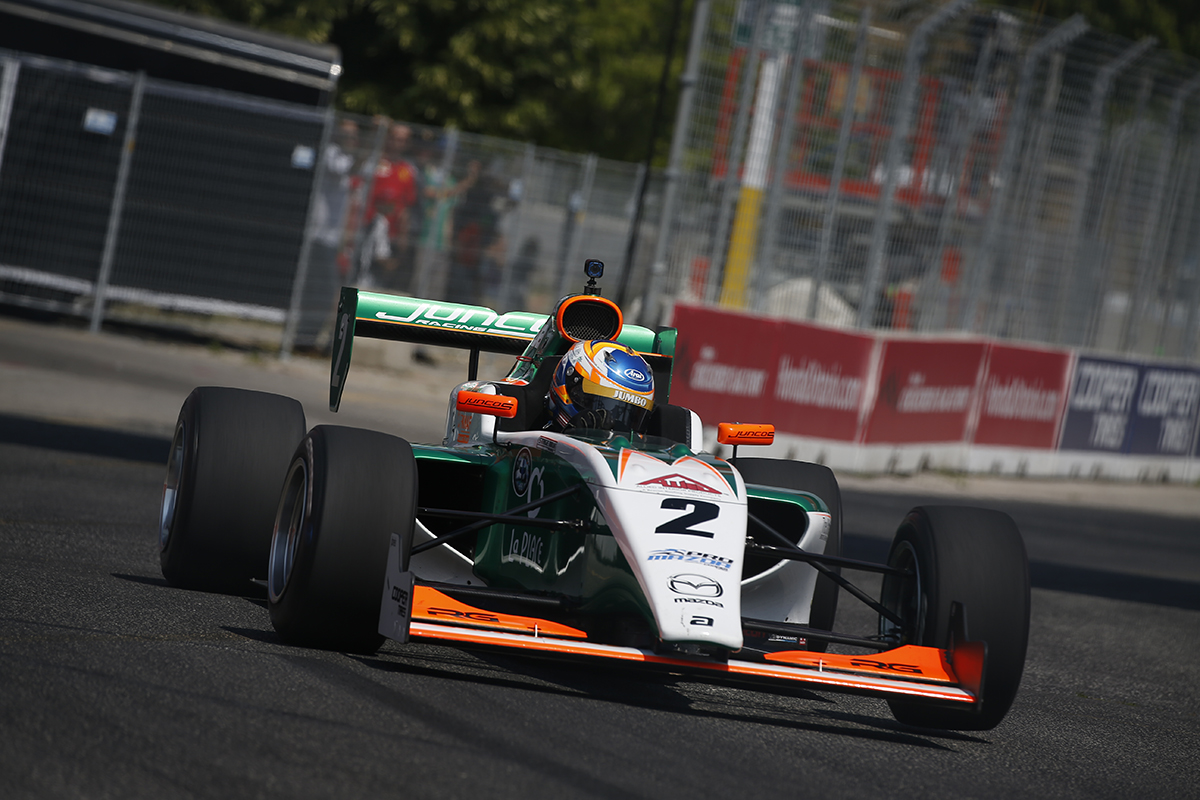 No Mazda Road to Indy Championship was shaken up as much as Pro Mazda. Parker Thompson entered the weekend with a sizeable lead of 46 points over Rinus VeeKay. He exits the weekend only seven points ahead after finishes of eighth in both races – he was involved in a crash in Race 1 and made an unscheduled pit stop after thinking he suffered suspension damage in Race 2. Meanwhile, VeeKay dominated the weekend, winning from the pole in both races. It all means that what was once looking like a possible runaway has been all but reset. And we might see a genuine duel between them all the way to the season finale at Portland International Raceway.
There are few words to describe the relief everyone felt in seeing Harrison Scott walk away unhurt after his frightening airborne crash in Race 1. This was the first major crash test in a race for the Tatuus PM-18, and it aced it. And big kudos should also be given to the AMR Safety Team, who were already tending to Scott barely a few seconds after his car had come to a rest. Scott did start Race 2, but pulled off with a mechanical problem…which seems minor in comparison to what could have happened in Race 1.
Oliver Askew had his best race of the year in Race 2, finishing second to VeeKay for his second podium of the season. It's been a tough year for Askew and Cape Motorsports after winning last year's USF2000 title, and getting a podium under their belt could be just what they needed heading into the season's stretch run.
USF2000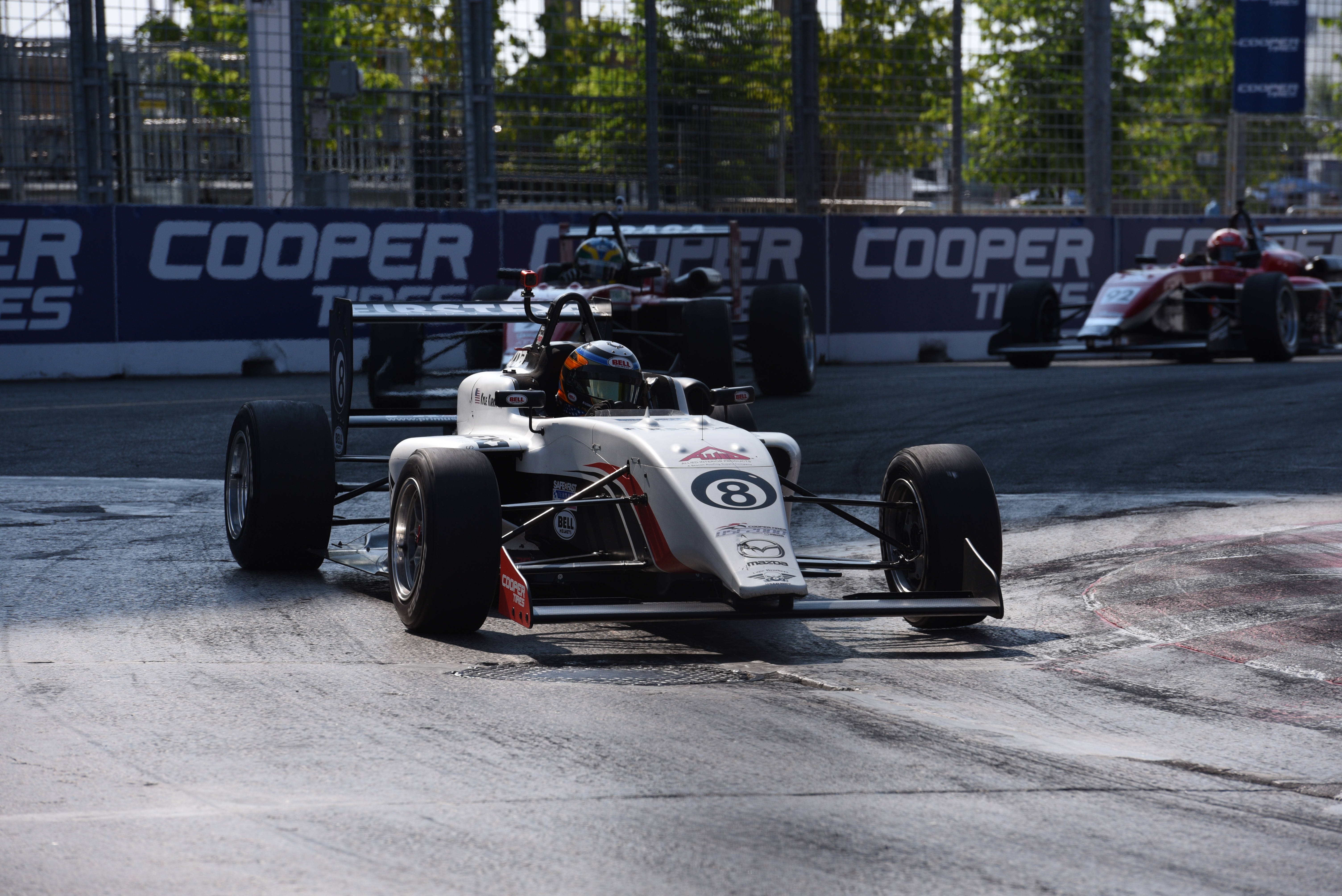 After another weekend sweep, Kyle Kirkwood has one hand on the USF2000 championship. He leads Kaylen Frederick by a staggering 131 points – that's over four road course races worth of points. He may well leave Mid-Ohio as the USF2000 champion. And even if he doesn't, it would take something unheard of to keep the championship from his grasp.
Kaylen Frederick sits second, only three points up on Igor Fraga. Fraga had his best race since Race 2 on the streets of St. Petersburg, when he finished second, and he nearly outdueled Kirkwood for the win in Race 2. Both he and Frederick have caught fire of late, and their battle for second is very evenly matched.
Don't count out Rasmus Lindh in the battle for second in the championship either. The Swedish driver is seven points behind Frederick and scored his third podium of the year by finishing third in Race 2 at Toronto. Second is well within his reach.
The Mazda Road to Indy is off this weekend before heading to Mid-Ohio, where Indy Lights and USF2000 again have double headers, while Pro Mazda will enjoy a triple header.