Top Fuel driver Antron Brown is the NHRA's modern day answer to Horace Greeley.
It was Greeley who on July 13, 1865 – yep, just over 153 years ago, to be precise – that wrote the famous words "Go West, Young Man" in the New York Tribune.
Brown grew up in New Jersey, but has called Indianapolis home for the last several years.
But Brown has a second home of sorts – and that's where the "Go West, Young Man" aspect comes in.
Each year the NHRA hosts its three-race mid-summer "Western Swing" in Denver, Sonoma (California) and Seattle, Brown feels right at home.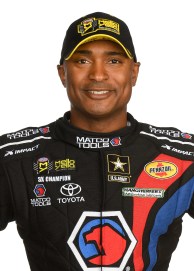 Last year, he won two out of three, at both Denver and Seattle, including defeating Don Schumacher Racing teammate Leah Pritchett in the Denver finale.
But wait, there's more:
* He's won three times at Bandimere Speedway in the Denver suburb of Morrison, Colorado (2009, 2012 and 2017).
* He's also a five-time runner-up at Bandimere (2008 and 2016 in Top Fuel and in 1999, 2001 and 2005 in Pro Stock Motorcycle).
* He's a three-time No. 1 qualifier (2009 and 2010 in Top Fuel, and 2001 in Pro Stock Motorcycle).
Brown comes into this weekend's Dodge NHRA Mile-High Nationals at Bandimere on a roll. He was runner-up in the last Mello Yello Drag Racing Series two weeks ago at Epping, New Hampshire, losing to Steve Torrence in the final round.
Brown sits sixth in the Top Fuel standings with 717 points, but a distant 369 points behind class leader Torrence.
To say this has not been a typical season for Brown is an understatement. He's managed just 13 round wins in the 2018 season's first 13 races.
Worse, he hasn't won since last year's triumph at Seattle.
But with 11 races left in this season, including five more to qualify for the six-race Countdown to the Championship playoffs, Brown has plenty of time to get things back on track.
He hopes it starts this weekend in Denver, which is unlike any other race on the schedule because the elevation of the race track is about a mile above sea level.
"The air is thin and there's not much oxygen," Brown said. "The temperatures will go up during the day and that makes some difficult conditions for the race cars to make good power and run hard there.
"It's the same thing for all the crew members on the human body. When you go there, it's definitely a test of conditioning and going out there and making it happen.
"The trick in going to Denver is that you have to be mentally strong, emotionally tough and use all of your physical strength to make it happen when you don't think you have anything left in the tank.
"We've had success there, though. We were the last ones to sweep the Western Swing in 2009 and came close last year after winning in Denver and Seattle."
This weekend will be the 396th race of Brown's NHRA career. He has 65 total wins (49 in Top Fuel, 16 in PSM). He's also on the verge of capturing his 50th career No. 1 qualifier honors (38 in Top Fuel, 11 in PSM).
Because of the elevation and unique atmospheric conditions, Brown and his U.S. Army/Matco Tools team is ready for anything more so at Bandimere than any other track they visit each year.
"We change almost everything on the car before we go to Denver because Denver is just a way different setup with how we run the car," Brown said. "We put stuff that we've been running off to the side, then we'll swap it back after Denver.
"You go to Denver like you're playing craps," Brown said. "You just roll those dice and hope they come out right so you stumble onto a good combination that's going to work.
"That had been our Achilles heel for a stretch before we made it to the finals two years ago because Denver had been eating us up a little bit. We've won there three times and been runner-up five times. We just have to get back to that combination and be competitive once again. Denver's just a challenging track."
But Brown is definitely up to the challenge. He's gone west to win a few more.