The German Grand Prix continues its biennial presence on the Formula 1 calendar – it's hosted F1 events in even numbered years since 2014 – as Formula 1 returns to the Hockenheimring this weekend.
The German fans will undoubtedly be joyful in Sebastian Vettel entering his home race in the championship lead, by nine points over Lewis Hamilton. Yet, somewhat surprisingly, Vettel despite being one of the most successful and decorated drivers of his generation, Vettel has won in Germany only once (2013, at the Nurburgring) and he has never won at Hockenheim.
Conversely, Hamilton has won in Germany three times, including twice at Hockenheim (2008 and 2016).
As such, Vettel will hope to add to his points lead over Hamilton with a win on home soil, though Hamilton may be equally as motivated after watching Vettel his own home race at Silverstone two weeks ago.
Nevertheless, their 2018 championship duel will most certainly continue to be closely fought.
Talking points ahead of the German Grand Prix are below.
A Different World in 2018 vs. 2016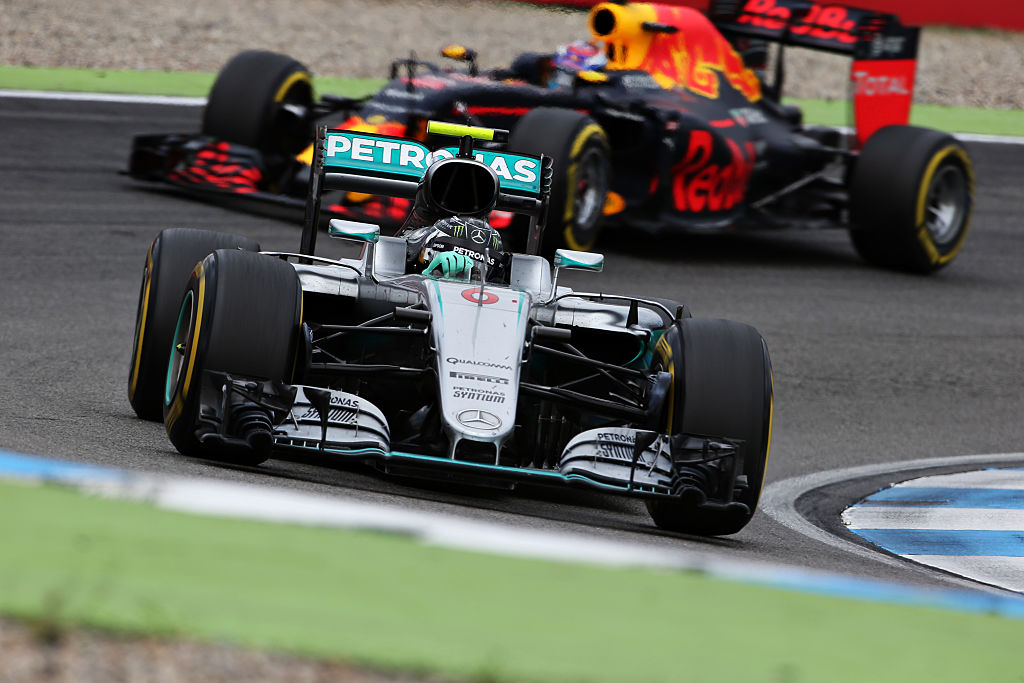 The Formula 1 landscape looked completely different back in 2016, the last time Formula 1 visited the Hockenheimring. Bernie Ecclestone was still the chief executive of Formula 1.
Nico Rosberg was partnering Lewis Hamilton in the Mercedes team, and was on his way to a driver's championship that year.
Vettel and teammate Kimi Raikkonen were in the midst of a slump as Ferrari went winless in 2016.
The world was still getting to know a then 18-year-old Max Verstappen, the young Dutchman having won the Spanish Grand Prix in May that year.
And the cars looked completely different, with skinnier and taller rear wings and taller rear tires highlighting the appearance differences.
In 2018, Vettel and Ferrari might be the strongest combination. Rosberg is long from Mercedes, and Valtteri Bottas is doing his best to shine in the wake of Hamilton's enormous shadow.
Verstappen is still a rising star, though he has come under fire at times for overly aggressive driving and his Red Bull teammate Daniel Ricciardo has garnered more headlines this year, with a pair of race wins alongside his status as an F1 free agent after 2018.
In short, the Formula 1 landscape is hardly recognizable from what it was back in 2016. And even though Hamilton won that year, followed by Ricciardo and Verstappen in second and third, very little will carry over from that race two years ago.
Hamilton, Mercedes Look to Take Back Momentum from Vettel, Ferrari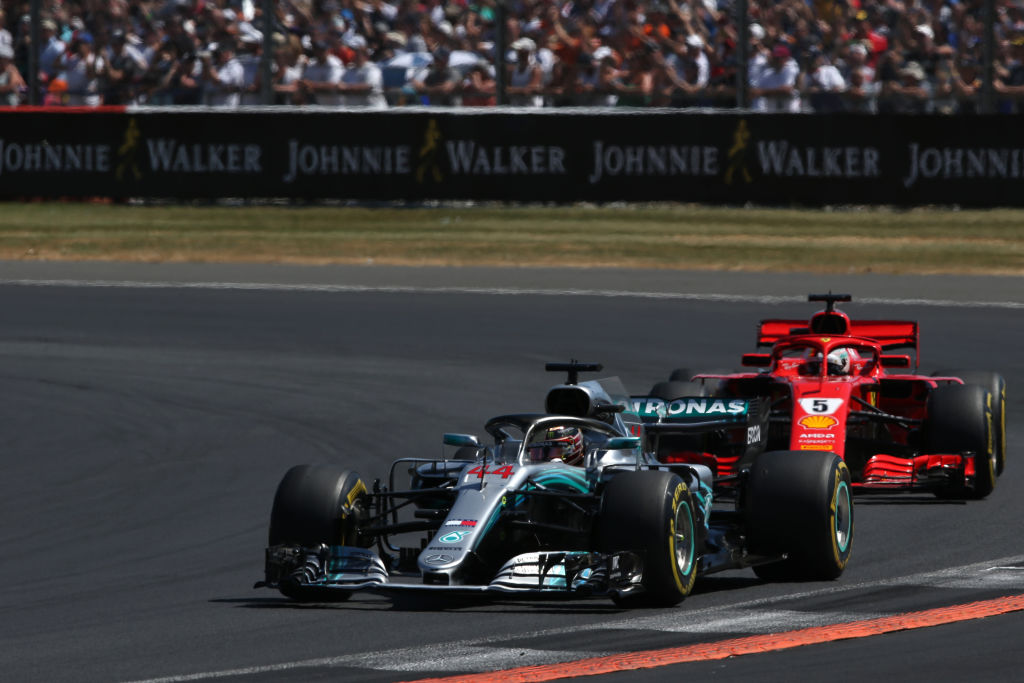 The seesaw championship fight has tilted back in the favor of Ferrari, with Vettel leading Hamilton after finishes of third and first in Austria and England. Hamilton, meanwhile, DNF'ed in Austria and came home second in England after spinning on Lap 1.
Hamilton trails by nine points, but this is hardly an unfamiliar position for Hamilton in 2018 – he started the year trailing Vettel until he took the championship lead for the first time after the Azerbaijan Grand Prix.
Both teams have had multiple swings of momentum this year – Vettel won the opening two races before finishes of eighth in China (he spun after contact with Verstappen) and a pair of fourth place efforts in Azerbaijan and Spain before getting two more wins in Canada and England.
Hamilton, meanwhile stumbled out of the gates somewhat with finishes of second and third before taking a fortuitous win in Azerbaijan and two dominant wins in Spain and France before the misfortune in Austria.
All told the ebb and flow of the 2018 season seems to change with every race, and while Vettel now leads Hamilton again, things could change this weekend.
Raikkonen Trying to Fend off Ricciardo, Bottas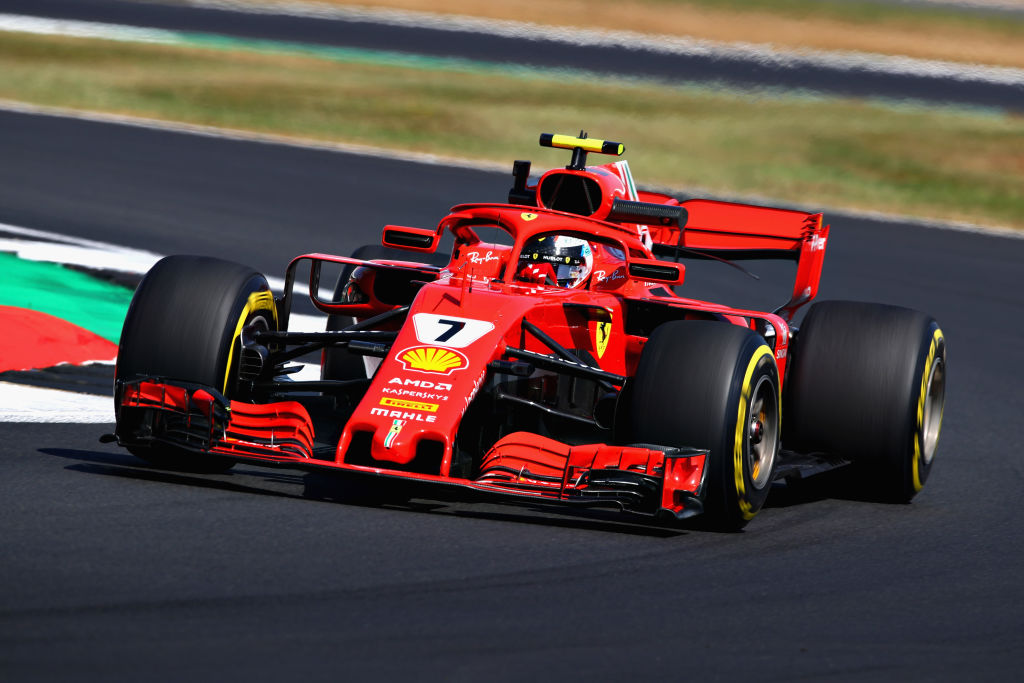 Kimi Raikkonen is somewhat of a forgotten man this Formula 1 season, but he does rank third in the championship at the moment, 10 points ahead of Ricciardo and 12 points ahead of Bottas.
However, both Ricciardo and Bottas are likely thought to have had better seasons – Ricciardo has the aforementioned wins (at China and Monaco) and the only thing that has kept Bottas from the top step of the podium is a string of horrendous luck.
However, Raikkonen, to his credit, has picked up the pieces whenever others around him have faltered, and he has six podium finishes through 10 races.
However, in order to fully silence any critics, and maybe even keep his Ferrari drive, Raikkonen would do well to get a win in 2018.
Misc.
The driver challenging Raikkonen's position within Ferrari is Sauber's Charles Leclerc. The Ferrari junior driver has five points finishes, and that could have been six if not for a pit stop error at Silverstone that caused him to leave his pit stall with a loose wheel – it forced him to retire. Leclerc's star is on the rise, and he could shine again in Germany.
Nico Hulkenberg is the "other" German driver on the grid. And though he has a 24 Hours of Le Mans win to his name, he is yet to finish on the podium in an F1 race. The Renault package may not be a podium threat in usual circumstances, but if he stays clean and others falter, he could sneak in there…and doing so in his home race would make that overdue podium even sweeter.
After a pair of eighth place finishes, Fernando Alonso has helped McLaren at least stop the bleeding after a dismal stretch of races from Monaco through France in which the team scored zero points. However, the team still has a long way to go, and Germany could be another weekend of struggles.