Courtesy IMSA Wire Service
LAKEVILLE, Conn. – In stick and ball sports, you often hear the term "home-field advantage." This weekend at Lime Rock Park, Ryan Briscoe (photo above) hopes to ride "home-track advantage" to victory lane, but admits that benefit for him is a bit different.
Despite living approximately one hour from the track in nearby Farmington, Conn., Briscoe – who moved to Connecticut in 2015 – rarely gets to Lime Rock outside of the 
IMSA
 weekend. That doesn't mean, however, the GTLM points leader doesn't get a boost from racing near home.
"This week I'll commute back and forth from home and sleep in my own bed," he said.
As simple as that may seem, every bit of an advantage helps as he looks to put the No. 67 Ford GT in victory lane for the second consecutive race and extend his points lead alongside co-driver Richard Westbrook in the process. Especially at a track as demanding as Lime Rock.
"It's a tough race, the lap is so short it really makes it physically demanding," Briscoe added. "It's just busy, you're always fighting traffic whether it's in your class or in the GTD class. It's nonstop and physically and mentally draining."
In addition to sleeping in his own bed, Briscoe's home-track advantage includes having a section of friends and family cheering him on. That would make a third victory at Lime Rock – he won in 2007 and 2013 in the American Le Mans Series – that much sweeter.
As would one more detail.
"I haven't won here as a local, so I still need to do that."
Lally Celebrating 25 Years At Lime Rock Park
Long before Andy Lally established himself as one of the top drivers in 
IMSA
 history, the Long Island, New York, native was earning his stripes at Lime Rock Park. Now, 25 years after turning his first laps at the Connecticut bullring, Lally returns to Lime Rock this weekend tied as the winningest active driver at the track.
"I took my Skip Barber school in 1993 and it's been a fun ride ever since," said Lally, who has amassed 34 career IMSA wins, tied for 14th on the all-time wins list. "I've also had a lot of success at regional and national races here before I got into pro racing."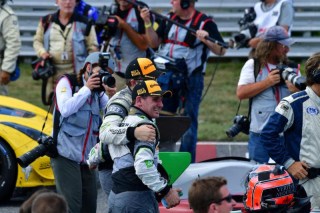 Lally has four 
IMSA
 wins at Lime Rock spanning 15 years, with his first coming in 2001 in the GRAND-AM SRPII class. His most recent win came two years ago with the same team and car he's entered with this weekend – the No. 44 Magnus Racing Audi R8 LMS GT3 with co-driver John Potter.
Corvette Racing's Oliver Gavin and Wright Motorsports' Patrick Long also have four Lime Rock wins.
"This really is a bullring and you treat it like a short-track stock car race," said Lally. "You can't shy away from contact because passing chances are limited and sometimes you have to force the issue to make it happen."
Were Lally to win this weekend, not only would he move into sole possession of first on the Lime Rock wins list, but he would also pass two legends on the IMSA all-time wins list: David Brabham and Hurley Haywood.
Pumpelly Takes Coveted Motul Pole Award at Lime Rock in Continental Tire Challenge
At a circuit famously known for its difficultly to pass, Spencer Pumpelly nabbed the coveted Motul Pole Award and will start first for Saturday's IMSAContinental Tire SportsCar Challenge Lime Rock Park 120.
Pumpelly's time of 55.025 seconds (96.697 mph) in the No. 28 RS1 Porsche Cayman GT4 MR delivered the veteran's third Grand Sport (GS) pole position of the year, as the team seeks its second win of 2018 after winning January's BMW Endurance Challenge At Daytona.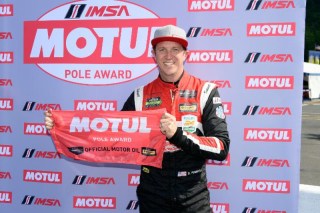 "I think it is important (to be on the pole) here at Lime Rock Park because for one, it is hard to pass here," said Pumpelly, who co-drives with Dillon Machavern. "We need to be in front to make our car go. We need to try and keep the car in the front and not get shuffled back…We have a lot of things in place and we just have to execute 
tomorrow
. We had great fans today and I appreciate every time I get to come here. It just couldn't be better."
The No. 46 Team TGM Mercedes-AMG GT4 of Owen Trinkler and Hugh Plumb will start second, after the former posted a lap just .142 seconds shy of Pumpelly's time.
In the TCR class for the first time this season, it will not be a Compass Racing Audi starting from the pole. Rather, it was Tom O'Gorman in the No. 12 eEuroparts.com Racing Audi RS3 LMS that took the top starting spot at the 1.55-mile circuit with a time of 55.747 seconds (95.445 mph).
Saturday's race marks O'Gorman's second start in the Continental Tire Challenge after competing at Watkins Glen International earlier this month with the Windsor, Conn.-based team alongside co-driver Kenton Koch.
"I am so glad to be on pole for these guys," said O'Gorman. "It's our first season in the series, second race with this car and it's our home race, so to be on pole is super exciting. I can't wait for tomorrow's race.The key is now to just survive tomorrow's opening stint and hand the car over to Kenton in good shape because we are definitely going to be elbows up out there tomorrow."
Starting second in TCR – which will feature its biggest field of the season tomorrow – is the team that took the last four Motul Pole Awards, the No. 77 Compass Racing Audi of Britt Casey, Jr. and Tom Long.
For the fourth consecutive race, and for the fifth time in six 2018 races, it'll be the No. 81 BimmerWorld Racing BMW 328i leading the Street Tuner (ST) class field to green. Nick Galante posted the fastest lap in qualifying at 59.543 seconds (89.360 mph) to earn his second Motul Pole Award of the year. Galante's co-driver, Devin Jones, has won the other three for the team.
"The traffic tomorrow is going to be the main thing, but we have been running with these guys all season," said Galante. "If we keep an eye on our mirrors and try to minimize the traffic, I think we can have a good race and pull out a win here. I haven't had too much luck here at Lime Rock that last two years at all, but I think this could be the year here, especially in a BMW."
The Lime Rock Park 120 is scheduled for Saturday at 11:10 a.m. ET and can be streamed live onIMSA.tv. For fans onsite, a hour-long pre-race grid walk is open to the public for photos with the cars and autographs from the drivers.
Porsches Lead The Way In Opening Day Of WeatherTech Championship Practice
If 
Friday's
 trio of 
IMSA
 WeatherTech SportsCar Championship GT Le Mans (GTLM) and GT Daytona (GTD) practice sessions are any indication, 
Saturday's
 Northeast Grand Prix is anybody's race. In both classes, each of the day's three sessions were led by a different manufacturer.
In GTLM, the No. 911 Porsche 911 RSR of Patrick Pilet set the day's fastest lap of 50.414 seconds (105. 256 mph) in the final session. Dirk Mueller in the No. 66 Ford Chip Ganassi Racing Ford GT led the first practice with a lap of 50.924 (104.202 mph), while Antonio Garcia topped the charts in Practice 2 at 50.939 (104.171 mph) in the No. 3 Corvette Racing Corvette C7.R.
"Last year we had a great performance on this track," said Pilet. "We expected the same this year, but the track is a lot different. Each session we tried to improve the car and it was good in the last session. Now we need to find the right setup for qualifying and the race."
The parity in the class mirrors a tight GTLM points race with just five races remaining. The top six teams are separated by a mere 15 points entering Lime Rock, led by the No. 67 Ford Chip Ganassi Racing Ford GT team of Ryan Briscoe and Richard Westbrook.
Much like the GTLM class, three different teams led the way 
on Friday
 in the GTD class with Patrick Long unofficially setting the track record in the day's final session with a lap of 51.754 (102.530 mph) in the No. 58 Wright Motorsports Porsche 911 RSR. Kyle Marcelli led the way in Practice 1 with a lap 52.303 (101.454 mph) in the No. 14 Lexus RC F GT3, while Andy Lally led Practice 2 with a time of 52.140 (101.771 mph) in the No. 44 Magnus Racing Audi LMS GT3.
Saturday's
 Northeast Grand Prix begins at 
3 p.m. ET
 and will be televised on a delayed basis starting at
4 p.m. ET
 on FS1. The race will be carried live by 
IMSA
 Radio on 
IMSA
.com, RadioLeMans.com and SiriusXM Radio (Sirius 138/XM 202/App 972).
Lime Rock Park "Home Base" For Carpentier, eEuroparts.com Racing
While Ryan Briscoe is a relatively new resident of Connecticut there is probably no bigger advantage a team will enjoy this weekend than that of 
IMSA
Continental Tire SportsCar Challenge team eEuroparts.com Racing and driver Lee Carpentier.
The Windsor, Conn.-based team's owner Matt Moran is a Lime Rock Drivers Club member and has a working relationship with the track, while Carpentier lives a mere five minutes from the circuit and worked at the track for over a decade at the Skip Barber Racing School and as an instructor at various local weekends.
"It's always important to support local businesses and the track is certainly a local business," said Moran. "Skip (Barber) and his crew have done a great job, Walter (Irvine), Ryan (McIntosh), all the way down, with certainly helping us out promote our business and we try to help them out and promote their business. It's been a symbiotic relationship for us over the course of the last few years."
eEuroparts.com Racing has a pair of Audi RS3 LMS TCR cars entered this weekend in the Continental Tire Challenge TCR class, with Carpentier and Kieron O'Rourke in the No. 10 entry and Kenton Koch and Tom O'Gorman in the No. 12.
Despite numerous starts at Lime Rock in other series, this will be the first 
IMSA
 start for eEuroparts.com Racing. Looking to podium in front of a large number of family, friends and guests, the team will lean on Carpentier, who may have more laps at Lime Rock that any other driver in the series as a former employee at the track.
"I haven't worked for maybe two years for the track, but I still do some hot lap stuff for them" he said. "I do some instructing for their club. So being the home base for me, it provides enough driving throughout the year that I can stay on top of my game."
Double Time for WeatherTech Championship Teams 

Tomorrow
Something will take place at 
tomorrow's
 Northeast Grand Prix that has never happened before in the WeatherTech Championship. The teams will qualify and race on the same day for the first time in series history. Qualifying begins at 
9:35 a.m.
 for the GTD cars followed by GTLM qualifying at 
10:00 a.m.
 before the green flag drops at 
3:10 p.m.
"It adds another element to a race weekend for us because this is a two-day race weekend instead of three days," said Katherine Legge, driver of the No. 86 Meyer Shank Racing Acura NSX GT3. "That means there is extra work for the guys for car set up because there is less time. Qualifying and racing on the same day also means you can't do a lot to the car in between the two and you can't risk wrecking it which will make some people a little more conservative. But it does mean that it will be an accurate representation of how the car will be in the race. It will be interesting to see what happens."