Well-known sports car team owner and automobile dealership owner Dave Maraj was killed Saturday night in a boating accident in Florida, according to SportsCar365.com.
Maraj's Champion Racing teams won five consecutive American Le Mans Series championships from 2004 through 2008, and also captured the overall win in the 24 Hours of Le Mans in 2005, the last American team to do so in the iconic sports car race.
IMSA President Scott Atherton released the following statement mourning Maraj's passing: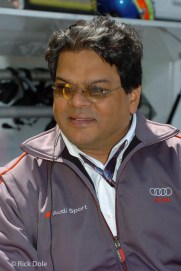 "All of us at IMSA are shocked and saddened by the news of Dave Maraj's passing. As a team owner in the American Le Mans Series, Dave and his Champion Racing organization were the epitome of professionalism and excellence, as their five series championships and 24 Hours of Le Mans victory will attest.
"Dave was a tremendous competitor and a great friend to all in the paddock throughout his time in our sport. Our thoughts and prayers go out to Dave's family and friends and to all of his associates at Champion Motors."
Maraj was a very successful automobile dealership owner, most notably Champion Motors and Champion Porsche in Pompano Beach, Florida, the latter considered the No. 1 Porsche dealer in the U.S.
Details of how Maraj died have not been released.
Maraj sold his racing operation after the 2008 season and devoted himself to his Porsche and Audi auto dealerships, as well as competitive sailing.