When you are scheduled to compete in just six IndyCar races this season, patience is a virtue.
And that certainly describes Jack Harvey. It's been nearly two months since he last competed in an IndyCar race, finishing 16th in the Indianapolis 500.
For some people, missing two months and the six races since Indy an eternity. But Harvey is more than ready to get back into the No. 60 Meyer Shank Racing Honda, and he'll do just that in this weekend's Honda Indy 200 at Mid-Ohio Sports Car Course.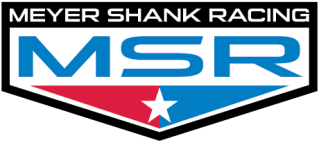 "We're excited to be back in the car," Harvey told MotorSportsTalk. "We're doing six races this year, which means we're missing a few more than we are actually racing at.
"But honestly, every time we get the opportunity to go back in, we're absolutely buzzing and are so excited."
Harvey will once again be in the No. 60 AutoNation/SiriusXM Honda, which is a joint partnership between Schmidt Peterson Motorsports and Meyer Shank Racing (co-owners Michael Shank of Michael Shank Racing and SiriusXM Satellite Radio CEO Jim Meyer).
"I'm really surrounded by two really fantastic teams," Harvey said. "Everybody at Meyer Shank Racing and Schmidt Peterson Motorsports, they're behind me 100 percent.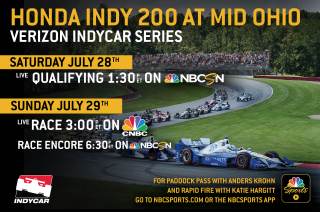 "The goal for this year is just to improve every weekend. If we could win, absolutely, we'll give it our best go. But we're also realistic with our expectations, as well."
This weekend's race will be the fourth of the 2018 season for the 25-year-old Bassingham, England native.
Thus far, he's competed in the season opener at St. Petersburg (finished 23rd, exited after just 38 of 110 laps), Long Beach (12th) and the Indy 500 (16th).
"Honestly, even St. Petersburg, we were running well, running fifth place, and then we had a random tire blow out, the right rear just popped," Harvey said.
"The team didn't see anything before it happened in the telemetry and I didn't feel anything before it happened. So, that was a little bit of an anomaly."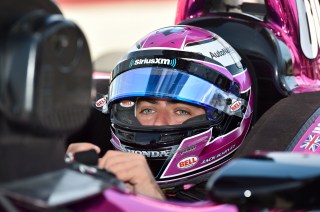 Even though St. Petersburg didn't turn out the way he hoped, there's still a lot to be said that Harvey subsequently completed all 85 laps at Long Beach and all 200 at Indy.
"Every weekend, we want to see the checkered flag at the end of the race, that's at the top of our priority list," Harvey said. "Hopefully at Mid-Ohio, if we can qualify in the top 12 and race in the top 10, that would be a fantastic weekend because the depth and quality in this championship is so high.
"If we could do that, it would be absolutely awesome."
Mid-Ohio is one of the biggest races for the team this year. First, it's the home track for Meyer Shank Racing. Second, it's where Harvey earned his first two of six career Indy Lights victories in a back-to-back race weekend there in 2014.
"Mid-Ohio is an extra special place for us, for sure," Harvey said. "We really feel this could be a strong race for us. It's got good memories for all of us."
While competing in just under one-third of the full 17-race IndyCar season can be challenging, Harvey keeps himself busy.
"It's been difficult, a tough thing to mentally get your head around," Harvey said. "You come to the track and honestly, I just want to drive.
"If I'm watching a test day, first practice, the race, qualifying, it doesn't matter. If someone is going around in a car, I want to be in the car. That's been tough, honestly."
Even if he's not in a race car, Harvey still attends many IndyCar race weekends.
"In terms of trying to keep sharp and busy, I coach a driver in the USF 2000 category, Kaylen Frederick (currently 2nd in the standings)," Harvey said. "That's kept me at the track and kept me in all the debriefs with the team and things like that, (race in) simulators when the opportunity comes up, and I'm in the process of buying a go-kart, as well.
"I'm just trying to stay sharp as much as we can."
After this weekend, Harvey has two more IndyCar races left on this year's schedule: the second-to-last race at Portland and the season finale at Sonoma, California.
Going forward, MSR plans on competing in at least another six races in 2019, with hopes of going the full season in 2020.
"I'd love to see us get into double digits for races next year," Harvey said. "If the opportunity presented itself, of course we'd love to do the full season. We just have to play that by ear and see how it goes.
"But on the whole, I'm very happy with the direction the team is going. If we can end up with a full season by 2020, perhaps that's a slightly more realistic target. We all know we have something for next year, it's just a case of trying to go and expand it."