Short of someone slicing his tires or putting nails in them when no one is looking, Scott Dixon is definitely in the driver's seat in the quest for the 2018 Verizon IndyCar Series championship.
With five races remaining this season, Dixon – who is going for a fifth career IndyCar championship — comes into this weekend's Honda Indy 200 at Mid-Ohio Sports Car Course with a commanding 62-point lead over his closest challenger for the title, defending series champion Josef Newgarden.
Third-ranked Alexander Rossi is 70 points behind Dixon, followed by Ryan Hunter-Reay (-91) and Indy 500 winner Will Power (-93).
"With five races to go, I'm still saying anyone that's within 120 points, they're still in the conversation and have to be considered in the conversation when you look at Sonoma," Newgarden told MotorSportsTalk.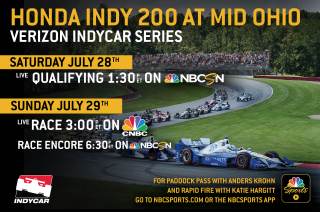 Just outside that 120-point spread Newgarden referred to are four additional drivers who could still be in the championship conversation, especially if they win one or more of the remaining quintet of races.
Those five and the margin they're behind Dixon heading into Sunday's race are Robert Wickens (-125 behind Dixon), Simon Pagenaud (-144), Graham Rahal (-151) and James Hinchcliffe (-152).
While not looking ahead, Newgarden is also realistic that the championship could be won or lost in the season finale at Sonoma Raceway on Sept. 16.
"It's going to be interesting," Newgarden said. "There are still a lot of people in it when you look at the finale at Sonoma.
"Because (Sonoma) has double points, it really changes the way it looks, the spread of points. You don't have to be so tight up against each other. Indy (the Indianapolis 500) is the same way: Indy can reward you and so can Sonoma."
Dixon, who is tied with Newgarden for most wins thus far this season (three apiece) will prove hard to overtake, let alone beat, given the season he's had thus far.
But as far as Newgarden is concerned, he and his team have to worry more about their own situation and try to forget Dixon is where he is currently in the standings.
"I think the big thing for us is we have to find ways to capitalize on days where we're not winning, or even days where we lose too many points," Newgarden said. "Toronto is a good example, it was obviously a mistake that led to winning or a second-place finish, and it turned into a ninth-place finish. Those are the kind of days that really hurt us.
"I think as a whole, we've probably been stronger from a speed standpoint than Scott, but he's had more consistent finishes in the top five, and that's going to add up at the end of the year.
"The last five races it comes down to if we can figure out how to have a better average and take the wins when we can get them, hopefully.
"But more importantly, just finish second or third on days when we're not winning and make sure don't turn those into ninth's or 10ths. I think that's really the key to try and overhaul Scott for the championship."
And given that double points will be in play at Sonoma, the whole championship could once again come down to the final race, as it has for the last several seasons.
"We'll see who will have the best average (in the last five races)," Newgarden said. "But I think the end game is putting yourself in position for Sonoma, where you can decide your own destiny. If you can do that, it makes your job a lot easier going into Sonoma.
"If you can win the race to also win the championship, I think that's the kind of position you want to be in going into Sonoma."