The Mazda Road to Indy Presented by Cooper Tires kicked off their weekend at the Mid-Ohio Sports Car Course on Friday.
And while the Indy Lights Presented by Cooper Tires and the Pro Mazda Championship Presented by Cooper Tires completed practice and qualifying for their Saturday races (Race 1 for both series), the Cooper Tires USF2000 Championship Powered by Mazda completed its first race of the weekend, and crowned a champion in the process.
A recap of Friday action at the Mid-Ohio Sports Car Course is below.
Kirkwood Clinches USF2000 Crown with Seventh Win in a Row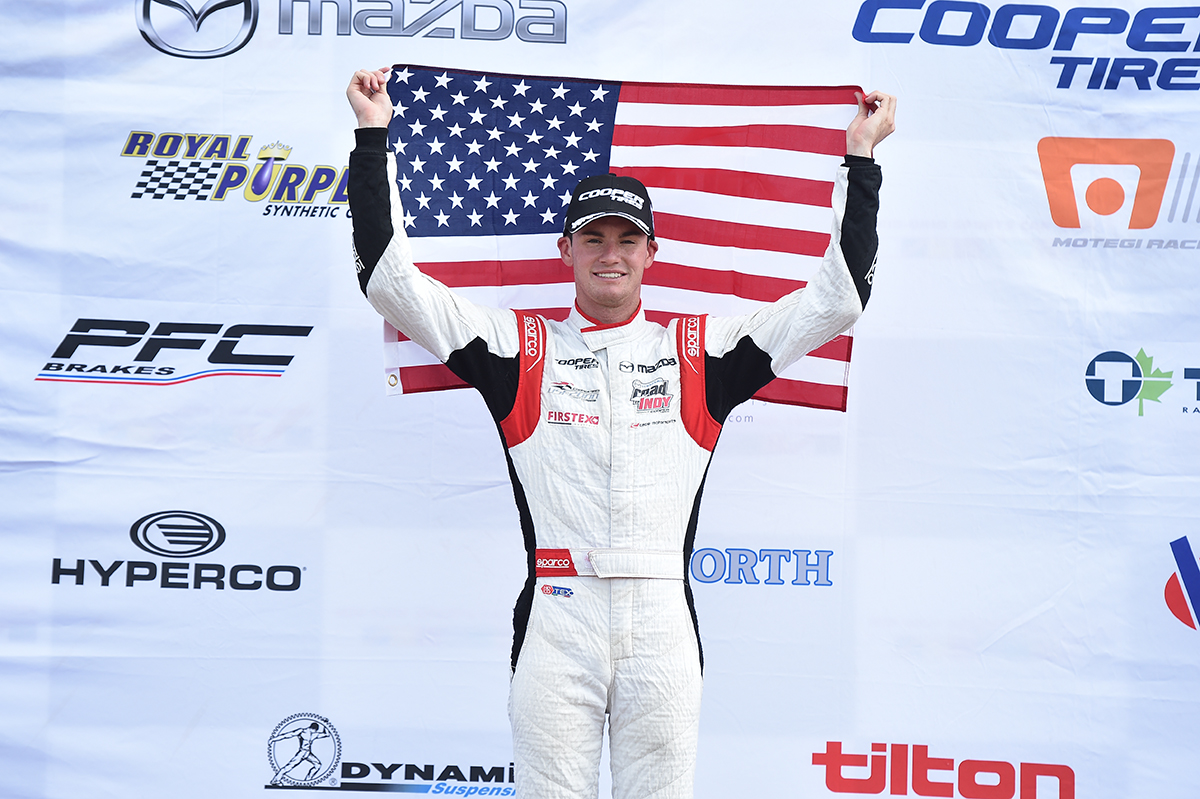 Kyle Kirkwood entered Mid-Ohio needing to only score 34 points across the weekend's three races – USF2000 enjoys its lone triple header of the year at Mid-Ohio – to clinch the USF2000 crown. But, that was if Kaylen Frederick, second in the championship entering the weekend, scored maximum points across the three races. Any issues for Frederick would mean that Kirkwood could wrap up the championship after Race 1.
And that's exactly what happened on Friday. Frederick, who started second, had a collision with his Pabst Racing Services teammate Rasmus Lindh in Turn 4 – Lindh received a drive-through penalty for his role in the incident, while Frederick lost a lap trying to rejoin the field.
Up front, Kirkwood started on the pole, which netted him a point, and he seemed to be on cruise control much of the way and never faced a genuine challenge.
In the end, Kirkwood reigned supreme to take his seventh win in a row, and his eighth of the 2018 season, which was more than enough for him to clinch the USF2000 championship.
An elated Kirkwood was beside himself afterward.
"The championship hasn't begun to sink in, I don't even know what to think," Kirkwood revealed post-race. "It's very unexpected to get it this early – I'd hoped to clinch it here but I didn't think it would be in the first race. Oliver (Askew)'s goal was to win it here last year and couldn't, so now I've been able to do it! We've known each other for so long, so to follow up his championship last year with the eighth in a row for the Capes is a great feeling. I'm so excited to think that I'll be carrying the Soul Red colors for Mazda next year."
Lucas Kohl and Calvin Ming finished second and third for Pabst in Race 1, followed by Keith Donegan (BN Racing) and Julian Van der Watt (Team Pelfrey).
Full results from Race 1 are below. Race 2 rolls off at 12:35 p.m. ET on Saturday.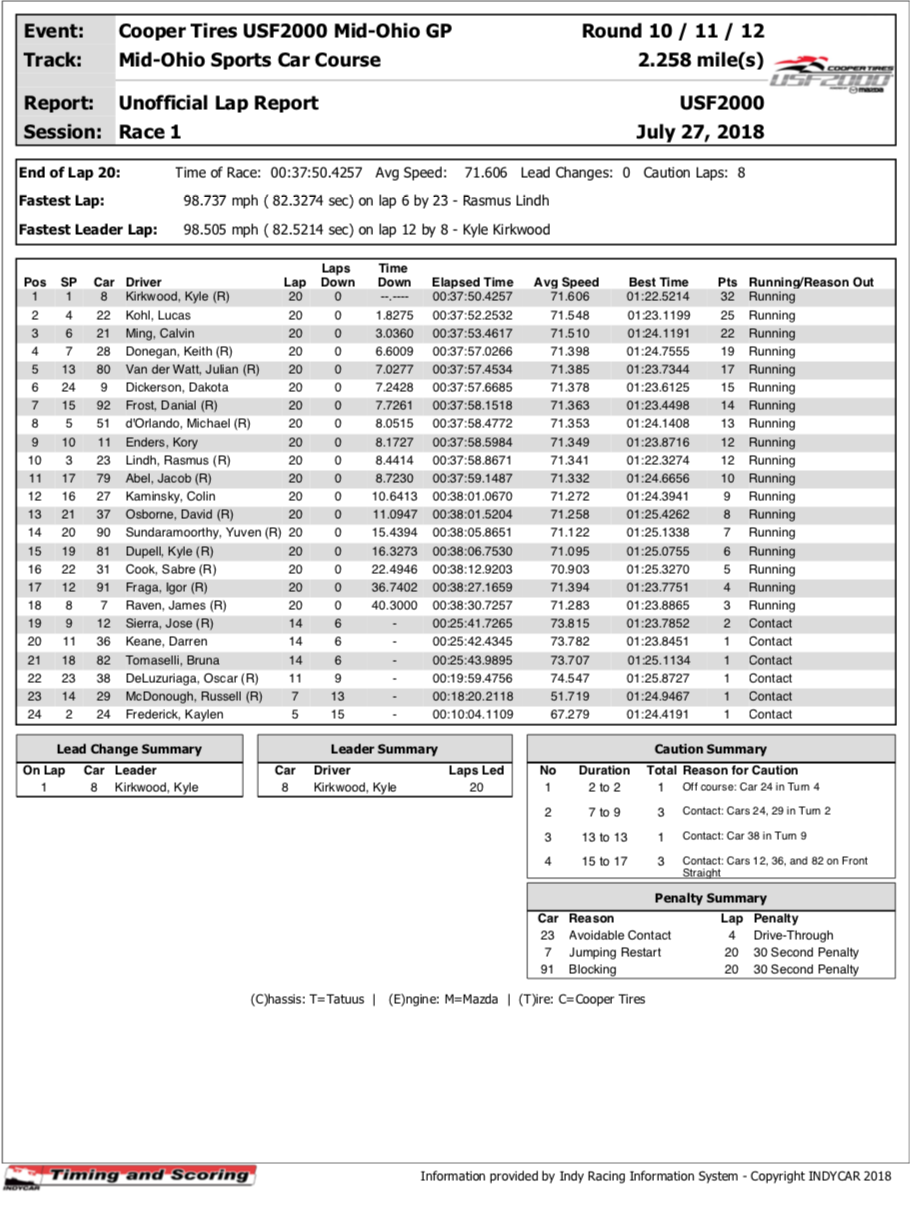 O'Ward, VeeKay Take Indy Lights and Pro Mazda Race 1 Poles
Indy Lights and Pro Mazda completed practice and qualifying for their opening races of the weekend on Friday, with Pato O'Ward grabbing the pole in Indy Lights while Rinus VeeKay took the pole honors in Pro Mazda – both drivers also take a valuable bonus point in their respective championship efforts.
Indy Lights sees Ohio-native Ryan Norman flank O'Ward on the front row in his best qualifying result of the year, followed by O'Ward's title rival Colton Herta in third. Aaron Telitz, Santi Urrutia, Dalton Kellett, and Victor Franzoni round out the field.
In Pro Mazda, David Malukas will start alongside VeeKay on Row 1, while championship leader Parker Thompson starts third. Carlos Cunha and Robert Megennis complete the top five on the grid for Race 1.
Indy Lights and Pro Mazda conclude Saturday's on-track action, with Indy Lights' Race 1 at 3:05 p.m. ET followed by Pro Mazda Race 1 at 4:10 p.m. ET.