Shawn Langdon knew what he was up against when he switched from a near-decade stint as a NHRA Top Fuel driver to Funny Car this season for Kalitta Motorsports.
A former Top Fuel champ (2013, as well as prior titles in Junior Dragster and Super Comp sportsman racing), Langdon was in a sense starting his career over from scratch.
\He not only had to undergo a learning curve to drive a Funny Car, which he had never driven before, he also had to get used to a new team and a new way of doing things than the way he'd been used to doing them with past teams, including Al-Anabi Racing and Alan Johnson Racing.
"When I am standing outside of the car or looking at stats, you get a weird feeling because I never would have envisioned my name besides these guys (like John Force, Ron Capps, Cruz Pedregon and Robert Hight)," Langdon said. "It is humbling and cool.
"These are people I grew up idolizing, so to see my name there makes me realize how fortunate I am.
"However, when I am in the race car, I do not put them on the pedestal. I look at them as a competitor. I am trying to beat them and get a win. As much as I respect them and what they have accomplished, I want to beat them. "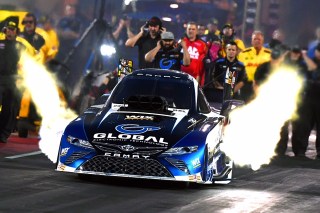 The transition from Top Fuel to Funny Car for Langdon remains a work in progress as he competes in this weekend's Toyota Sonoma Nationals in Sonoma, California.
Sonoma is the second race of the annual three-race Western Swing that began last week in Denver, and concludes next weekend in Seattle.
This race has added significance to Langdon, as he grew up in California (Mira Loma), and anticipates a number of family and friends to attend this weekend's race in the Napa Valley.
"Sonoma is a big track for me," Langdon told MotorSportsTalk. "Toyota has been a big part of my career, and they are going to have a lot of people there which makes it even more important. We get a ton of support from Toyota and TRD (Toyota Research and Development).
"But it is important to me too because I grew up in California. I am very familiar with the track, and even won there at the sportsman level."
Admittedly, the first 14 races of the 24-race NHRA Mello Yello Drag Racing Series have been a struggle at times for Langdon as he has made the transition from Top Fuel to Funny Car.
Yet at the same time, things are looking up: he has reached the semifinals four times within those first 14 races, most recently in the NHRA New England Nationals July 6-8 in Epping, New Hampshire.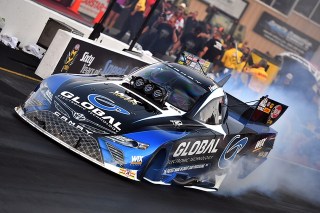 "I think (the transition from TF to FC) has gone fairly well," Langdon said. "It has been a pretty big learning curve for me especially the first 20-30 runs.
"I was mentally behind the car, so it was me making the adjustments to my driving to make the changes I need in the seat. I have been pleased with the growth and the feedback I have been able to provide to my Global Electronic Technology/WIX Filters Toyota team.
"But you cannot get comfortable, because the Funny Car can throw you curve balls like it did in the final qualifying session in Denver. I was not aggressive enough and got close to the wall. Racing Funny Car will humble you. It will let you have a few good runs, but it will bring you back with a run like that."
Also speaking of being humbled, the 35-year-old Langdon is used to winning: he has 14 Top Fuel and seven Sportsman victories in his career.
But he comes into Sonoma ninth in the Funny Car standings, more than 500 points behind series leader Courtney Force.
That leaves Langdon in a very uncomfortable position, as – including this weekend – there are still four more races remaining to cement his position in the upcoming six-race Countdown to the Championship playoffs.
A win would lock him in; but even if he were to nail more semifinal finishes, it may not be enough to qualify for the playoffs.
"I think right now, we are in a pretty tough position," Langdon said. "We have three normal points races left, and then Indianapolis (the U.S. Nationals, the biggest race of the season), which is points and a half.
"We are in a position that we cannot have back-to-back bad races with this team. There are really four guys who can catch us, with three within three rounds."
Those four drivers are Bob Tasca III, who is 51 points behind Langdon, Tim Wilkerson (53 points back), Cruz Pedregon (57 points behind) and Jonnie Lindberg (117 points back).
Still, exuding the confidence that he has always displayed throughout his racing career, Langdon is emphatic about what he has to do and knows what it will take. After this weekend's race, three races remain to make the playoffs: Seattle, Brainerd (Minnesota) and Indianapolis.
"I like the position we are in; we control our destiny," Langdon said. "I think if we get a win in the next four, we will be in for sure. We just have to continue to go rounds.
"When you look at the points the races provide and the history, you have to look at Indianapolis. I have been lucky enough to win Indy before, and would love to get a U.S. Nationals win for Global Electronic Technology and everyone at WIX and Toyota, and all our other partners. They have supported this change and I would love to deliver them a trophy."