Alexander Rossi will start from the pole in Sunday's Honda Indy 200 at Mid-Ohio Sports Car Course.
Rossi turned in the quickest time around the 2.258-mile, 13-turn course during Saturday's qualifying at 1:04.6802 at 125.677 mph.
"It was hard," Rossi told the IndyCar Radio Network. "Driving around Mid-Ohio is not easy. But I've been blessed this weekend by a real good race car. … We've had good Fridays and bad Saturdays, so we focused on today and it paid off."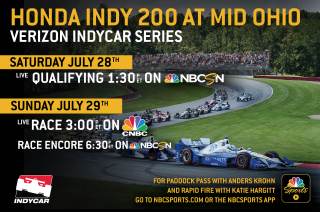 Rossi comes into Sunday's race third in the Verizon IndyCar Series driver standings, 70 points behind series leader Scott Dixon and eight points behind second-ranked Josef Newgarden.
"This isn't one of our best tracks, but we have an opportunity (to close the gap on points leader Scott Dixon)," Rossi added.
It's Rossi's third pole of the season in the first 13 races. He also has one win in 2018 (at Long Beach).
Will Power was second quickest (1:04.8393 at 125.263 mph) and will start alongside Rossi on the front row.
Ryan Hunter-Reay (1:04.9896 at 125.078) will start third, followed by Josef Newgarden (1:05.1335 at 124.802), Robert Wickens (1:05.1747 at 124.723) and Max Chilton (1:06.6172 at 122.023), his highest starting spot in his IndyCar career.
Seventh through 12th were Graham Rahal (1:06.1804 at 122.828 mph), Takuma Sato (1:06.3755 at 122.467), Scott Dixon (1:06.4187 at 122.387), James Hinchcliffe (1:06.5549 at 122.137), Ed Jones (1:07.09999 at 121.145) and Zach Veach (1:07.2287 at 120.913).
Sunday's Honda Indy 200 will be televised live on NBCSN. The pre-race show begins at 3 p.m. ET, with the green flag slated to fall around 3:30 p.m. ET.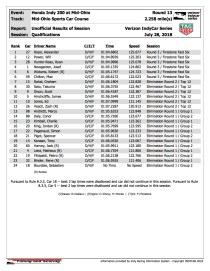 Among incidents during the overall session:
* With seconds only remaining in the Fast 12 session, Hinchcliffe had just turned in the fastest speed when he lost control and went off-course into the tire barrier in the carousel area. Hinchcliffe suffered heavy damage to the front end of his Schmidt Peterson Motorsports Honda, dropping him to start from the 10th position, alongside five-time Mid-Ohio winner Scott Dixon, making his 300th career IndyCar start on Sunday.
* Race Control then held off the start of the Fast Six session while it reviewed the final laps of the Fast 12 session. Speculation was that Hinchcliffe may have held up other cars making their qualifying passes earlier in the session, but IndyCar officials decided that was not the case.
That did not sit well with Rahal.
"I just think everybody's driving real poorly," Rahal told the IndyCar Radio Network. "There's no penalty for a red flag. It ruins it for everybody else. Here, it obviously hurt us a lot. But it's very frustrating because clearly we're a car that can go on. IndyCar never makes a call or reverses anybody (for cars that hold up others). I'm very frustrated. It ruins weekends for guys when somebody makes a mistake and it kills it for everybody else."
Also to the IndyCar Radio Network, Hinchcliffe said of his spin and for keeping some of his competitors from reaching the Fast Six, "I just lost it. Maybe I went a bit too far, but at the end of the day, I'm the guy with the steering wheel in my hands. I feel bad for the guys that didn't get a chance to finish their runs. … (Having potential penalties for cars holding up others), it's almost like an unpoliceable thing."
* Turn 4 presented problems to two of the Team Penske drivers as both defending Verizon IndyCar Series champion Josef Newgarden and 2016 champ Simon Pagenaud both ran off the racing surface and kicked up a great deal of dirt, but were both able to continue on.
* Sebastien Bourdais brought out the red flag in the second qualifying group when he went off-track and into the tire barrier in Turn 2.
* At almost the same time of Bourdais' mishap, Will Power went off-track in Turn 12, but was able to continue on with no damage. Power then turned in the fastest speed of Group 2.