All three series of the Mazda Road to Indy Presented by Cooper Tires hit the Mid-Ohio Sports Car Course for races on Saturday – Race 1 for the Indy Lights Presented by Cooper Tires and the Pro Mazda Championship Presented by Cooper Tires, and Race 2 for the Cooper Tires USF2000 Championship Powered by Mazda.
Indy Lights saw its title combatants lock horns in the final laps as they battled for the win, while Pro Mazda has a new points leader after a driver took his third win in a row. And in USF2000, the newly crowned champion continued his remarkable winning streak.
Reports on all three series are below.
Indy Lights: O'Ward Outlasts Herta Challenge for Race 1 Win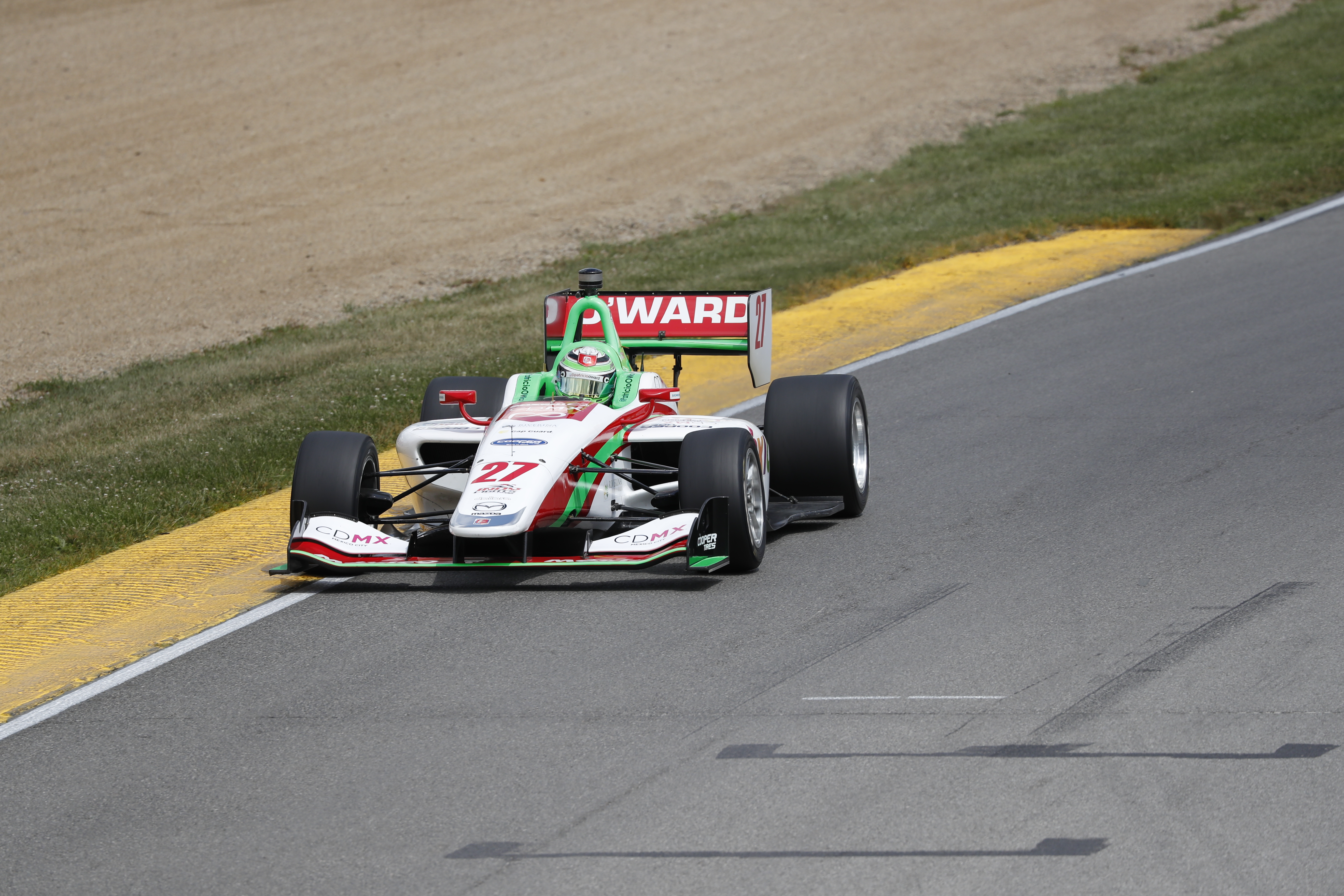 Championship combatants Pato O'Ward and Colton Herta dueled for the Race 1 win in the final laps, with Herta all over O'Ward's gearbox during the second half of the race.
However, O'Ward thwarted every challenge to secure the victory and further extend his championship lead before Sunday's Race 2 – he now leads Herta by 25 points.
"We've carried some good momentum since Iowa and I'm trying to make it better and better each weekend," O'Ward explained afterward. It's just tough to keep people behind you when they can engage the push-to-pass, so it's nice to get more than a second-and-a-half gap, then stretch it out from there. It was a good race. I had pressure from behind the whole way, so to get the win means a lot.
Dalton Kellett rounded out the podium in third. He took the third spot following a Lap 21 restart – Aaron Telitz spun into the Turn 9 gravel trap on Lap 18 to bring out the caution – when his Andretti Autosport teammate Ryan Norman began to struggle.
Norman, who had been running second, lost that position to Herta, and then lost third to Kellett as he started to drop through the order. He battled hard with Santi Urrutia for fifth – Victor Franzoni had already gotten around him for fourth – with Urrutia trying an outside pass entering Turn 4 on Lap 22.
However, Norman clipped the inside curb, which launched him into Urrutia. The contact sent Urrutia into a spin as both cars went off course, with Urrutia briefly coming to a stop before continuing. Norman was subsequently issued a drive-through penalty for his role in the incident.
That battle left Franzoni in fourth at the end, with Norman ending up fifth. Urrutia and Telitz finished sixth and seventh respectively.
Race 2 rolls off Sunday at 1:05 p.m. ET.
Pro Mazda: VeeKay Retakes Points Lead with Race 1 Victory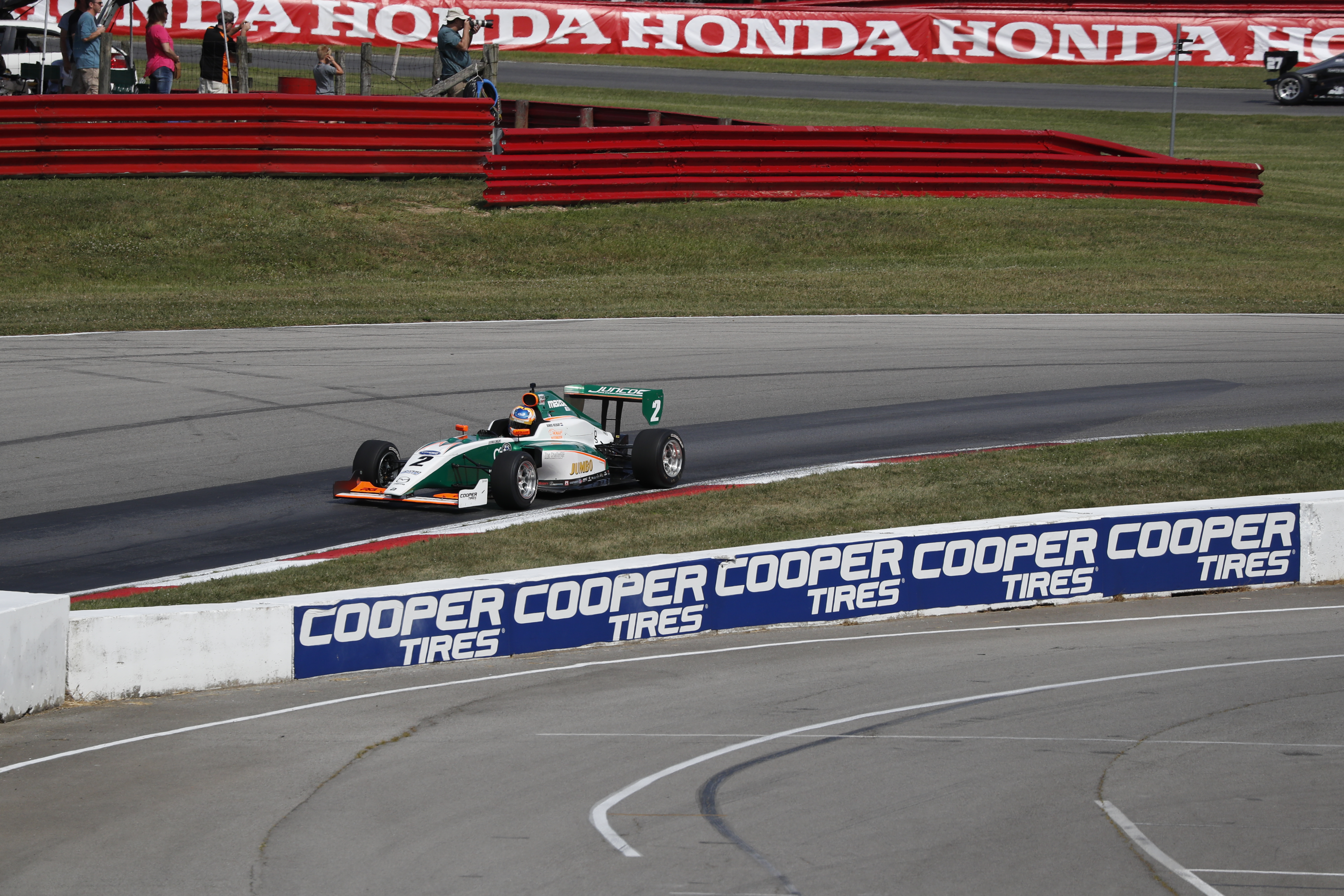 Rinus VeeKay dominated Race 1 from the pole to take his third win in a row, and his fifth of the 2018 season, to retake the series points lead from Parker Thompson.
VeeKay immediately took off into the lead from the pole position and went unchallenged most of the way, winning by nearly three seconds over second-place finisher David Malukas.
"The first half of the race, David (Malukas) got pretty close. I had to adapt a bit because I didn't want to be quick and hurt the tires and damage my chances in the second race," VeeKay detailed afterward.
"I got into a good rhythm and was able to push hard at the end of the race to get the quickest race lap as well, so I'm happy with my points from today. Leading the championship doesn't change anything: every race I try to win and get everything out of the car and myself. I just have to focus as much as possible. But towards the end of the race, my spotter Charles Crews told me to bring it home which just reminded me not to push too hard. I'm really happy to get my third consecutive win."
Robert Megennis made a Lap 1 charge that saw him jump from his fifth starting spot to run third, a spot he held from there to the end. Carlos Cunha finished fourth, putting all three Juncos Racing entries in the top five, while Parker Thompson finished fifth.
Thompson, who led VeeKay by seven points entering the weekend, now enters Race 2 down nine points to VeeKay.
Results are below. Race 2 rolls off at 11:05 a.m. ET on Sunday.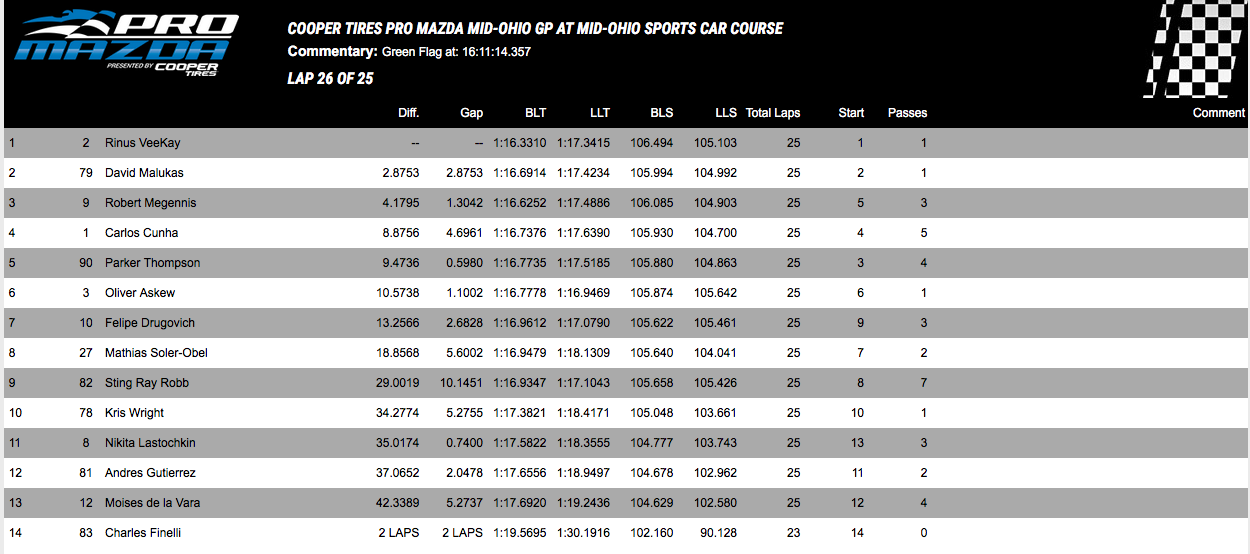 USF2000: Kirkwood Victorious Again After Frederick Falters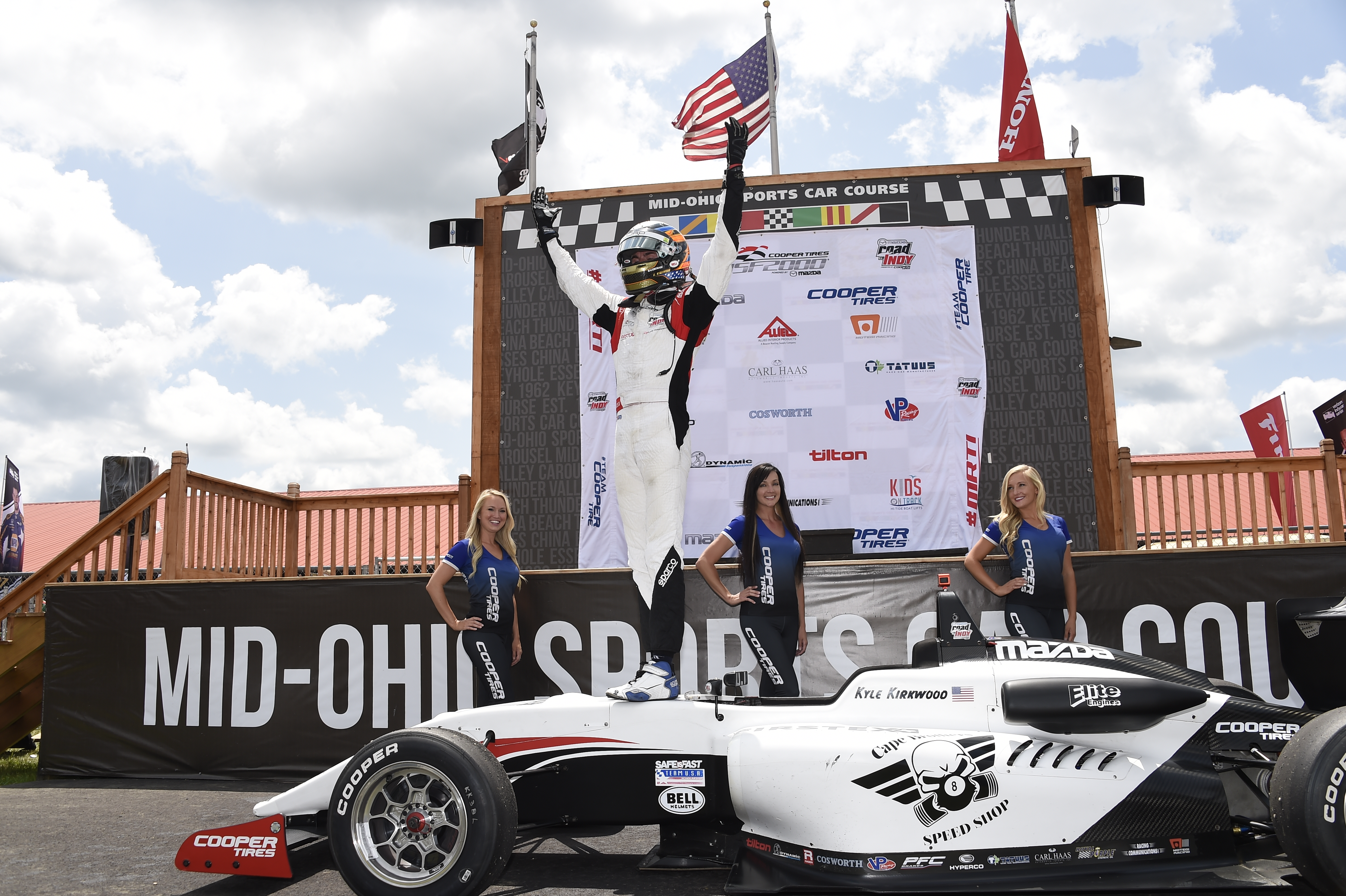 Kyle Kirkwood found himself in an opportune position when a rival faltered in Race 2. Starting second, alongside pole sitter Kaylen Frederick, Kirkwood found himself in the lead when Frederick went wide in Turn 2 just after the green flag waved.
And Kirkwood, who clinched the 2018 USF2000 championship with his Race 1 victory, never looked back from there, leading every lap and going unchallenged to take his eighth win in a row, and ninth of the year.
"Even though I've clinched the title, the goal stays the same, to keep winning races and to try to tie for most wins in a season," Kirkwood asserted afterward. "This point of the season is the most important. We've won the championship but we have to prove that we won't let up. If we relax, that would show that I'm not extremely focused and that's not the case. This is just the beginning of my career so I'm going to keep charging."
Lucas Kohl and Igor Fraga came through to finish second and third – Fraga also now enters Sunday's Race 3 one point behind Rasmus Lindh in the battle for second in the championship.
Lindh and Calvin Ming rounded out the top five. Frederick, in trying to work his way back forward, saw his weekend get worse after he made contact with Sabre Cook, causing both drivers to spin off course. Both retired from the race, and Frederick was credited with 23rd.
Race 2 results are below. Race 3 rolls off at 12:10 p.m. on Sunday.