The Mazda Road to Indy Presented by Cooper Tires completed their weekend at the Mid-Ohio Sports Car Course on Sunday, and all three series saw drivers complete weekend sweeps.
The Indy Lights Presented by Cooper Tires again saw its two title combatants duel late in the race, with the points leader again fending off all challenges, while the Pro Mazda Championship Presented by Cooper Tires saw its points leader extend his lead while his title rival struggled.
And in the Cooper Tires USF2000 Championship Powered by Mazda, the newly crowned champion continued his winning ways.
Early reports on all three series are below.
Indy Lights: O'Ward Bolsters Points Over Herta With Race 2 Victory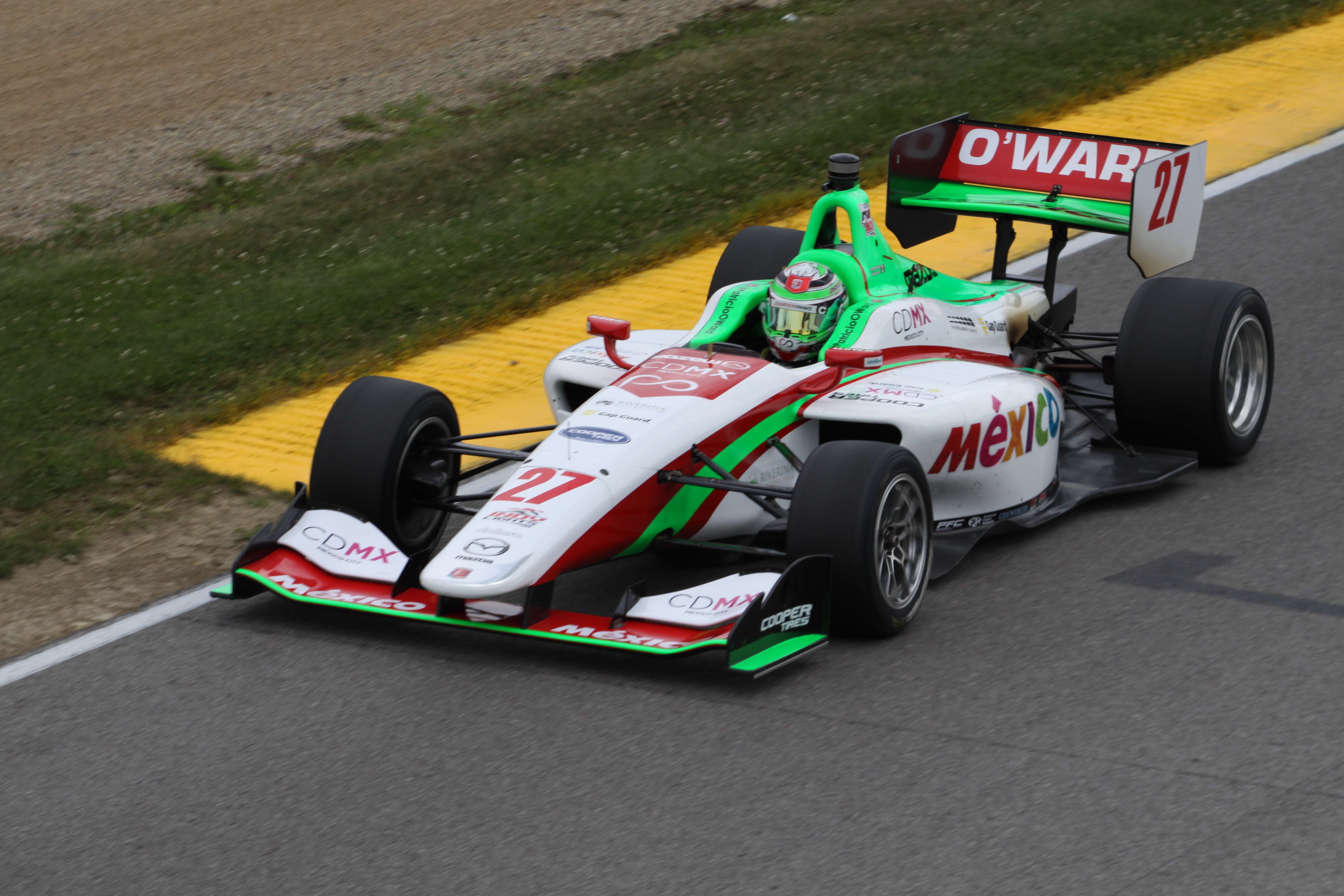 Pato O'Ward took his seventh victory of the 2018 season on Sunday, completing a full weekend sweep at Mid-Ohio – he won the pole for both races, and went on to win both races.
Like Race 1, O'Ward needed to outlast advances from title rival Colton Herta, with a mid-race caution for a spinning Aaron Telitz – he spun after contact with Victor Franzoni, with Franzoni getting a drive-through penalty for his role in the incident – allowing Herta to close in after O'Ward pulled out a lead of over two seconds.
However, like in Race 1, O'Ward kept Herta at bay, eventually winning by over four seconds.
"My plan was to get out to at least a two-second lead so the guys behind me couldn't use the push-to-pass," O'Ward said of his race strategy. "But then the yellow came out so once Colton could engage it, he was able to stay behind me."
"I just had to stay in front and try to make him use all of them early. He got close to me once but I made sure I was fast in Turns One and Two, because that's really the only place you can pass. At that point, it's about keeping everything focused and tidy."
Behind them, Ryan Norman came through to finish third in his home race – Norman is a native of Cleveland – after battling with Santi Urrutia, who finished fourth.
Dalton Kellett, Victor Franzoni, and Aaron Telitz rounded out the order.
O'Ward now leads Herta by 32 points.
Pro Mazda: Race 2 Victory Sees VeeKay Extend Championship Lead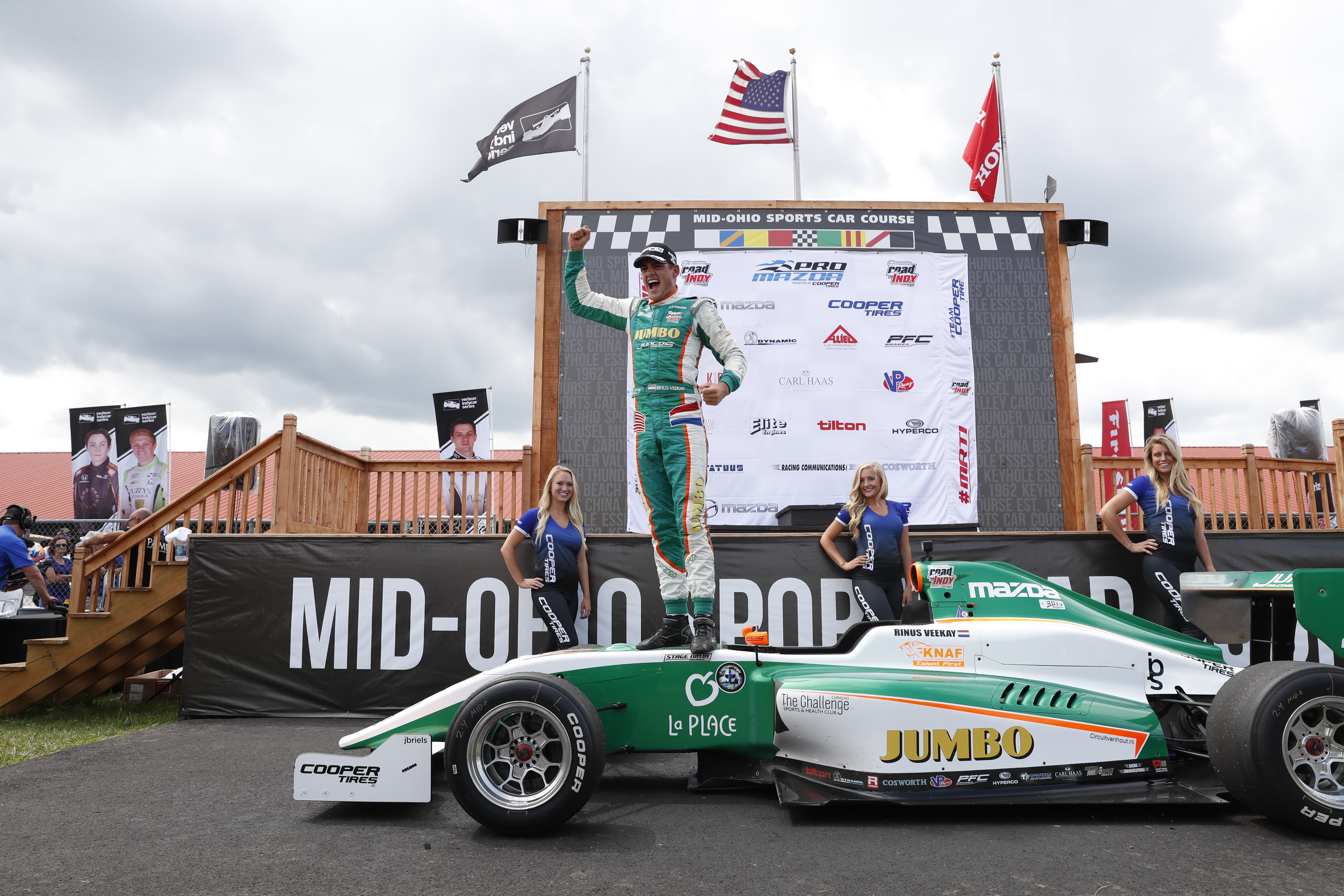 Rinus VeeKay entered the weekend trailing Parker Thompson by seven points after sweeping the weekend on streets of Toronto two weeks ago.
He now leaves Mid-Ohio with a 25-point lead over Thompson after his second consecutive weekend sweep, as he backed up his Race 1 win with a Race 2 triumph, while Thompson again struggled on race day.
VeeKay ran second in the opening laps behind pole sitter David Malukas, but took the lead on Lap 8 after Malukas pulled off in Turn 5 with mechanic troubles.
VeeKay never looked back, surviving a late-race restart – his Juncos Racing teammate Carlos Cunha stalled on track exiting the final corner, necessitating the yellow – to complete the weekend sweep and take his sixth victory of the season.
"I saw (David) pulled off the track – I felt sad for him, to lose a win like that, but I'm happy for myself in the championship," VeeKay said afterward. "I drove in my mirrors the whole race as (teammate Robert Megennis) was really quick. But the team did a great job to have three great cars on the grid and four podiums this weekend."
Robert Megennis made it a Juncos 1-2 by finishing second, backing up his third-place effort from Race 1, with Oliver Askew rounding out the podium in third.
Sting Ray Robb charged from seventh on the grid to finish fourth, followed by Felipe Drugovich, on his debut weekend with RP Motorsport, in fifth.
Parker Thompson, who started fourth, dropped to ninth on the opening lap, and could only get back up to sixth at race's end.
USF2000: Kirkwood Takes His Winning Streak to Nine in a Row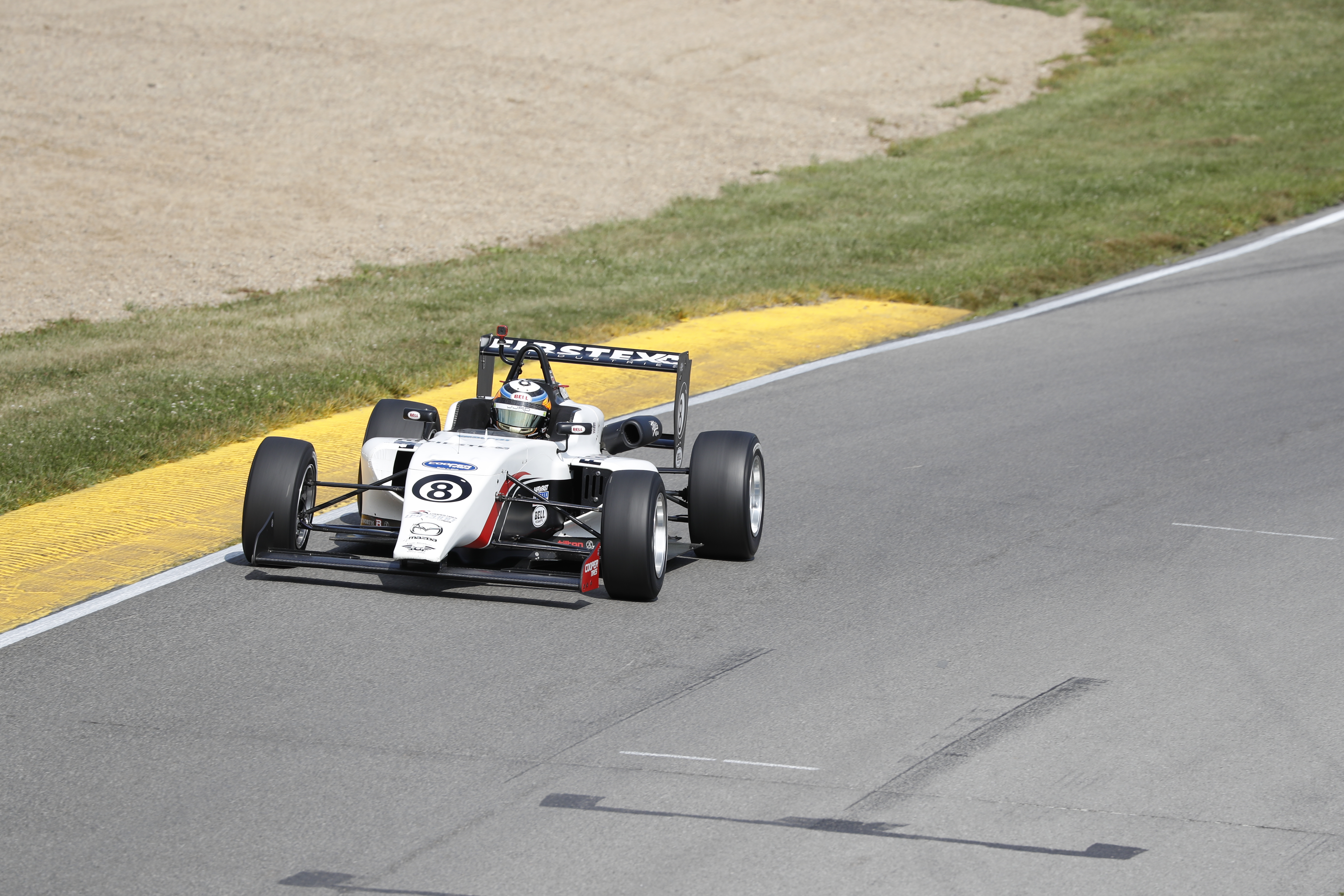 Kyle Kirkwood capped a weekend in which he clinched the USF2000 title by extending his win streak to nine in a row and sweeping all three races of the USF2000 weekend.
Starting second, Kirkwood burst into the lead on Lap 1, passing pole sitter James Raven, who debuted with DEForce Racing this weekend.
Kirkwood set sail from there and led the rest of the way to take his ninth win in a row, and tenth of the 2018 USF2000 season.
"I got a little bit of a jump on (James Raven) after the green came out at the start and had the momentum going into Turn One. I had two tires onto the preferred line so I slid a little, but I was able to hang on and keep the lead. We have the sweep and the championship, so this is the best weekend of the year," Kirkwood detailed afterward.
Raven finished second ahead of Rasmus Lindh, who rounded out the podium in third ahead of Keith Donegan and Igor Fraga.
Of note: Kaylen Frederick, who entered the weekend second in the championship, was on the charge after starting 22nd and ran inside the top five at one point, but ultimately plummeted back down the order after an issue. He finished Race 3 in 19th. When combined with Race 1 and Race 2 finishes of 24th and 23rd, the disastrous weekend saw Frederick fall to sixth in the championship.