The numbers make it look like Alexander Rossi almost had it easy during Sunday's Honda Indy 200 at Mid-Ohio.
He started on the pole, led 66 laps, and won by over 12 seconds.
And that's why, at times, numbers fail to detail the whole truth.
With differing strategies amongst the drivers battling for the win, things were hardly easy for anyone on Sunday, and the outcome was up in the air until the final stint.
A look at big storylines to surface at Mid-Ohio is below.
To Two-Stop or Three-Stop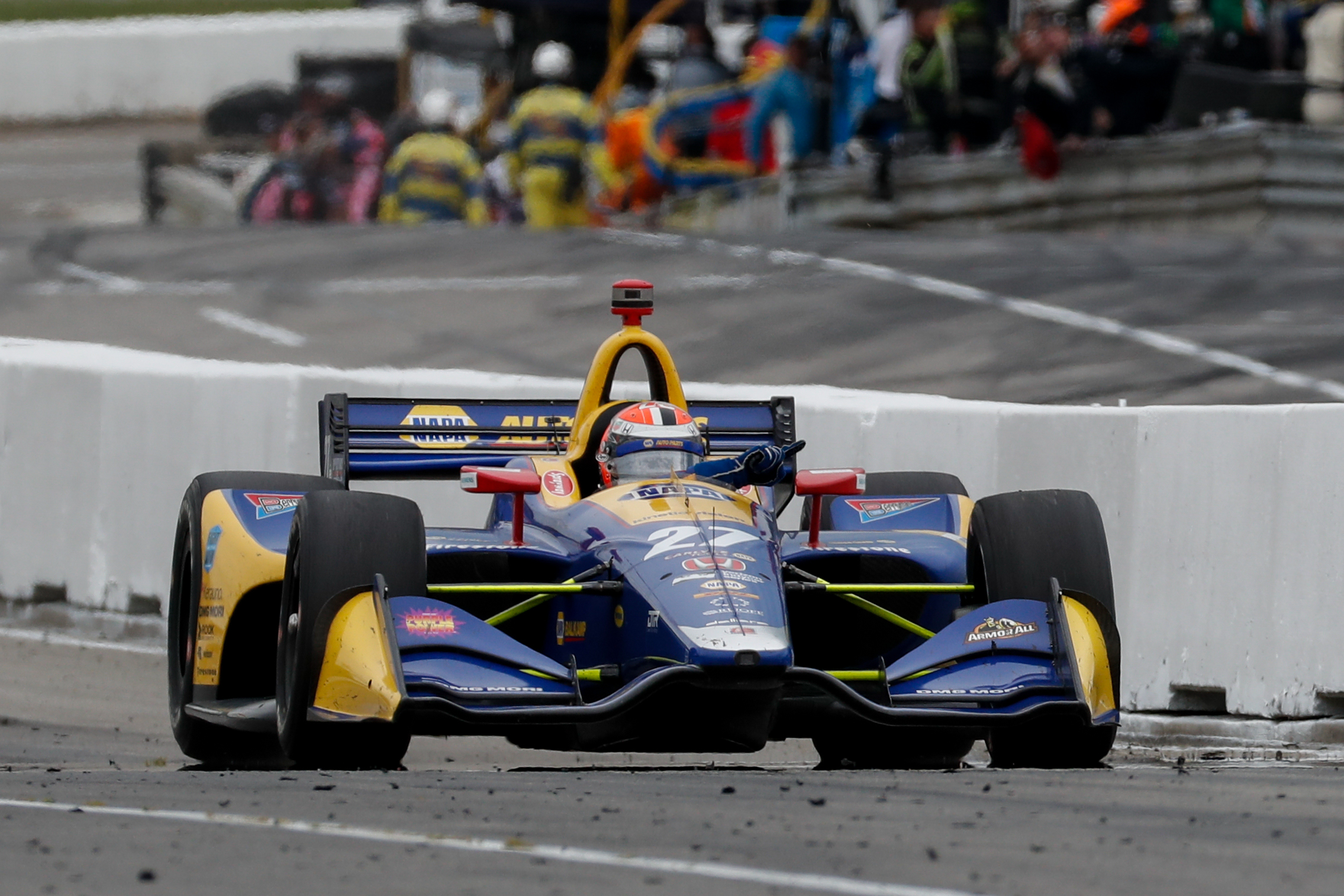 Five years ago, in 2013, the Verizon IndyCar Series' annual event at the Mid-Ohio Sports Car Course was lengthened from 85 laps to 90 laps.
The debate ahead of that year's race was if a two-stop or three-stop strategy would be favorable – a two-stop plan was possible, but would require a lot of fuel saving and/or caution laps to make the fuel mileage work.
That day, Charlie Kimball took his first, and so far only, IndyCar win by using a three-stop strategy, and it became apparent at around the midway point that his was the superior strategy.
He emerged from his second stop still leading the two-stoppers, like Ryan Hunter-Reay, who started on the pole that day. And with everyone still needing two pit stops, Kimball, and Simon Pagenaud – he was also on a three-stop strategy that day – found themselves in the catbird seats, while many two-stoppers abandoned their original plans to go for three stops.
Since then, the debate has been non-existent. A three-stop strategy was the way to go from 2014 through 2017.
However, the tables were flipped in 2018. There was only one driver who tried a two-stop strategy, but that driver was Alexander Rossi, and he and Andretti Autosport found themselves in Victory Lane.
Still, while the strategy was well-executed and Rossi drove a perfect race, circumstances needed to fall his way in order for the strategy to work.
Indeed, things perfectly fell his way. Robert Wickens was balked by lapped traffic in his third stint, which prevented him from building a gap big enough to counter the extra stop he would make in comparison to Rossi.
And even though the ambient temperatures were somewhat cool on Sunday, there was still tire degradation to cope with, a factor Rossi discussed in the post-race press conference.
"When you go that hard on a three stopper, you have tire deg," Rossi explained. "I mean, there is a tradeoff. There's a period of time where, yeah, you're substantially quicker on a three stopper, using the tire a lot more. They have to back up, not because they're saving fuel, but because they have to look after the tires, whereas I'm just looking after a fuel number. That wasn't something I really had to deal with. I'm just concerned about the mileage."
Future Mid-Ohio races will dictate if the two-stop vs. three-stop debate resurfaces, but it returned on Sunday, and Rossi and Andretti Autosport capitalized on it.
Dixon's "Off" Day Still Sees Him Finish Fifth
A lot of the focus entering the weekend was on five-time Mid-Ohio winner, and current IndyCar points leader, Scott Dixon.
Yet, Dixon's weekend proved somewhat troublesome. A red flag for James Hinchcliffe in qualifying prevented Dixon from getting a quick lap in Round 2, and he failed to advance to the Firestone Fast Six.
And while he ran on the tails of Alexander Rossi, Josef Newgarden, and Will Power in the first stint, he was never really in contention for the win at any point.
"We were kind of in that no-man's land of going for three then going for two (stops). I wasn't concentrating enough on getting the mileage I needed to," Dixon lamented in discussing the strategy in a post-race interview with NBCSN's Jon Beekhuis.
Dixon added that track position also never turned in his favor.
"It was just one of those days where we'd pit to get track position and then somebody would come out in front of us or we'd catch somebody and we just never had the speed. But, we had the fastest race lap by over half a second I think – the car had speed. Later in the run too, it would wear off the left-front tire and I just couldn't get the car to turn."
Still, Dixon managed to finish a solid fifth. He now leads Rossi by 44 points entering a two-week break before the ABC Supply 500 at Pocono Raceway.
Misc.
Carlin Racing was having their best outing of the season entering Sunday, with Max Chilton qualifying sixth. However, things quickly became unraveled. Chilton made contact with Takuma Sato on Lap 2, sending the Rahal Letterman Lanigan Racing driver into a spin. Chilton received a drive-through penalty, and things never got better. He languished in 24th at the end, while teammate Charlie Kimball could do no better than 16th.
Graham Rahal finished ninth, but was frustrated at not being able to run better, highlighting a bad oversteer condition that hampered his and RLL's efforts. "We struggled with too much oversteer most of the race, which put us a ways behind the 8-ball. I just couldn't get close enough to anybody without losing a lot. We had to just manage the rest of the day," he explained afterward. His 2018 season been consistent – he has top 10s in all but two races – but the lack of wins and podiums (his only podium came at the season opener on the streets of St. Petersburg) have blighted his season.
Pietro Fittipaldi finished 23rd on return from injury. It won't generate much attention, but running all the laps on a track as physical as the Mid-Ohio Sports Car Course is an accomplishment in and of itself, and the 22-year-old gained valuable on-track experience.
The Verizon IndyCar Series now takes an informal "summer break" before the ABC 500 Supply (August 19, NBCSN).