With the weekend at the Mid-Ohio Sports Car Course now behind them, the Mazda Road to Indy Presented by Cooper Tires only has two race weekends left in the 2018 season.
The Indy Lights Presented by Cooper Tires and the Pro Mazda Championship Presented by Cooper Tires head to Gateway Motorsports Park on August 25, while the Cooper Tires USF2000 Championship Powered by Mazda is off until the season-ending weekend at Portland International Raceway – all three series end the season with double-headers at Portland.
The streets of Toronto flipped the championships upside down in Indy Lights and Pro Mazda, and Mid-Ohio continued the momentum swing that started at Toronto and saw Pato O'Ward and Rinus VeeKay take control of their respective championships.
In USF2000, meanwhile, the championship is over, as Kyle Kirkwood wrapped it up before the calendar flipped to the month of August in what has been a thoroughly dominant season, especially in the summer months.
A look back at big storylines to emerge from the MRTI's weekend at Mid-Ohio is below.
O'Ward Begins Distancing Himself from Herta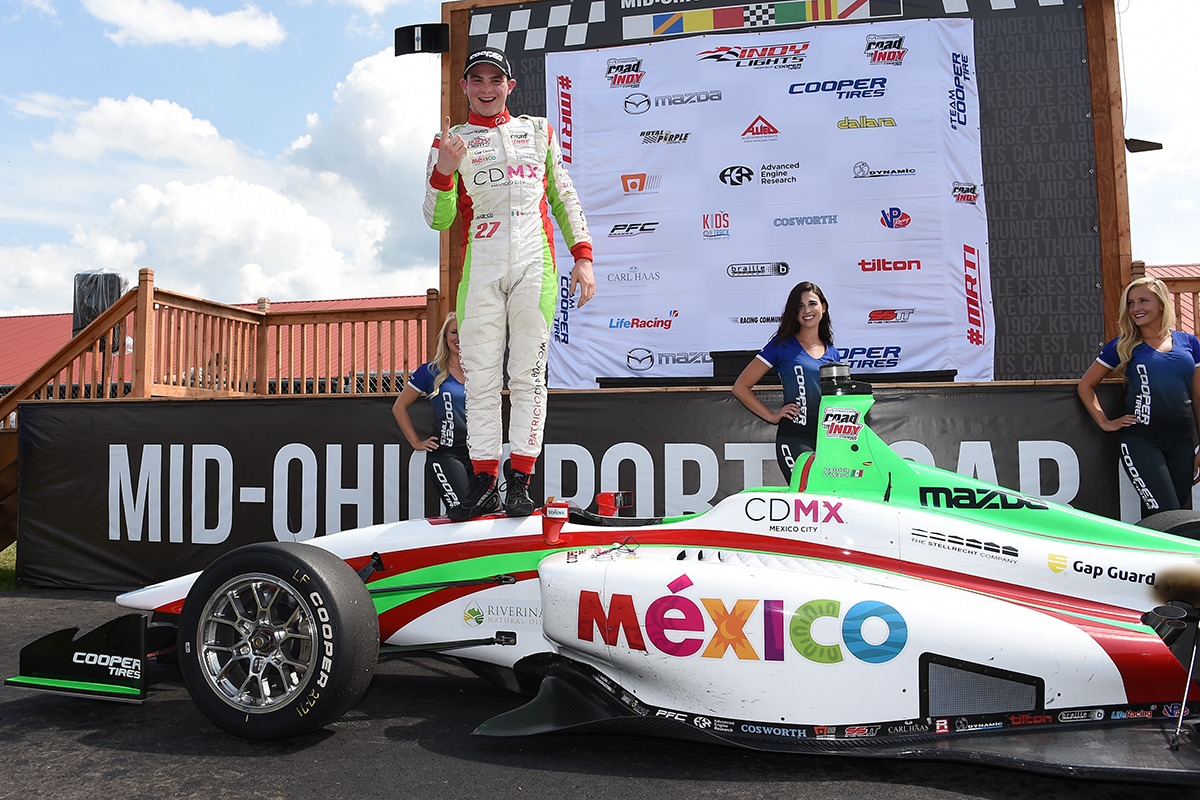 The seesaw title fight between Pato O'Ward and Colton Herta swung very much in the favor of O'Ward in the month July. O'Ward has had back-to-back weekend sweeps at Toronto and Mid-Ohio, while Herta suffered an injured hand after a Race 1 qualifying crash in Toronto that kicked off a problematic weekend – he crashed again during Race 1, and withdrew after a few laps in Race 2 to protect the injury.
Herta made a valiant effort to challenge O'Ward at Mid-ohio, but ultimately came up short, finishing second in both races.
It means that O'Ward leads Herta by 32 points exiting the weekend. Ovals award more points in 2018 – an oval win is worth 45, compared to 30 for road/street courses, but Herta is still going to need help to catch O'Ward.
Even if he gets maximum points (pole, most laps led, and victory) at Gateway and both races at Portland, it will not be enough to overtake O'Ward – Herta would gain 23 points in that scenario, not enough given the 32-point gap between them.
However, even though the Indy Lights field is small, Gateway could see a points swing of as much as 26 if Herta gets pole, leads the most laps, and wins, with O'Ward finishing seventh.
Indeed, it is still possible for Herta to catch O'Ward, but he'll likely need help to do it. As of right now, O'Ward is the favorite to take the Indy Lights title in 2018.
Pro Mazda: VeeKay Seizes Championship Control from Thompson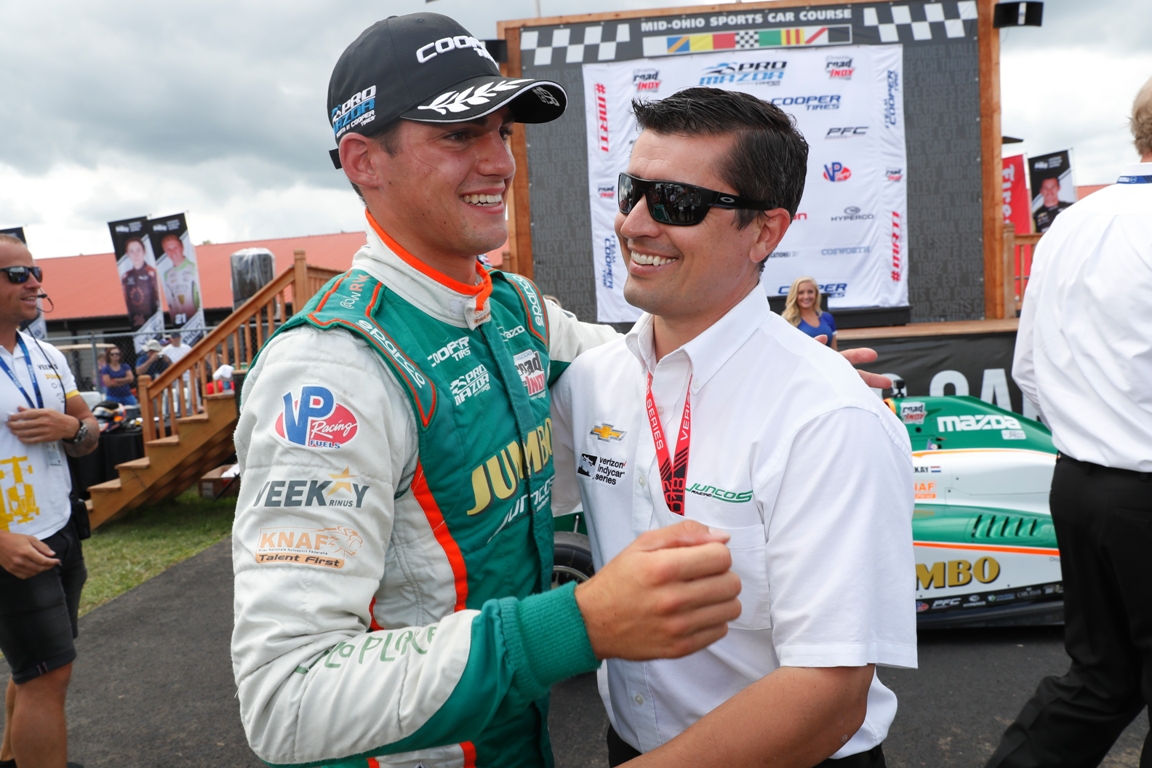 The month of July began with Rinus VeeKay trailing Parker Thompson by 46 points entering Toronto. As the month comes to an end, VeeKay leaves with a 25-point lead, a swing of over 70 points across the four races at Toronto and Mid-Ohio.
Struggles for Thompson – who had a pair of incidents at Toronto and finished eighth in both races, and then struggled to finishes of fifth and sixth at Mid-Ohio – combined with four straight wins from VeeKay to completely flip the championship on its head.
VeeKay, last year's runner-up in USF2000, is now in full command of the Pro Mazda championship chase, but the fight between the two is still somewhat up in the air.
If Thompson scores maximum points at Gateway – pole, fastest lap, most laps led, and race win – he'll shave at least 10 points off the lead, and a similar effort at Portland would put him ahead of VeeKay at season's end.
Of course, both drivers will have plenty of competition that could disrupt their plans. David Malukas has a pair of wins to his name in 2018, and has been ultra quick all year. Oliver Askew has been hot and cold somewhat, but he has two podiums in the last four races and will be motivated to get to Victory Lane before the year ends.
Harrison Scott also has two wins in 2018, and if he returns at Gateway, he could be a factor again.
Of course, VeeKay has a pair of strong teammates in Carlos Cunha and Robert Megennis – Cunha and Megennis have five podiums each, with Megennis particularly strong in recent races and on a streak of three podiums in a row.
More podiums, or even victories, for Cunha and Megennis could hurt Thompson in the final three races, as he'll need every point he can muster, especially at Gateway.
Granted, he dominated the only other oval on the schedule – Lucas Oil Raceway – leading every lap from the pole to take the win while VeeKay finished fourth. He'll desperately need a repeat of that to give himself a better title shot entering Portland.
There are still lots of variables in play in the Pro Mazda championship, but rest assured, VeeKay holds the position of power entering the final three races.
USF2000: Kirkwood's Scintillating "Soul Red" Season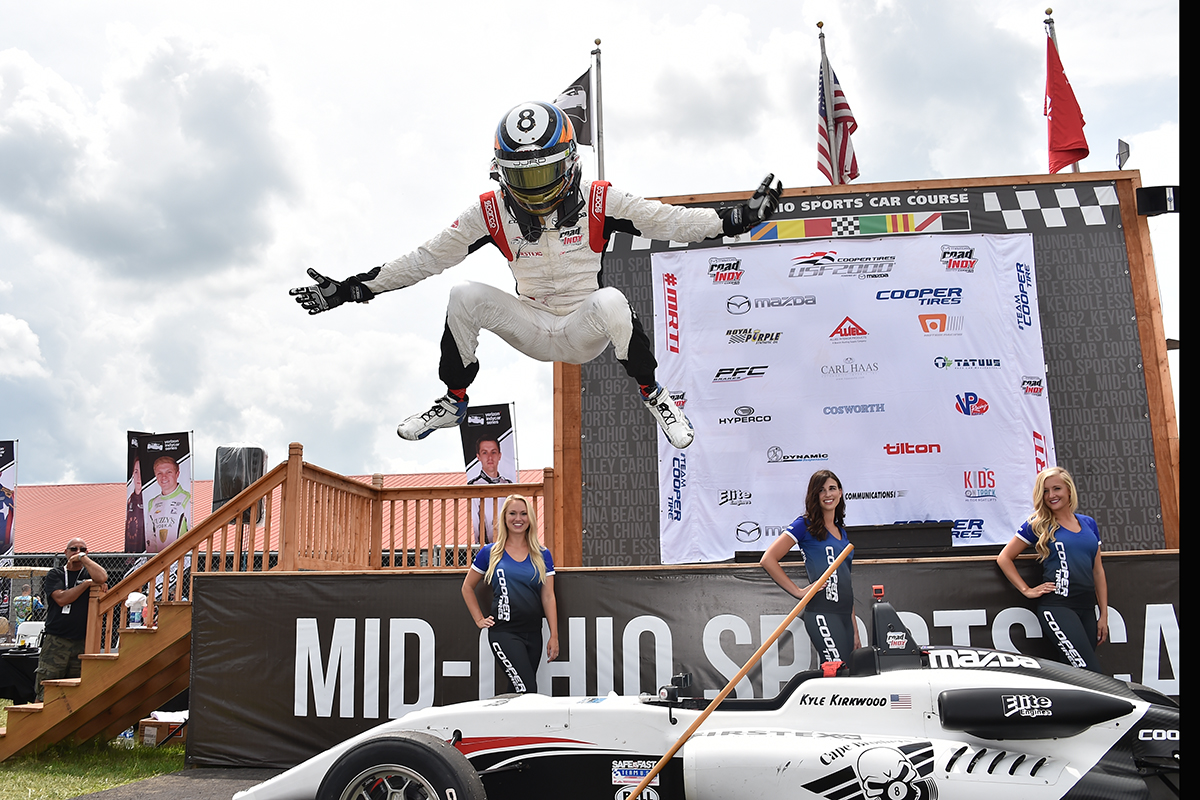 Seasons like the one Kyle Kirkwood has enjoyed in the 2018 USF2000 season don't come often. The 19-year-old Floridian traded blows with Alex Baron in the opening four races – each had two wins after St. Petersburg and the Indianapolis Motor Speedway Road Course, though Kirkwood held the points lead due to Baron's finish of 22nd in Race 1 at St. Pete.
But, a Kirkwood victory coupled with a Baron crash at Lucas Oil Raceway gave Kirkwood a 59-point cushion, and the rout was on from there. Kirkwood has enjoyed a winning streak of nine in a row, bringing his win total to 10 in 2018.
And with Baron not racing at Toronto or Mid-Ohio, little was left to prevent Kirkwood from clinching the championship early.
Kirkwood's next stop will be Pro Mazda in 2019, thanks to the $325,000 Mazda Scholarship he'll receive as the USF2000 champ – he'll also carry the "Soul Red" livery in Pro Mazda next year. But, there are still two more USF2000 races up for grabs before he gets to Pro Mazda next year.
And given how the season has gone so far, he stands a strong chance of taking his winning streak into double digits.