Only four events remain in the 2018 season for the IMSA WeatherTech SportsCar Championship, beginning with this weekend's Continental Tire Road Race Showcase from Road America.
As the event's name suggests, this event represents a "showcase" weekend for IMSA. All three classes – Prototype, GT Le Mans, and GT Daytona – are entered and the venue is arguably one of the best and most challenging they visit all year.
Including this weekend, Prototype has three races left in 2018 – Road America, WeatherTech Raceway Laguna Seca in September, and the Petit Le Mans from Road Atlanta in October – while GT Le Mans and GT Daytona have four – they both head to Virginia International Raceway for the Michelin GT Challenge at VIR on August 19, in addition to the stops at Road America, Laguna Seca, and the Petit Le Mans.
As such, the primary focus is on the championship battles in all three classes, and all three are very hotly contested at the moment between big players in all three classes.
The championship pictures and previews for Prototype, GTLM, and GTD are below.
Prototype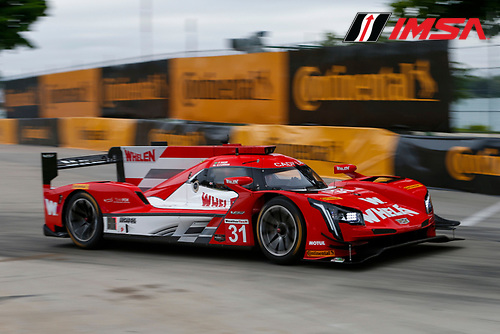 The championship picture in the Prototype class is an intriguing one, especially given the way the two most recent Prototype races have turned out.
Entering Road America, Action Express still leads the way with Eric Curran and Felipe Nasr (No. 31 Whelen Engineering Racing Cadillac DPi-V.R) leading Felipe Albuquerque (No. 5 Mustang Sampling Racing Cadillac) by a scant one point.
The two Action Express cars have been the class of the Prototype field most of the year – Albuquerque has a pair of wins, with co-driver Joao Barbosa, who makes his return at Road America following injury, while Curran and Nasr have a win of their own as well.
However, finishes of sixth (the No. 5) and seventh (No. 31) at Watkins Glen left the door open for title rivals, and even though they finished third (No. 31) and fourth (No. 5) at CTMP, decent results on the surface, the door remains open for other teams to make a late-season push.
Renger Van Der Zande and Jordan Taylor sit third in the standings and trail Curran and Nasr by only 10 points, despite not having a win in 2018 in their No. 10 Konica Minolta Cadillac for Wayne Taylor Racing.
Considering they are the defending Prototype championship squad, the Wayne Taylor team has been remarkably quiet much of the year – they have but three podiums, and have not been in contention at the front a lot – yet are well-positioned to make a title run if circumstances turn in their favor.
And of course, there are the underdogs at CORE autosport, standouts in each of the last two races as Jon Bennett and Colin Braun have finishes of second and first (Romain Dumas finished second with them at Watkins Glen as well). As such, the No. 54 Oreca 07 Gibson sits 15 points out of the lead. And with Road America being another fast natural terrain road course, another strong outing could be on the horizon.
Acura Team Penske, too, could make some noise at the end of the season. The two Acura/Penske entries sit fifth (Dane Cameron and Juan Pablo Montoya, No. 6 Acura ARX-05) and sixth (Ricky Taylor and Helio Castroneves, No. 7 Acura), 21 and 23 points out of the lead respectively.
With only three Prototype races left in 2018, both Penske entries find themselves a long way out of the lead, as each has suffered from mechanical trouble and inconsistency at times in 2018. But, both have also demonstrated race winning pace recently – Taylor and Castroneves are also winners in 2018, at the Mid-Ohio Sports Car Course back in May.
It's not often that a Penske outfit finds itself in the position of "spoiler," but that may be the role they play down the stretch. And, depending on how things they play out at Road America, they could end up back in title contention.
JDC-Miller Motorsports (Watkins Glen winners with the No. 99 Oreca of Misha Goikhberg and Stephen Simpson, along with Chris Miller) could also be big players this weekend, while Tequila Patron ESM and Mazda Team Joest look to rebound from tough early summer stretches.
GT Le Mans (GTLM)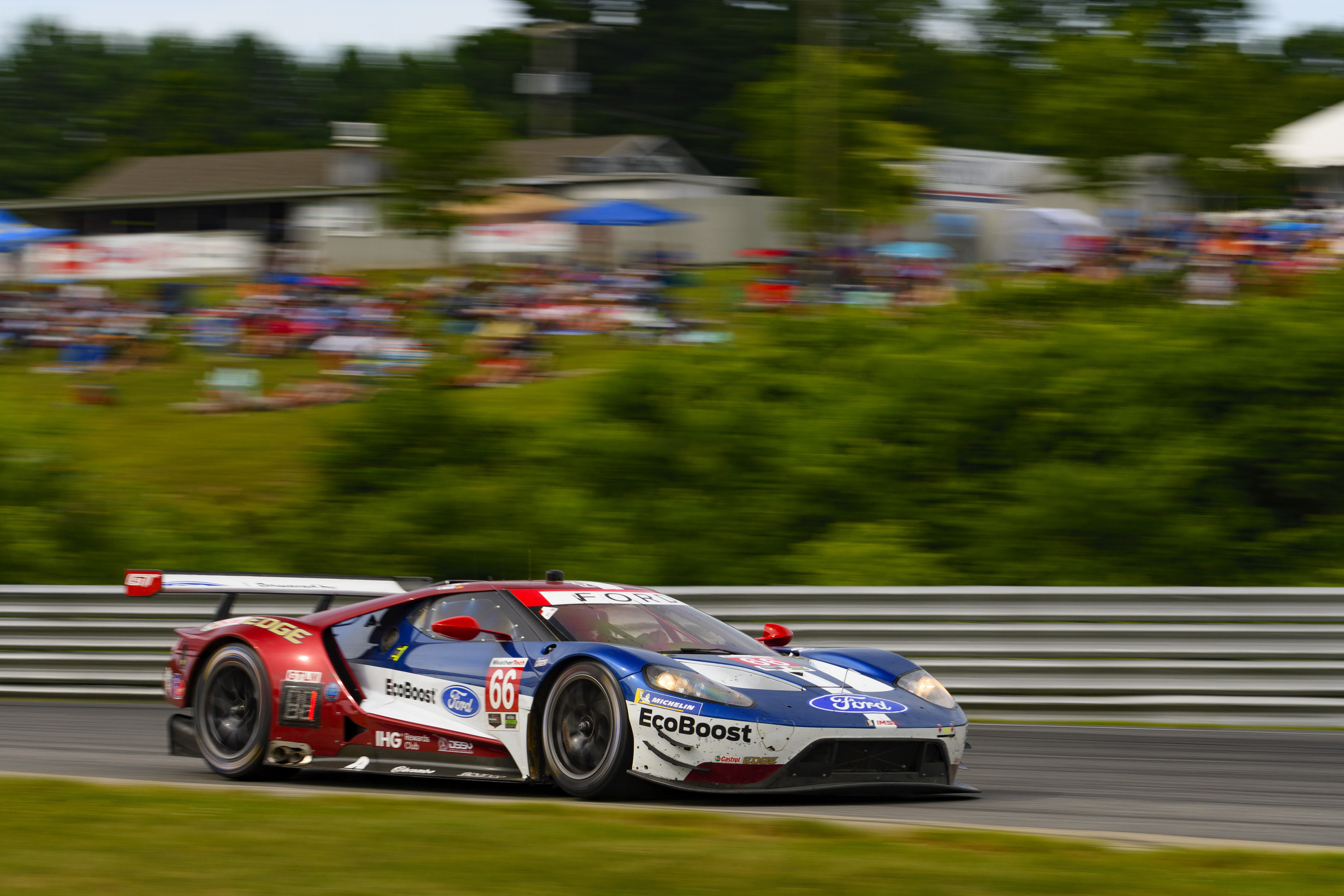 The GTLM points chase is by far the closest in IMSA. Only two points separate the top three – Dirk Mueller and Joey Hand lead the way in the No. 66 Ford GT for Ford Chip Ganassi Racing, only one point ahead of Jan Magnussen and Antonio Garcia in their No. 3 Corvette C7.R for Corvette Racing. And one point further back is the No. 67 Ford of Ryan Briscoe and Richard Westbrook.
Corvette has been the powerhouse GT team of the 21st century and has set the benchmark that other teams shoot for, but Ford and Ganassi, the "new kids on the block" in the GT ranks after joining GTLM in 2016, have been quick with their Ford GT from the outset, and might have the quickest car this year.
Add in the classic rivalry between the United States' two most prominent auto makers, and you have a championship fight that is a slugfest in every sense you can imagine.
Of course, they aren't the only GTLM teams who could battle for wins. Porsche GT Team has a quick Porsche 911 RSR in their own right, with Nick Tandy, Patrick Pilet, and Frederic Makowiecki winning the Mobil 1 12 Hours of Sebring in the No. 911, and Earl Bamber and Laurens Vanthoor winning at Mid-Ohio in the No. 912.
Inconsistency has blighted Porsche's season, but speed is aplenty in their 911s, and they could definitely spoil the party for the championship contenders. And Pilet and Tandy are only 11 points out of the lead, a margin that could easily be slashed at Road America.
Tommy Milner and Oliver Gavin, race winners in the No. 4 Corvette this year, could also have a say in things. One might assume that Corvette would have them act in a supporting role to Magnussen and Garcia, but at 13 points out, they could claw themselves back into contention.
BMW Team RLL round out the GTLM field, and while they're not in the title picture, the Nos. 24 (Jesse Krohn and John Edwards) and 25 (Alexander Sims and Connor De Phillippi) BMW M8 GTE entries could play a role in this thing. Sims and De Phillippi finished second at Sebring in the team's best outing of the year, so the potential is there for the team to excel in the right circumstances.
GT Daytona (GTD)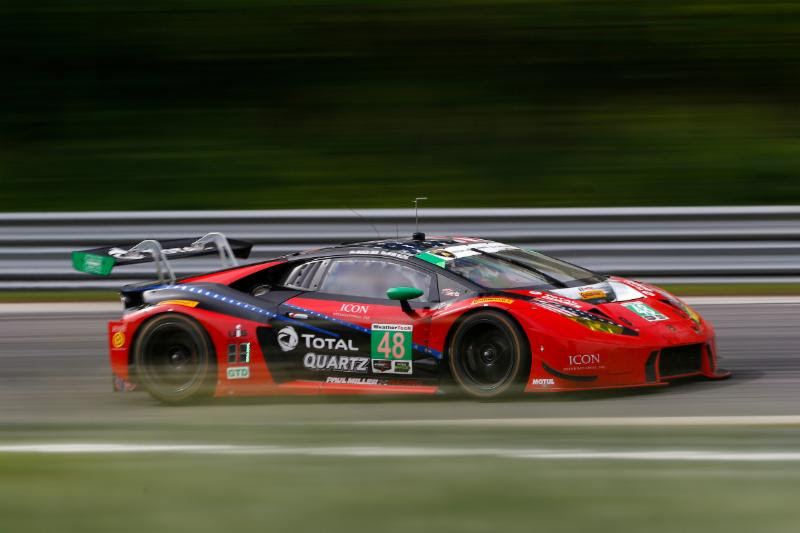 The Paul Miller Racing duo of Bryan Sellers and Madison Snow enter Road America with a little breathing room thanks to their victory at Lime Rock Park. They now lead Meyer Shank Racing's Katherine Legge by 10 points, the biggest lead they've had in the summer months.
The No. 48 Lamborghini Huracan GT3 has been arguably the class of the GTD field in 2018 – Sellers and Snow have a pair of wins and have finished on the podium in all but one race in 2018 – but by no means are they invincible.
The MSR squad has hung in there all year, and even though the deficit has grown over the last two races, 10 points is hardly a sizeable margin. Legge and co-driver Alvaro Parente are within striking distance still, though they'll need to at least finish ahead of Sellers and Snow to stay in the thick of it.
Third in GTD is the No. 33 Mercedes-AMG GT3 from Mercedes-AMG Team Riley Motorsports, with co-drivers Ben Keating and Jeroen Bleekemolen. At 24 points out of the lead, their chances are more reliant on problems befalling the Paul Miller and MSR squads, though they do stand an outside shot of making this a legitimate three-way championship fight.
A victory for them, which would be their second of the year (Canadian Tire Motorsport Park is the other) would do wonders for their title chances.
Cooper MacNeil (fourth in GTD, co-driving with Gunnar Jeannette in the No. 63 Scuderia Corsa Ferrari 488 GT3) ranks fourth, only seven points ahead of Parente and 3GT Racing's Jack Hawksworth (Hawksworth co-drives the No. 15 Lexus RCF GT3 with David Heinemeier Hansson this weekend).
Others looking to make an impression are Patrick Long and Christina Nielsen, who have endured a very problematic season in the No. 58 Porsche 911 GT3 for Wright Motorsports.
A full weekend schedule can be viewed here.