The recent trend of upsets in the IMSA WeatherTech SportsCar Championship continued during Saturday qualifying for the Continental Tire Road Race Showcase at Road America, with Robert Alon putting JDC-Miller Motorsports on the pole.
Alon, piloting the No. 85 Oreca 07 Gibson, turned a quick lap of 1:51.933, the only driver in the Prototype class to dip below the 1:52 mark.
Alon deferred credit for the result to the No. 85 JDC-Miller team afterward.
"I have to give it to the engineer," he explained."He called it. We knew tire 'deg' (degradation) was going to be pretty bad, so we kind of set up the car for the first couple of laps. We knew those were going to be the best tires, grip-wise. He told me to go out and do my thing for the first two laps and it seemed like the car just did the work. It was a great setup."
Alon beat out Acura Team Penske's Ricky Taylor, in the No. 7 ARX-05, by just over two tenths of a second – Taylor's best lap was a 1:52.140. And Colin Braun continued a strong summer stretch for CORE autosport, qualifying the No. 54 Oreca in third.
Of note: the championship leading Action Express duo struggled somewhat, with Joao Barbosa qualifying the No. 5 Mustang Sampling Racing Cadillac DPi-V.R in seventh – that entry sits second in the standings with driver Filipe Albuquerque – while the points-leading No. 31 Whelen Engineering Racing Cadillac ended up ninth in the hands of Eric Curran.
In GT Le Mans, Dirk Mueller took his third consecutive pole at Road America, turning a quick lap of 2:02.479 in his No. 66 Ford GT for Ford Chip Ganassi Racing.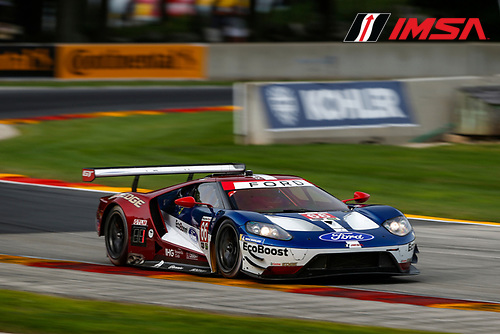 "Having the three in a row here feels really great and I'm really thrilled and happy," said Mueller. "Maybe it's because I'm German and I do like the Nordschleife (in Nurburg, Germany), that's definitely one of my favorite places in the world. Over here, it's definitely Road America and there's a lot of corners and places where it looks the same."
Teammate Ryan Briscoe put the sister No. 67 Ford right behind him in second, giving Ganassi a front row lockout in GTLM. Antonio Garcia qualified third in the No. 3 Corvette C7.R for Corvette Racing.
In GT Daytona, Patrick Long gave Wright Motorsports its first pole of the season with a quick lap of 2:06.593 in the the No. 58 Porsche 911 GT3. Long's lap was almost three tenths of a second quicker than anyone in the GTD category.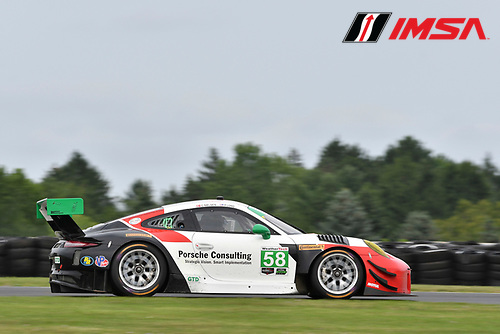 "The key was getting our lap in early," said Long. "We didn't plan on the probability of yellow or red in qualifying. But because of the increased heat since this morning's Practice 3, we had pressured up and thought to maximize the peak of the tire. It was going to be a short run, so that played into our hands."
Dominik Baumann qualified second in the No. 14 Lexus RC F GT3 for 3GT Racing, followed by the GTD championship leading No. 48 Lamborghini Huracan GT3 from Paul Miller Racing – Madison Snow put the No. 48 entry third on the grid.
However, Snow and Cooper MacNeil, driving the No. 63 Ferrari 488 GT3 for Scuderia Corsa, caused some controversy for failing to stop in their pit stalls during a red flag.
Francesco Piovanetti, piloting the No. 51 Ferrari 488 GT3 for Squadra Corse Garage Italia, spun off in Canada Corner, causing the red flag. The field is required to return to their pit stalls when a red flag is flown, but Snow and MacNeil pulled up to pit out rather than stopping in their stalls. Both were assessed drive-through penalties, but Snow did not come in.
Results can be found here. Sunday's Continental Tire Road Race Showcase begins at 2:30 p.m. ET.