Sonoma Raceway media release
Sonoma Raceway and key figures from the founding of then-Sears Point Raceway came together today to mark the 50th anniversary of the facility's ceremonial groundbreaking, which was celebrated on Aug. 14, 1968.
Sonoma Raceway President and General Manager Steve Page, Gordon Blumenfeld, a member of the raceway's founding group, and Ken Clapp, an original raceway executive, came together to recreate a photo from the groundbreaking event utilizing the original shovel used that day 50 years ago. Both Blumenfeld and Clapp attended the 1968 groundbreaking ceremony.
After the ceremonial groundbreaking on Aug. 14, 1968, paving was completed on the road course in November and the raceway hosted its first non-spectator event, an SCCA Enduro, on Dec. 1, 1968. The raceway went on to host its first full season of racing in 1969.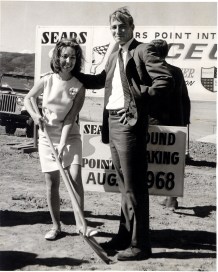 "It's probably a little grander than our original vision, but it is pretty well an expanded vision of what we wanted to see in 1968," said Blumenfeld. "It was just one of those coincidences that the right people were together at the right time, and one of them followed through on looking for a piece of property, and this was the result of it."
The event served as a precursor to the upcoming year-long celebration of the Sonoma Valley motorsports facility's 50-year history, which will be commemorated throughout the 2019 season.
"To be here today with some of the people who had the vision to make this happen is humbling. That they could look at a mountain and see a racetrack wouldn't have been in my vision," said Page. "We're looking forward to the coming year of celebration and looking back at 50 years of history and memories with our fans and the racing community."