Courtesy: IMSA Wire Service
DAYTONA BEACH, Fla. (Aug. 14, 2018) – Right now, Jan Magnussen and Antonio Garcia are four points out of the IMSA WeatherTech SportsCar Championship GT Le Mans (GTLM) class points lead.
With three races left on the 2018 schedule starting with this Sunday's two-hour, 40-minute Michelin GT Challenge at VIRginia International Raceway, it's officially "go time" in the championship. For Magnussen and Garcia, who co-drive the No. 3 Corvette Racing Chevrolet Corvette C7.R, their chief competition for the title has been the pair of entries from Ford Chip Ganassi Racing.
Richard Westbrook and Ryan Briscoe currently lead the GTLM standings on the heels of their third victory of the season in the No. 67 Ford GT earlier this month in the Continental Tire Road Race Showcase at Road America. Garcia and Magnussen are five points ahead of No. 66 Ford GT co-drivers Joey Hand and Dirk Mueller, who have won two of the last four GTLM races.
"It is so close in this championship," Magnussen said. "Every weekend, one car has the edge, but usually not a massive edge. That makes it tough. It makes it tough on the drivers, of course, but also on the teams to perform well in the pits, to pick the right strategy and make the right calls. That's what I love about GT racing. It's so close, you fight every lap of the race, and then when it's over, hopefully you've got something good to show off back home."
Lately, the ones in the GTLM class showing off most of the good stuff at home has been Ford Chip Ganassi Racing. The team has won the last four races. Garcia and Magnussen, meanwhile, haven't won yet this season in the No. 3 Corvette. In fact, they haven't won a race since last August.
That win came at VIR. They also won at VIR in 2016. You can bet they're pretty pumped to be going back there this weekend.
To have a chance to go for the (VIR) hat trick is a fantastic opportunity," Magnussen said. "It's tough right now. In the championship, competition is really, really, really hard from Porsche and from Ford and BMW. If we can go there and get another win, that'd be absolutely fantastic."
"Yeah, it's a racetrack we definitely like," Garcia added. "All three, Corvette, Jan and I. Everything seems to be working really good, especially over the last few years."
While they haven't won yet this year, the No. 3 team continues to shine – as it did in 2017 – through consistent strong finishes. Last year, they finished every race inside the top five and had three wins. This year, they've finished fourth or better in seven of eight races and have finished on the podium in the last five events.
That's why they're only four points out of the lead. It's also why – while a third consecutive win at VIR would be nice – neither Garcia nor Magnussen are desperate to win.
"We need to do what we're doing at the moment and get as many points as possible," Magnussen says. "We need to be going for wins, for sure, but getting the points, that's the most important thing. We'll see. In the past, we've been good at VIR. We've been fast there every year, so hopefully we can go there with a shot of getting another win."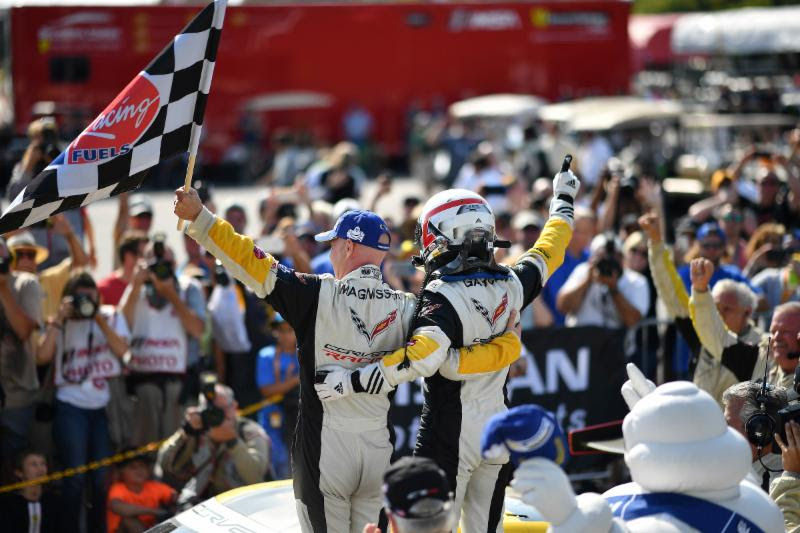 Garcia is looking forward to another run on the flowing, 3.27-mile circuit at VIR. It's one of a handful of circuits on the WeatherTech Championship schedule that drivers consider among their favorites. It's also the second and final race of the season featuring only the GTLM and GT Daytona (GTD) classes.
"It's very fun," Garcia said. "It's very challenging and very, very old school. I mean there are no escape roads. There is definitely just the racetrack, the white line and a lot of grass everywhere. The grass won't save you. Every single mistake you do there, there is punishment.
"VIR is a place where you really need to be attacking all the time, but also knowing the slightest mistake can cost you a lot."
That's certainly how it played out last year. While Garcia and Magnussen were en route to winning the race, a late-race incident between Mueller in the No. 66 Ford and Tommy Milner in the No. 4 Corvette dropped the No. 66 team from third to fifth in the final race standings, costing the team much needed championship points in the process.
You can bet that championship points will be top of mind this weekend. That's why the No. 3 team is looking forward to returning to VIR this weekend.
"Definitely over the last few years, it's been helping us; especially last year being able to win the race," Garcia said. "It really put is in a really good spot towards winning the overall championship at the end of the season. I hope this year it's the same and it is a good race."