The third time has truly been the charm for Ryan Hunter-Reay.
After back-to-back mediocre seasons in 2016 and 2017, the Fort Lauderdale, Florida resident is back where he belongs in 2018: in the hunt for what he hopes is his second Verizon IndyCar Series championship.
Hunter-Reay won the title in 2012. But he suffered through a 12th place finish in 2016 (the second-worst in his 12-year IndyCar career) and a ninth-place showing in 2017.
While he earned three podium finishes in both 2016 and 2017, he hadn't reached victory lane since 2015.
That all changed just over two months ago when he and his Andretti Autosport team came through to take the checkered flag at Belle Isle.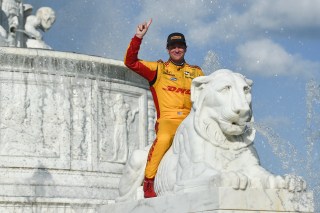 Now, in addition to that win, Hunter-Reay has four podium finishes, his most since six each in 2012, 2013 and 2014.
And now, with four races left on the Verizon IndyCar Series schedule – starting with this Sunday's ABC Supply 500 at Pocono Raceway – Hunter-Reay is enjoying the fruits of his success.
And he hopes there's even more success to come in those four races, including – with the fortuitous opportunity to earn double points in the season finale at Sonoma Raceway – the potential to win his second championship.
The 2014 Indianapolis 500 winner heads to Pocono ranked fifth in the points standings, 95 points behind series leader Scott Dixon.
"I think overall we've been pretty strong, competitive everywhere we've gone," Hunter-Reay said on Tuesday's IndyCar media teleconference. "We're back up at the front regularly fighting for podiums, and that's important.
"No doubt, the past couple races have been missed opportunities (after finishing runner-up at Road America, he's scored finishes of 19th at Iowa, 16th at Toronto seventh two weeks ago at Mid-Ohio).
"More often than not we show up at a racetrack and we're contending. It's been a strong season in many ways. There's been some missed opportunities in there, no doubt. Hopefully we can close out the season."
But Hunter-Reay also admits he'll need some help.
"Being 95 points down to Scott, what needs to happen now is we need to go on a run and he needs to start having some bad luck, some difficult races, some circumstances going against him, things like that, which it can do," Hunter-Reay said. "You just have to keep your head down.
"In this series, it's the same way in a race, you could be starting mid pack, back of the pack. If you go into it with the right mindset, keep your head down, be tenacious, persistent, you can win races, any of them, and you can win championships.
"Just have to keep focused and make the most of it. Number one thing we have to do is go on the offensive and make a run for it."
Even with Dixon's sizable lead, Hunter-Reay isn't giving up his pursuit of the championship. In a sense, his battle this season is similar to what occurred in 2012. There were those who counted him out, and yet when the dust had settled, he emerged with the title.
"I learned a lot in my racing career, especially through the 2012 season, fighting for the championship with Helio (Castroneves) and Will Power," Hunter-Reay said. "Once you thought somebody really had an upper hand, thought they were running away with it, everything turned around. There's still a lot of racing to go (this season).
"Absolutely, we're going for it, no doubt. We have to focus on every session, make the most of it, race wins. That's what's going to get you there.
"Going to Fontana (the 2012 season finale), nobody really had us at a shot of winning it. I forget what the points deficit was. At the end of the night we ended up winning by three points. It's not over till the last lap, especially with double points on the line, could be a huge swing race."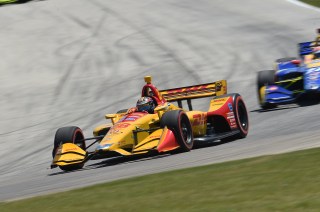 This weekend's venue, Pocono Raceway, has been good to Hunter-Reay the last three years, winning in 2015, finishing third in 2016 and eighth in last year's race.
"I think we have a great chance (for success at Pocono)," Hunter-Reay said. "I mean, the Pocono race is different than Indy. It is its own beast. It's very particular in that in turn three with banking, it's a true handling corner. Feels almost like a Milwaukee type of corner, but going twice the speed.
"You have to set your car up for that. You have to set your car up for turn one, which is a massively banked, tight radius corner. It comes more down to a handling aspect to balance, trying to get the setup right.
"I think we're going to see a different type of race. I don't think it's just going to come down to top end speed, although that will help at Pocono. I think it's going to be more of a handling race."
However, with limited practice at Pocono – just two sessions on Saturday – his team will have to scramble to get things right as soon as they unload off the hauler.
"Yeah, it's a major time crunch," Hunter-Reay said. "(It'll be) really hard to get all that done in a short amount of time. It's really the compromise between turns three and one. That are polar opposites. One corner feels like it's got no banking, no support to it, the other one is massive banking and a tight radius. It's very difficult to get those two corners right and get the compromise right with the car when you're along.
"Once you get into traffic, things change a lot. There will be a qualifying setup, a race setup. We have to do all this with two hours total track time. It will be very difficult, no doubt."
Hunter-Reay points to the new-style IndyCar this year for his and his team's uptick in performance in 2018 over the last two years.
"I think as a team we kind of struggled during the aero kit years," he said. "Now that we're back on a universal aero kit like we were when we had some success in 2012, '13 and '14.
"You show up on a race weekend, you know you have a chance. You're going in there and the team is going to be able to give you the car that you potentially need to win.
"That makes all the difference really for a driver, just knowing week in and week out that you've got a shot at winning and making that run for the championship. I think that's what we showed this year. It does a lot for your confidence and it really keeps you motivated, no doubt."
While most race car drivers deny they worry about the standings or points race, Hunter-Reay refreshingly said he's well aware of where he's at in the IndyCar rankings – and will be looking forward to the end of Sunday's race to see where he'll be heading into the final three races.
"You can't help but notice where you are (in the standings)," he said. "You really have to be focused on yourself and just winning. You can't worry about who is where at what time in the weekend. You got to absolutely focus on putting yourself up front.
"After the race, first thing I ask is, 'where are the guys that we're fighting in the championship, where did they finish?' It's just a curiosity standpoint. You just have to stay focused on yourself."