According to a number of media stories Thursday afternoon and evening, two-time Formula One champion Fernando Alonso will reportedly test an Indy car at Barber Motorsports Park on Wednesday, September 5.
The 2.38-mile permanent road course just outside Birmingham, Alabama, per those stories, will play host to Alonso as he reportedly tests with IndyCar's Andretti Autosport team and Honda.
Honda Performance Development (HPD) President Art St. Cyr issued a statement late Thursday afternoon about Alonso's reported upcoming test:
"Fernando Alonso is one of the premier racing drivers of this generation, and we very much enjoyed working with him at the 2017 Indianapolis 500.
"He has shown that he can be very competitive right off the bat, and it would be great for IndyCar if he were to decide to drive here full-time after his F1 career. Having Alonso as a driver would be an obvious benefit for any team or manufacturer."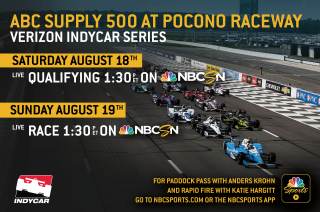 However, St. Cyr's statement also included a reference to Honda potentially not being able to field a new engine for Alonso in the IndyCar series in 2019.
"Our engine lease agreements are made between HPD and specific teams," St. Cyr's statement said. "Several of our current IndyCar Series teams already have agreements in place with HPD for the 2019 season, and we have been operating near maximum capacity all year long to properly provide powerful, reliable engines for all of our teams.
"We have had discussions with several current and potential teams for 2019, and those discussions are ongoing."
Rumors of Alonso potentially racing for a hybrid operation that would include Andretti Autosport, McLaren and Harding Racing have been picking up speed. But there's one potential major hurdle: Harding's Dallara's are powered by Chevrolet engines.
Alonso announced earlier this week that he'd be retiring from Formula One at season's end, saying he's looking forward to new adventures.
Because of his loyalty to McLaren, it's increasingly looking as if Alonso comes to IndyCar, McLaren will have some involvement – although perhaps not as much as it potentially could do if it went all-in with a full-time effort immediately in 2019.
There is no word whether Chevrolet or Harding Racing could potentially be on hand at the Sept. 5 test at BMP, even in just an observation role.
Since being part of the winning team at the 24 Hours of Le Mans in June, Alonso's desire to become only the second driver to win motorsport's triple crown – the Monaco Grand Prix, Le Mans and the Indianapolis 500 – has increased exponentially.
He's already won the first two; just a Indy 500 triumph remains on his bucket list.
The late Graham Hill is the only driver to have accomplished the triple crown feat to date.
Alonso, who turned 37 on July 29, has made just one prior IndyCar start, in the 2017 Indianapolis 500. He led 27 laps of the 200-lap event and appeared to have a car strong enough to win before it suffered engine failure with 21 laps remaining.
Instead of what likely could have been a top-five finish, if not a win, Alonso's first foray into IndyCar racing ended disappointingly with a 24th-place finish.
In addition to being courted by IndyCar, NASCAR has also jumped into the Alonso sweepstakes, saying he'd be welcome to race in the 2019 Daytona 500.