After two weeks off following a busy stretch that started in May and ran all the way to the end of July, the Verizon IndyCar Series begins its final four races of 2018 with this weekend's ABC Supply 500 from Pocono Raceway (August 19, 1:30 p.m. NBCSN).
Last year, Will Power overcame damage to both his rear bumper pod and front wing – repairs for the latter also saw him fall off the lead lap – to become the first repeat winner at Pocono since IndyCar's return.
Power looks for his third win in a row at the facility on Sunday – a win would also be his third in a row on a 2.5-mile super speedway.
However, outside of Power's repeat triumph last year, unpredictability has been the name of the game at Pocono. In five races, there have been five different pole winners: Marco Andretti (2013), Juan Pablo Montoya (2014), Helio Castroneves (2015), Mikhail Aleshin (2016), and Takuma Sato (2017).
There have also been four different winners: Scott Dixon (2013), Montoya (2014; also the only driver to win from the pole since Pocono's return), Ryan Hunter-Reay (2015), and the aforementioned Power (2016 and 2017).
This race even saw a fox run across the track back in 2015 – the irony here is that the track's mascot, Tricky, is a fox – so literally anything can happen on the 2.5-mile triangle in the Pocono mountains.
Talking points ahead of the ABC Supply 500 are below.
Aero Tweaks to the Super Speedway Package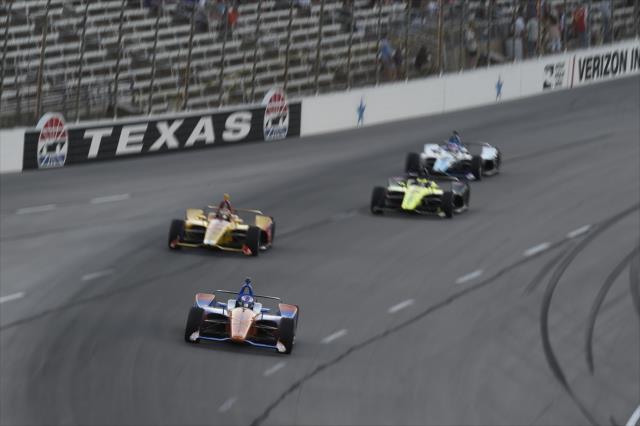 The 2018 universal aero kit has been a massive hit on short ovals and road/street circuits – Iowa Speedway had nearly 1,000 on-track passes while the Mid-Ohio Sports Car Course, notoriously difficult to pass on, saw almost 200.
However, the super speedways have left a little to be desired in the on-track action front, at least in comparison to the 2012-2017 years of the DW-12 era.
The Indianapolis 500 was not quite the slipstreaming shootout we've seen since 2012 – Will Power and Ed Carpenter led a combined 124 laps and were the dominant drivers on the day – while Texas Motor Speedway saw Scott Dixon go basically unchallenged in the second half of the race.
In response, IndyCar and Dallara detailed that front wing extensions would be introduced and available for teams to use at Pocono in hopes of increasing front downforce – the prominent complaint involved understeer when around other cars.
Although Pocono is somewhat of an outlier in terms of oval racing because of its unique configuration, it will nonetheless serve as a litmus test to see if the front wing tweaks have the desired impact.
Ryan Hunter-Reay, who won at Pocono in 2015, relayed that, even though a handful of teams tested at Pocono recently, the new changes are a variable they won't fully grasp until they hit the track for practice on Saturday.
"Even with the few cars that tested at Pocono last week, we don't really have an understanding yet of what these cars are going to do in a group, because nobody ran together," Hunter-Reay explained in a teleconference on Tuesday. "The first session will really tell us a lot. It will the first time we get this aero package and with add-ons, that IndyCar has opened up. It will be the first time that gets into a pack in actual racing on track."
However, he highlighted that indications are the front wing changes should make a difference.
"The data says it should help, shift the balance towards the forward. Hopefully we can make that happen and also make for a better race," he added.
However, regardless of the aero tweaks, the wide front straight away at Pocono should produce plenty of drama on starts and restarts. Last year's start, for example, saw the field go four-wide into Turn 1 from second place on back.
And we all remember what people like Alexander Rossi did on restarts at the Indianapolis 500.
In short, while the aero changes are an unknown entering the weekend, Pocono is plenty wide enough to create more than its share of action.
Super Speedway Rubber Match for Chevrolet, Honda
Chevrolet dominated the Indy 500, with seven Chevy drivers qualifying in the top nine and leading 150 of 200 laps.
However, Honda rose to the fore at Texas, with Dixon leading 119 laps on his way to victory. Honda driver Robert Wickens also looked set to battle for a win, leading 31 laps before crashing out on Lap 171.
Therefore, Chevrolet and Honda are tied at 1-1 on the super speedways in 2018, with Pocono serving as the rubber match. Given that Pocono is much more similar to Indianapolis than Texas, one might assume that Chevy will have the upperhand.
If that comes to fruition, the driver who could be in the catbird seat is Team Penske's Josef Newgarden. Last year's IndyCar champion has appeared dominant at times on ovals – he started on the pole at Texas Motor Speedway and led 59 laps, and he was out front for 229 laps at Iowa Speedway, but missed out on wins at both tracks. He finished 13th at Texas and fourth at Iowa, though he did win at ISM Raceway back in April.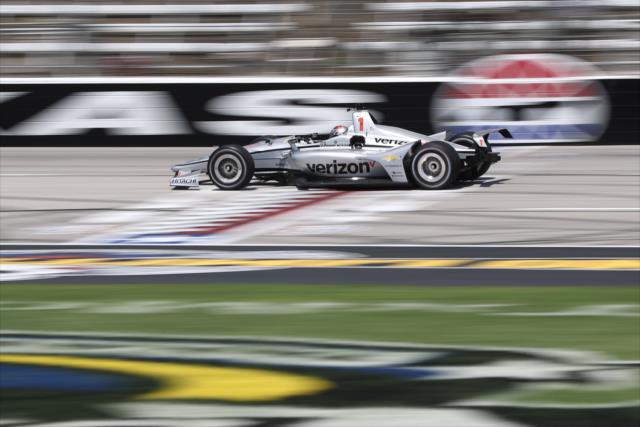 Newgarden and Penske clearly have speed in hand on the ovals, but will need to put everything together at Pocono to stay in the title picture. He sits 60 points behind Scott Dixon in the championship standings, and a win at Pocono would do him a world of good.
"Pocono is a difficult track and, with a lot of really strong competition, it's not an easy place to win. Team Penske tends to perform strong there and I know we have all the right people in place to give us the best car possible to make a run for the win. Every lap really counts between now and the end of the season. We need to be consistent and not make mistakes," Newgarden said of his Pocono prospects.
Misc.
A.J. Foyt Racing's best event of 2018 came at the Indy 500. With Pocono similar in nature to Indy, it could be their best chance in the final four races to steal a podium, or even a win.
Pietro Fittipaldi makes his speedway debut at Pocono. He was due to contest the Indianapolis 500 before he suffered his injuries, meaning Pocono will be his first time competing on a big oval. He finished 23rd in his only other oval start, at ISM Raceway.
Several notable drivers remain winless in 2018, and will look to win in these final four races. Among them are Robert Wickens, Graham Rahal, Takuma Sato, Simon Pagenaud, and Marco Andretti.
The Final Word…
From defending Pocono winner Will Power:
"I'm definitely ready to race this weekend at Pocono. It was awesome to spend time with my family this past weekend, but I'm ready to get back on track. We learned a few things at the Indianapolis tire test (on Aug. 6) and I'm really excited to apply those to the race at Pocono in the No. 12 Verizon Chevy. The last two times we've raced there, we've had a really strong performance, but with three very different turns, it's always a challenge to race there. Everyone is hungry for wins at this point in the season. Being in the championship hunt, we need a really strong run there to keep running toward the championship and we're ready to do just that."
Here's the IndyCar Weekend Schedule:
At-track schedule (all times local):
Saturday August 18
10:30 a.m. – 11:30 a.m. ET – Verizon IndyCar Series practice #1, Livestreamed on RaceControl.IndyCar.Com
1:30 p.m. – Qualifying for the Verizon P1 Award (single-car format, two laps each), airs LIVE on NBCSN
4:45 p.m. – 5:45 p.m. – Verizon IndyCar Series practice #2, Livestreamed on RaceControl.IndyCar.Com
Sunday August 20
1:30 p.m..ET  – NBCSN on air
2:05 p.m. ET – ABC Supply 500 (200 laps/500 miles), NBCSN (Live)
Here's last year's top 10
1. Will Power
2. Josef Newgarden
3. Alexander Rossi
4. Simon Pagenaud
5. Tony Kanaan
6. Scott Dixon
7. Helio Castroneves
8. Ryan Hunter-Reay
9. Graham Rahal
10. Carlos Munoz