Courtesy: IMSA Wire Service
DANVILLE, Va. – Ford Chip Gannasi Racing's Ford GT teams have been dominant in the middle part of the IMSA WeatherTech SportsCar Championship schedule. That run continued Saturday as Richard Westbrook battled the elements to place his No. 67 Ford GT on the pole for Sunday's Michelin GT Challenge at VIRginia International Raceway.
The rain started during GT Daytona (GTD) qualifying, and while it let up before the start of the GT Le Mans (GTLM) session, teams still needed to use wet weather tires. At the beginning of the session, the teams were running laps that were just over two minutes, but toward the end of the session, the pace quickened, and times dropped by 4-5 seconds.
Westbrook took advantage of the drying conditions and posted a time of 1:55.580 seconds (101.851 mph) to earn the No. 67's second pole of the season. He enters the weekend with three wins and leads the GTLM points along with co-driver Ryan Briscoe.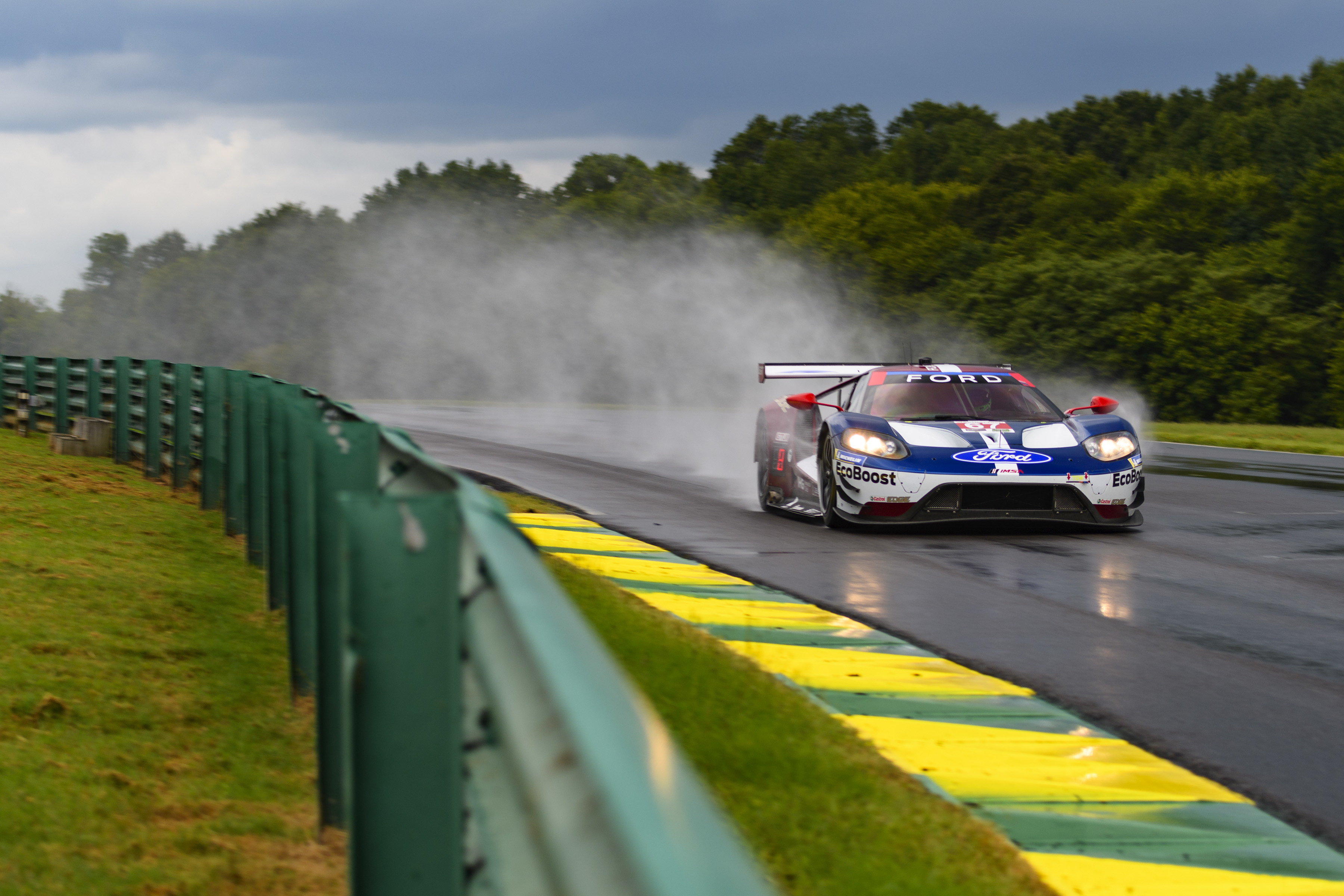 "We just thought there was no need to panic," Westbrook said. "We went out on wets and the tires were good at the end because we hadn't been pounding round and round. I think we got it just right. I love the wet. It's my first time around here in the wet. It's a lot of fun. It's pretty tricky because there are so many different sealants on the tarmac so you've got grip and then you don't have grip. So, it's difficult to judge but thoroughly enjoyable. At this stage in the season I'm going to say this is an important pole."
Patrick Pilet in the No. 911 Porsche GT Team Porsche 911 RSR was second with a time of 1:56.170 (101.333 mph) while John Edwards was third in his No. 24 BMW Team RLL M8 GTE 1:56.185 (101.320 mph).
Antonio Garcia and Jan Magnussen, co-drivers of the two-time defending winner of the Michelin GT Challenge in the No. 3 Corvette Racing Corvette C7.R, qualified fourth as Garcia posted a time of 1:56.760 (100.821 mph).
The Michelin GT Challenge will start at 1 p.m. EDT with live television coverage beginning on FS1 for the first hour before moving to FS2 from 2 p.m. to 4 p.m. ET IMSA Radio also will offer live coverage on IMSA.com, RadioLeMans.com and Sirius XM Radio (Sirius 138/XM 202/App 972). Tickets are available now on VIRNow.com.
Hawksworth Earns Series-High Fourth Motul Pole Award In GTD Qualifying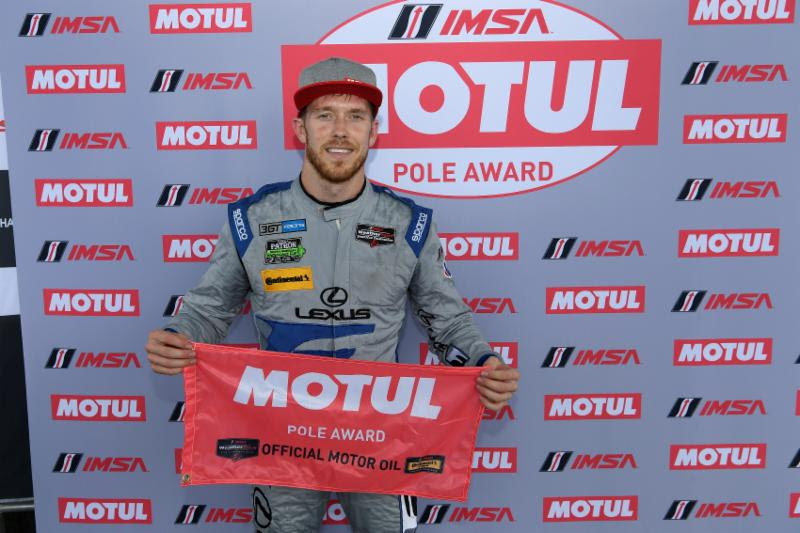 Jack Hawksworth became the first IMSA WeatherTech SportsCar Championship driver to win four Motul Pole Awards this season as he put his No. 15 3GT Racing Lexus RC F GT3 on the pole in the GT Daytona (GTD) class for tomorrow's Michelin GT Challenge at VIRginia International Raceway.
Hawksworth earlier won poles this year at Mid-Ohio and then on consecutive weekends at Watkins Glen and Canadian Tire Motorsport Park.
Rain started to fall halfway through the session, and it turned into a downpour with about two minutes remaining. Hawksworth was able to post his time of 1:44.107 seconds (113.075 mph) before the heavy rain fell.
"In these conditions anything can happen," Hawksworth said. "In the rain it's a little bit of a lottery. Maybe it's good, maybe it's not. I'd rather it be dry to be honest with you. When it started to sprinkle then I thought I should push a little bit more. I managed to get a good lap in there and then it started raining halfway through my next lap, luckily enough it was fast enough for the pole."
Jeroen Bleekemolen, in the No. 33 Mercedes-AMG GT3 was second at 1:44.323 (112.841 mph) while Bill Auberlen was third posting a time of 1:44.360 (112.801 mph) in his No. 96 Turner Motorsport BMW M6 GT3.
Madison Snow, who along with co-driver Bryan Sellers, lead the GTD points, quailified fifth in their No. 48 Paul Miller Racing Lamborghini Huracan GT3 with a time of 1:44.626 (112.541 mph).