Will Power made a huge statement towards winning a third consecutive race at Pocono Raceway, capturing the pole for Sunday's ABC Supply 500 with a monster qualifying run.
Power roared to a 219.511 mph effort during the Saturday afternoon qualifying session. It's his third pole of the season (also was No. 1 in the Indianapolis Grand Prix and Iowa) and, incredibly, the 53rd pole of his career (in 201 starts in the series).
"Very happy with that, just nailed it perfectly as far as lines, the car and all that," Power told the IndyCar Radio Network. "We trimmed out because I figured we'd be lifting anyway, and to have a shot at the pole, that's what I figured we'd have to do."
Power's 53rd pole also tied legendary driver A.J. Foyt for second-most IndyCar poles. Mario Andretti holds the all-time IndyCar poles record with 67.
"Very cool to be up there with A.J. Foyt, a legend like that," Power said. "I couldn't have imagined that starting my career. So, it's over the moon. It's great to start at the front here. I think it will be a bit of a track position race and that's what we need to get our championship back on track."
Power, who is fourth in the standings, 87 points behind series leader Scott Dixon, will be joined on the front row by Team Penske teammate and defending Verizon IndyCar Series champion Josef Newgarden (218.802 mph).
"I think we did a good job with the set up, it's just that's about what we had, speed-wise," Newgarden said. "The guys did a good job. We get a one-two lock-out on the front row. That's good. We can't be disappointed. We'll have the Verizon car and the Hitachi car up there. I think that's what we had. I'm pretty happy with our run. That was our speed."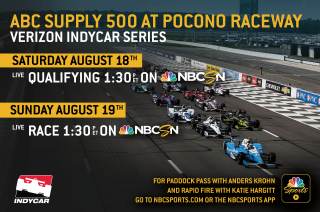 Ryan Hunter-Reay (217.806 mph) looked like he'd be fastest until Power pulled that dramatic qualifying run late in the session. Hunter-Reay will start from the fourth position, alongside Andretti Autosport teammate Alexander Rossi (218.758 mph), who starts third, also after a late qualifying run.
"It was a disjointed first practice for us, so to do that is great, and to have Ryan next to me, we'll take it," Rossi told the IndyCar Radio Network.
Team Penske wrapped up with three drivers in the top five with 2016 IndyCar champ Simon Pagenaud (217.769 mph), who will start fifth, good for the inside spot of Row 3.
Sixth through 10th were Robert Wickens (217.612 mph), Zach Veach (217.587), Sebastien Bourdais (217.296), James Hinchcliffe (217.009) and Takuma Sato (216.863).
Marco Andretti qualified 11th (216.658), with Ed Jones (216.547) alongside.
Fellow Chip Ganassi Racing driver and Verizon IndyCar Series points leader Dixon (216.410 mph) did not have a good qualifying effort, ending up on the inside of Row 7, alongside Tony Kanaan (216.328).
"We were a little surprised with the understeer," Dixon told the IndyCar Radio Network. "Turn 3 was easy but we bottomed out in Turn 1. It is what it is. The car feels comfortable. We'll just have to see how it feels in traffic. It's a long race tomorrow, so we'll see what we can do to move up."
Rounding out the rest of the field were Ed Carpenter (216.025 mph) in 15th and teammate Spencer Pigot (215.177), Pietro Fittipaldi (214.336), Graham Rahal (214.225) in 18th, Charlie Kimball (211.919), Matheus Leist (211.696), Max Chilton in 21st (209.599) and Conor Daly (208.951).
Speaking of Daly, he was involved in the only incident of the session, slightly scraping the Turn 2 wall, but damage was minimal.
There will be one more practice session this afternoon (one hour in length at 4:45 p.m. ET). However, rain is forecast for the area, which could put a damper on things, no pun intended. In fact, it began to drizzle slightly just moments after the completion of qualifying.
Here's the full qualifying grid: