Courtesy: IMSA Wire Service
DANVILLE, Va. – After coming tantalizingly close two weeks ago at Road America, the BMW M8 GTE is a first-time winner.
Co-drivers Alexander Sims and Connor De Phillippi delivered the new-for-2018 race car's first victory anywhere in the world in a strong and strategic performance aboard the No. 25 BMW Team RLL machine en route to the Michelin GT Challenge victory at VIRginia International Raceway.
The No. 25 duo combined to lead a race-high total of 32 laps of 88 trips around the 3.27-mile road circuit that comprised the two-hour, 40-minute race. Sims led the final 31 laps and crossed the finish line 1.323 seconds ahead of Jan Magnussen to take the victory.
The VIR victory was redemption of sorts for the No. 25 team after the Continental Tire Road Race Showcase, when De Phillippi appeared on his way to victory only to be forced to pit lane for fuel with two laps to go.
Sunday, the team had to overcome a midrace incident in which Sims tangled with the GT Daytona (GTD) class car of David Heinemeier Hansson. Sims had to serve a drive-through penalty for incident responsibility.
"It's fantastic," Sims said. "The team's done an awesome job. They've been working really hard all year. Some races haven't really gone our way. But they haven't given up. BMW and Rahal have done a mega job. It's fantastic to get us this first win for the M8. Connor did a great job at the start of the race to get us up to third.
"He did a flawless stint, despite my mistake at the start of my first stint. I kind of held my hands up. That was my mistake. We deserved the drive through. We got back in the race after the safety car and had mega pace. I was really, really pleased."
It was Sims' fourth career WeatherTech Championship victory and the second for De Phillippi. Both drivers' last victory came at Motul Petit Le Mans last season, Sims in the final race for the BMW M6 GTLM and De Phillippi with the Montaplast by Land-Motorsport Audi team in GTD. De Phillippi became a BMW factory driver prior to this season.
"It was down to the last pit stop," De Phillippi said. "Obviously, after the contact, we had to rethink what we were going to try to do. We went with a more aggressive strategy and we saw that if we stayed out longer we'd have a clear track and the others would be hitting the GTD traffic. We went forward with that strategy and with that we gained while they were stuck in traffic which was enough to keep us out front.
"The Michelin tires were hooked up and held up so well we didn't have to put any on the last stop. Alex just drove the wheels off to it for the finish. This win feels amazing. This is a new program, and obviously when you switch to a new brand and a new family you always want to win the first year out. I got one at the Nürburgring, and now to do one with my full-time team in this series, it's really special to me and feels really great."
After winning the Michelin GT Challenge each of the past two years, Magnussen came up just shy of a three-peat in the No. 3 Corvette Racing Chevrolet Corvette C7.R along with co-driver Antonio Garcia. It was the team's seventh podium result of the season and sixth consecutive and it vaulted them into the GTLM championship lead by four points, 269-265, over No. 67 Ford GT co-drivers Richard Westbrook and Ryan Briscoe with three races to go.
John Edwards and Jesse Krohn made it two BMW M8s on the podium with a third-place run in the No. 24 BMW Team RLL entry. In addition to it being the first victory for the M8, it also was the first time two M8s finished on the podium in the same race.
Ford Chip Ganassi Racing saw its GTLM winning streak stopped at four in the Michelin GT Challenge. No. 66 Ford GT co-drivers Joey Hand and Dirk Mueller finished fourth, while the No. 67 entry of Briscoe and Westbrook was forced to retire early from the race with clutch problems. Westbrook started the race from the pole position and led the first 28 laps before pitting to turn the car over to Briscoe, and the problem reared its ugly head shortly thereafter.
No. 912 Porsche co-drivers Earl Bamber and Laurens Vanthoor came back from an opening lap incident with the No. 4 Corvette to finish fifth.
Baumann In Right Place At Right Time As Lexus Wins Thriller At VIR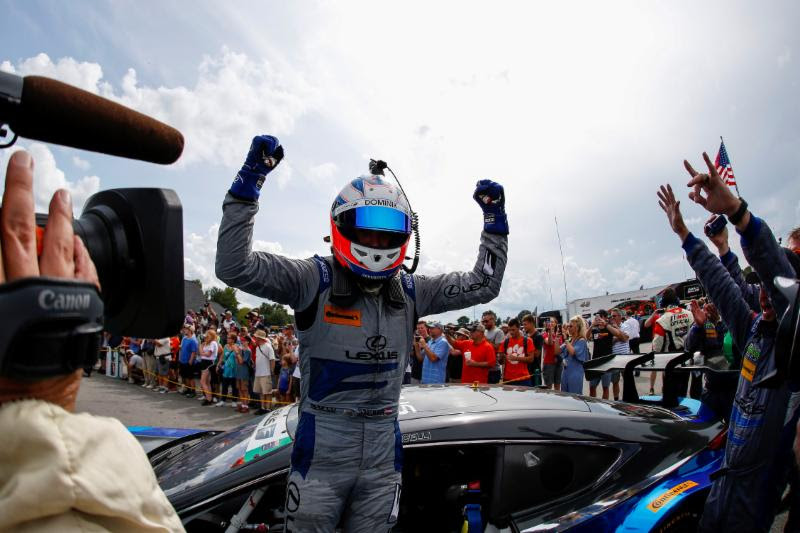 It was an example of being in the right place at the right time for Dominik Baumann in a victorious effort alongside co-driver Kyle Marcelli in Sunday's Michelin GT Challenge at VIRginia International Raceway.
Running in the fourth position with 30 minutes remaining, Baumann successfully navigated his No. 14 3GT Racing Lexus RC F GT3 through a series of incidents involving the top three ahead of him. Once clear, he went on to lead the race's final 17 laps, beating the No. 58 Porsche 911 GT3 R of Patrick Long to the stripe by 0.567 seconds in a thrilling last-lap battle for the GT Daytona (GTD) class win.
The race-winning sequence began when the No. 44 Audi R8 LMS GT3 of Andy Lally got a run on the race-leading No. 93 Acura NSX GT3 of Lawson Aschenbach. The two made slight contact allowing the No. 33 Mercedes-AMG GT3 of Jeroen Bleekemolen to pull alongside Lally for the lead. One corner later, Lally and Bleekemolen made side-to-side contact, sending the No. 33 into a spin with Baumann capitalizing to pass both for the lead.
"I saw the Audi and Mercedes fighting in front of me and going off," said Baumann, who won earlier this year alongside Marcelli at Mid-Ohio Sports Car Course. "We just stayed out of trouble and just did our race."
"Thanks to the Mercedes, and the Audi and the Acura coming together, it inherited us the lead, and those closing laps under pressure are tough to drive, and Dominic was a true professional today," added Marcelli. "I think if you look up and down the grid, we've all made a few mistakes, but it's just minimizing them. It's a track that's demanding physically and mentally and easy to make mistakes and drop wheels and fill the radiator full of grass. It was he who made the least mistakes who came out with a victory today."
It certainly wasn't easy for Baumann from there, however. In the closing minutes, Katherine Legge made up a nearly 10-second deficit in her No. 86 Meyer Shank Racing w/ Curb-Agajanian Acura NXS GT3 to get to the bumper of Baumann on the final lap.
The two raced side-by-side up the backstretch of the 3.27-mile circuit, but Baumann had the benefit of the inside line. Long took advantage of the battle ahead of him and was able to slip by Legge to finish second alongside co-driver Christina Nielsen.
Legge and co-driver Mario Farnbacher finished third, with Legge making up significant ground in the GTD points race with two races remaining. A midrace unscheduled pit stop for contact for the points-leading No. 48 Paul Miller Racing Lamborghini Huracan GT3 of Bryan Sellers and Madison Snow relegated the team to a sixth-place finish. Sellers and Snow now lead Legge by 13 points, 275-262, heading to the penultimate race of the season at WeatherTech Raceway Laguna Seca.
The No. 63 WeatherTech Ferrari 488 GT3 of Cooper MacNeil and Gunnar Jeannette finished fourth, with Bleekemolen and co-driver Ben Keating finishing fifth. Lally was hit with a stop and go penalty for his previous contact with Bleekemolen and finished seventh with co-driver John Potter.
Next up for the IMSA WeatherTech SportsCar Championship is the penultimate round of the season, the America's Tire 250 as part of the Continental Tire Monterey Grand Prix at WeatherTech Raceway Laguna Seca on Sept. 7-9.