Alexander Rossi is like a mouse nibbling on cheese: he keeps biting off bits and pieces of Scott Dixon's lead in the Verizon IndyCar Series points standings.
Rossi came into Sunday's ABC Supply 500 at Pocono Raceway trailing series leader Dixon by 46 points. But after winning Sunday's race, Rossi now trails Dixon by only 29 points with three races remaining on the 2018 schedule.
"We did okay today on points, but obviously took a big hit to Rossi," Dixon told NBCSN after the race. "Congrats to him. He's driving fantastically at the moment. We need to have him have a bit of snafu and to slow his roll quickly."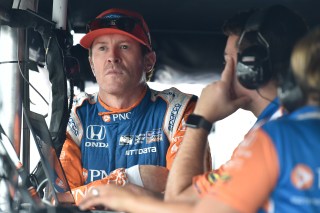 Rossi has picked up 41 points in the last two races on Dixon, having been 70 points back prior to Mid-Ohio, which Rossi ultimately won, and then earned a back-to-back victory Sunday at Pocono.
"We're executing like we said we need to do Sundays, and we'll do everything we can to keep that going," Rossi told NBCSN after Sunday's race. "There's no time to rest now, we're in Gateway in five, six days."
Heading into Saturday night's race at Gateway Motorsports Park in suburban St. Louis, Dixon has 530 points, Rossi has 501, defending series champion Josef Newgarden is 66 points behind Dixon at 464 points and Will Power (449 points), who finished second to Rossi Sunday, is now 81 points behind Dixon.
"Isn't that unbelievable?" Power said. "I've had two really great results and Scott Dixon just keeps finishing behind me. This guy just never has a bad day, you know. In the last two races, I need him to have a bad day to even have a shot, but we've been running strong."
Added Newgarden, "We were scrapping to keep that top-five (finish). That's all we had."
Newgarden is hoping to replicate what he did last year at Gateway, when he won. "We'll work hard for these last three (races) now," he said.
The championship battle had been a five-driver contest, but with Ryan Hunter-Reay being knocked out early of Sunday's race due to a wreck with Robert Wickens, it's unlikely Hunter-Reay (119 points behind Dixon) can rally in the final three races, even though the season finale at Sonoma Raceway offers double points.