UPDATE: Unfortunately, Karamesines' Cinderella story to potentially reach Sunday's final round fell short, losing to Clay McMillen in the opening round of eliminations.
ORIGINAL STORY:
This weekend's qualifying for the Lucas Oil NHRA Nationals at Brainerd (Minnesota) International Raceway was one where some of the sport's most veteran drivers really flexed their muscle — at over 10,000 horsepower.
The biggest and most pleasant surprise came Friday when veteran Top Fuel drag racer Chris Karamesines qualified No. 13 with a run of 4.003 seconds at 305.01 mph.
Now, that may not seem like a big deal until you realize Karamesines — colorfully nicknamed "the Golden Greek" because of his nationality — is 86 years old.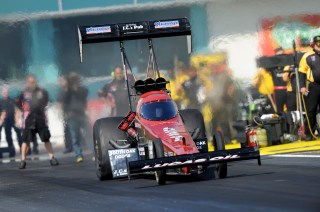 At least that's what the Karameines, who was inducted in 2006 into the Motorsports Hall of Fame of Amerca, and NHRA records say he is: reportedly born Nov. 11, 1931.
Others that know him say the Chicago native is actually 88 or even 89.
Karamesines, who is rumored to be retiring at the end of this season after nearly seven decades of racing, will face No. 4 qualifier Clay Millican (3.790 seconds at 323.04 mph) in Sunday's first round of eliminations.
It's the second time in five years that Karamesines — named to the 50 Greatest Drivers in NHRA history in 2001 — has exceeded 305 mph at Brainerd, having done so in 2014 (305.98 mph at 3.945 seconds).
His career-best speed, according to NHRA records, is 313.51 mph at the 2015 Gatornationals.
He also had a run of 3.979 seconds at 301.00 mph at St. Louis in 2016, and reached 300.06 mph this past June during eliminations at Norwalk, Ohio.
And then there's Billy Torrence, the father of current Top Fuel points leader Steve Torrence. Having just turned 60 in April, Billy Torrence, earned the first No. 1 qualifying spot of his nearly three-decade drag racing career.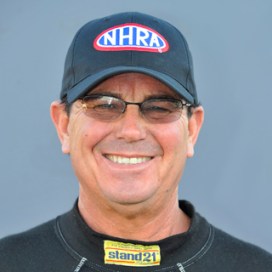 Billy Torrence ran 3.784 seconds at 326.32 mph to bump his son from the No. 1 qualifying spot in the final round of Saturday's qualifying. Billy Torrence will face Terry Totten in Sunday's first round of eliminations.
Steve Torrence, who is the current points leader, qualified second following his run of 3.786 at 325.37 and will race Bill Litton on Sunday.