The 2018 Indy Lights Presented by Cooper Tires championship has come down to a pair of teammates in Pato O'Ward and Colton Herta – both race under the Andretti Autosport umbrella, with Herta competing under the Andretti-Steinbrenner Racing banner.
O'Ward, with seven wins – it could easily be eight if not for an error in Race 2 on the streets of St. Petersburg – has probably been the faster of the two drivers, though Herta used a streak of four wins in a row to vault himself ahead of O'Ward entering Iowa Speedway.
However, since then, O'Ward has distanced himself from Herta, with four wins in a five-race span (Iowa, Toronto Race 1, and both races on the Mid-Ohio Sports Car Course) – he also finished second in the race he didn't win (Toronto Race 2).
Herta, meanwhile, suffered a broken thumb after a crash in Toronto qualifying, which he aggravated after crashing again in Race 1. He pulled off in Race 2 to prevent further damage, and then was unable to outduel O'Ward at Mid-Ohio, finishing second in both races.
As such, O'Ward leads Herta by 32 points entering Gateway Motorsports Park. And with only three races left in 2018 (Gateway, and two races at Portland International Raceway), it's imperative for Herta that he gain ground this weekend.
With seven cars entered at Gateway, the maximum points swing is 26 at (ovals award 1.5 races worth of points in comparison to the road and street courses), and the max swing at Portland will be 18 points per race (assuming seven cars are also entered).
So, Herta still has chances to make up the ground, but he will need to finish ahead of O'Ward, and likely win grab a victory, at Gateway to give himself a realistic shot entering Portland.
And if Herta can have drivers like Santi Urrutia and Victor Franzoni, also race winners in 2018, finishing in between them, it would make his Portland effort much more manageable.
For O'Ward, a Gateway victory could put the championship out of reach. And if O'Ward thinks he can take a win this weekend, expect him to go for it.
Pro Mazda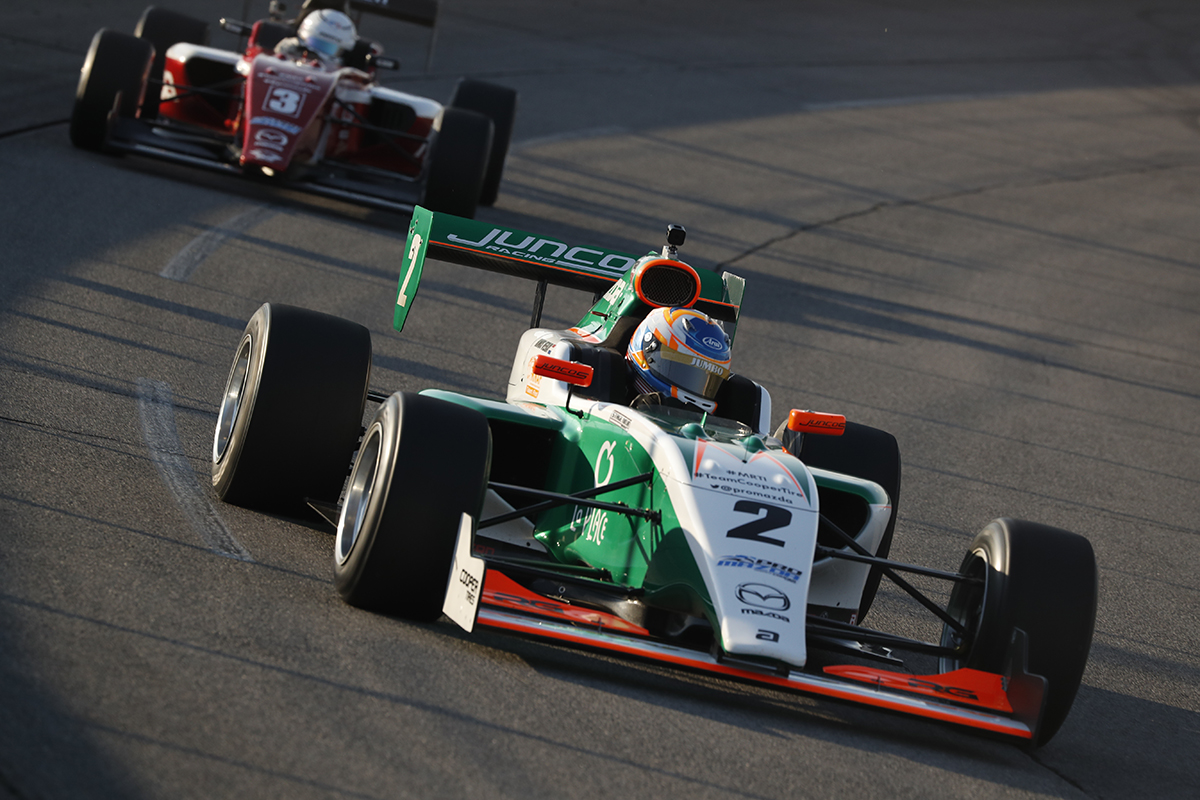 The Pro Mazda Championship Presented by Cooper Tires also sees the points leader hold a somewhat sizeable advantage over his main adversary – Rinus VeeKay leads Parker Thompson by 25 points entering Gateway.
The last four races, at Toronto and Mid-Ohio, saw Thompson's strong 2018 come unraveled, with a pair of DNFs at Toronto allowing VeeKay, who swept the weekend, to close gap from 46 points to seven.
And at Mid-Ohio, another weekend sweep from VeeKay combined with a troublesome weekend for Thompson – he finished fifth and sixth in both races – to see VeeKay jump ahead to a 25-point lead.
Thompson, like Herta, must finish ahead of VeeKay to give himself a realistic chance at the championship entering Portland, and a perfect scenario for him would involve other drivers (e.g. David Malukas, Oliver Askew, and Harrison Scott) being in the mix as well and finishing in between him and VeeKay.
There are 48 points up for grabs at Gateway, and if Thompson maxes out that weekend, he would gain at least 10 on VeeKay, but having VeeKay finish fifth or below would bring the gap down to singe digits, giving him a much more realistic chance entering Portland.
For VeeKay, extending his win streak to five in a row would nearly make the Pro Mazda championship "all she wrote." It wouldn't be out of reach, and there is a one-race drop to be factored in – each driver will drop their worst finish of 2018 from their results – but it would make Thompson's task astronomically difficult at Portland.
Rest assured, in both Indy Lights and Pro Mazda, the championship fights are boiling to a head, and Gateway could prove to be the most pivotal point in both championships.