Round 14 of the Verizon IndyCar Series sees a return to Gateway Motorsports Park for the Bommarito Automotive Group 500. With only four races remaining, the championship picture is now in full focus and, if last year is any indication, Gateway could prove to be one of the most pivotal moments in the championship fight.
The aforementioned 2017 outing saw champion-to-be Josef Newgarden make an aggressive pass on teammate Simon Pagenaud for the win, asserting both his status within Team Penske and his willingness to do whatever was necessary to claim a championship, including "roughing up" a teammate a little.
Newgarden is again in the title picture this year, but only on the fringe – he sits 66 points behind leader Scott Dixon. Better positioned, however, is Alexander Rossi. The winner of the last two IndyCar races sits 29 points behind Dixon and has the gumption to challenge the great Dixon. Expect an all-out duel between them if they're at the front together.
Talking points ahead of Gateway are below.
Wickens At the Front of Everyone's Mind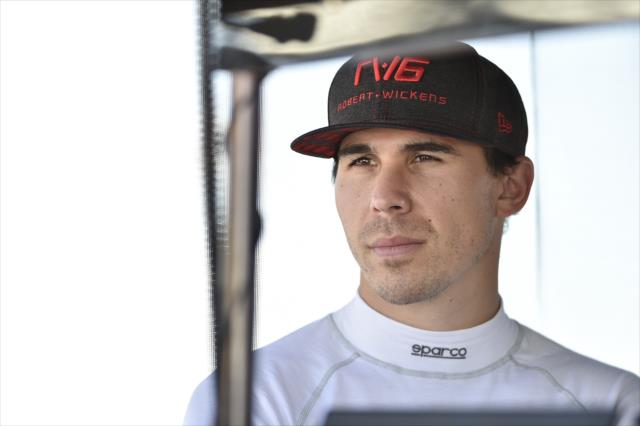 One week removed from the horrifying accident that produced arm, leg, and spinal injuries for Schmidt Peterson Motorsports driver Robert Wickens, the 29-year-old Canadian remains in everyone's thoughts.
Several updates have come in this week on Wickens' condition, and the most recent one details that he underwent surgery to have titanium rods and screws placed in his spine to stabilize what has been described as a thoracic spine injury, and the procedure was completed successfully without complications.
It is never easy to continue racing in the aftermath of such an ordeal, but that's exactly what the teams, drivers, and series will do. Schmidt Peterson Motorsports, in particular, should be commended for their handling of the situation. They have provided updates as often as they can and in a manner that is appropriate and sensitive to the severity of the situation.
James Hinchcliffe, who suffered cuts to his hands in the accident last Sunday but was checked, cleared, and released, will be behind the wheel of his No. 5 Arrow Electronics Honda. The team has also elected not to field the No. 6 Lucas Oil Honda that would have been driven by Wickens, meaning Hinchcliffe will be flying solo this weekend.
Already fan favorites, Hinch and SPM will undoubtedly be the sentimental favorite at Gateway. And given that Hinchcliffe is a winner on the most recent short oval (Iowa Speedway), don't be surprised if he and SPM find themselves at the front again.
Short Oval Thrills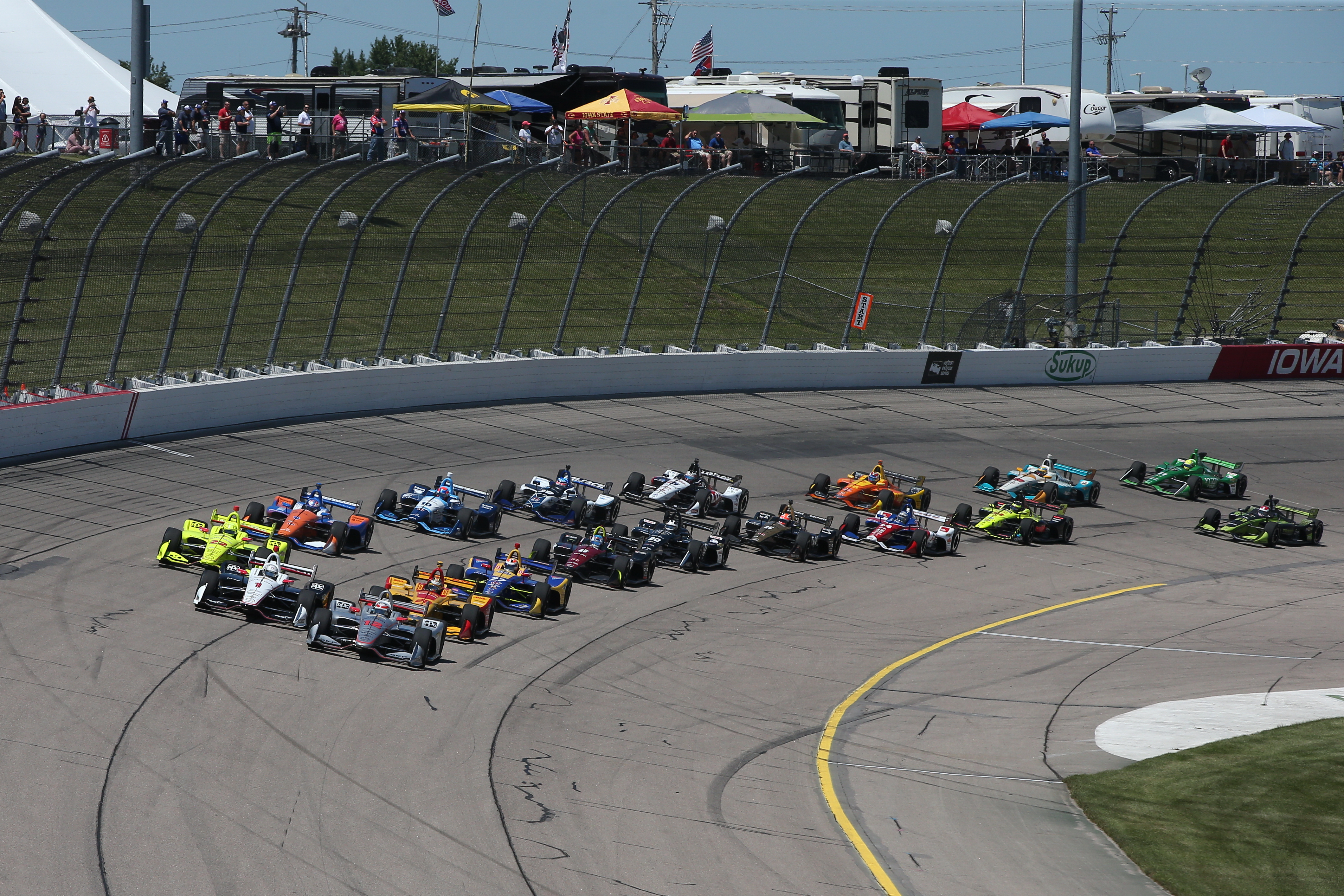 While the super speedways have left a little to be desired in 2018 in terms of the on-track product, short ovals continue to be an absolute thrill show.
ISM Raceway featured an improvement over the previous runnings, helped by Alexander Rossi unlapping himself under green on his way to finishing on the podium.
And Iowa Speedway was one of the best short oval races in recent memory, with nearly 1,000 on-track passes that culminated in the aforementioned Hinchcliffe chasing down Josef Newgarden for the win.
Gateway is not the bull ring that ISM and Iowa are, but it is nonetheless classified as a short oval – it stands at 1.25 miles in length.
Further, it was one of the best events of 2017 and featured a crowd reportedly greater than 40,000, making it one of the best attended races on the schedule.
If that type of a crowd returns, and if the racing we saw at ISM and Iowa comes to the fore, then Saturday night could be another night to remember.
Rossi/Dixon Title Fight Could Be One for the Ages 
Alexander Rossi has become the star everyone hoped he would be after winning the 100th Indianapolis 500. The Californian who spent most of his junior career in Europe quickly assimilated himself back into the American Racing scene, and has become admired the world over for a hard-charging style. And while it has occasionally gotten him in trouble, it has more often than not paid dividends.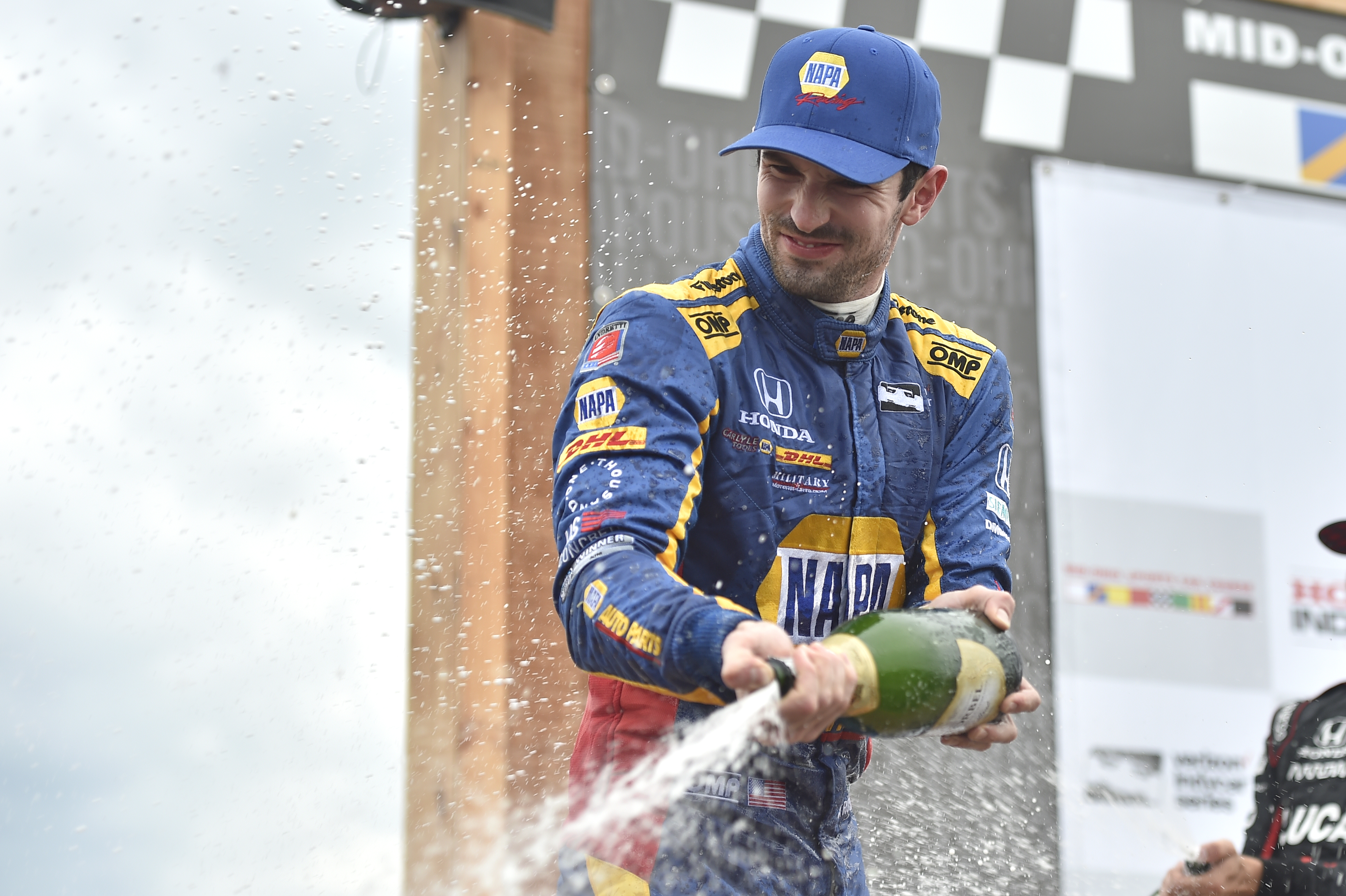 Rossi is the challenger, but Dixon is the master.
Dixon's legend has been widely reported on of late, and deservedly so. The Chip Ganassi Racing driver is the greatest of his generation, and is among the greatest drivers anywhere in the modern era.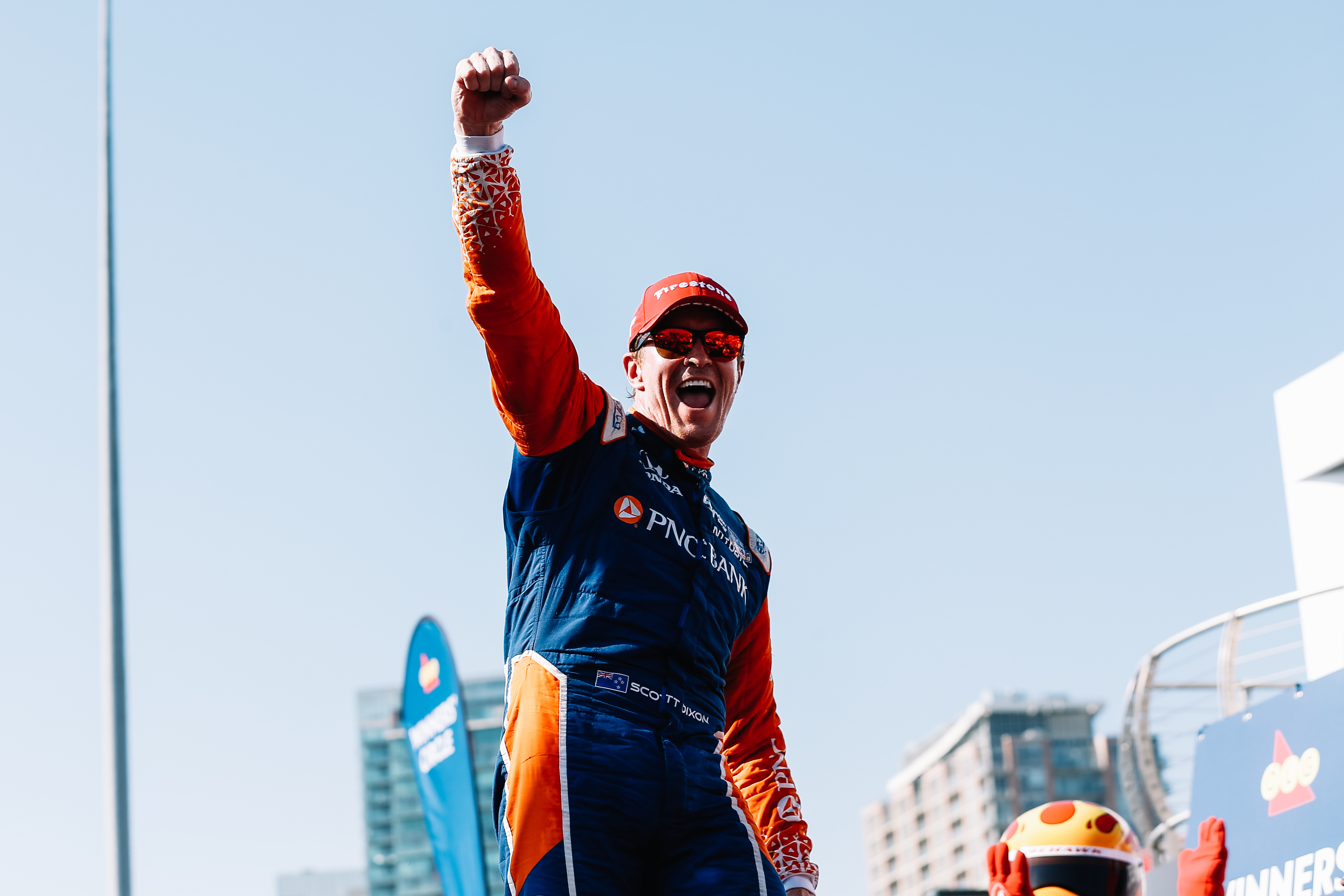 What is on the table is a classic duel between the long-established master and the hungry newcomer. Last year, Josef Newgarden – the "hungry newcomer" that year – came out on top ahead of people like Dixon, Helio Castroneves, Simon Pagenaud, and Will Power.
This year, despite featuring fewer players, is set up in a similar way…and it could lead to a genuine classic that we may be talking about for years – either because Dixon outdueled one of IndyCar's young lions, or because Rossi outdueled the master.
Misc.
Gabby Chaves returns to the No. 88 Chevrolet for Harding Racing at Gateway. Conor Daly ran the previous three races for them, but is competing in the NASCAR Xfinity Series race at Road America this weekend.
Since this is the final oval of 2018, it marks the final race of the year for Ed Carpenter, who will yield to Jordan King for the final two races at Portland International Raceway and Sonoma Raceway. Carpenter has top 10s in four of his previous five starts in 2018, but is still looking for his first victory since 2014.
The Final Word…
From Alexander Rossi, winner of back-to-back races entering Gateway:
"I'm so thrilled to be returning to Gateway Motorsports Park after the spectacular event we had last year. I think this track is one of the absolute best in terms of the effort that they put in to promote our series, and I hope to put on a great show for them. We are obviously nearing the end of the season, so we will be looking to continue to close the gap to Scott (Dixon) this weekend. With that said, all of our thoughts are still with Rob (Wickens) and his family at this time."
Here's the IndyCar weekend schedule: 
At-track schedule (all times local):
Friday, Aug. 24
12:15 p.m.- 1:15 p.m. (1:15 – 2:15 ET) – Verizon IndyCar Series practice #1, RaceControl.IndyCar.com (Live)
4:00 p.m. (5:00 p.m. ET) – Qualifying for the Verizon P1 Award (single car/cumulative time of two laps), RaceControl.IndyCar.com (Live)/NBCSN (Taped, 7:30 p.m. ET Aug. 26)
8:00 p.m. – 9:00 p.m.  (9:00 p.m. – 10:00 p.m. ET) – Verizon IndyCar Series final practice, RaceControl.IndyCar.com (Live)
Saturday, Aug. 25
7:00 p.m. (8:00 p.m. ET) – NBCSN on air
7:35 p.m. (8:35 p.m. ET) – Bommarito Automotive Group 500 (248 laps/310 miles), NBCSN (Live)
Here's last year's top 10:
1. Josef Newgarden
2. Scott Dixon
3. Simon Pagenaud
4. Helio Castroneves
5. Conor Daly
6. Alexander Rossi
7. Charlie Kimball
8. James Hinchcliffe
9. Carlos Munoz
10. Sebastien Bourdais