Will Power made it very clear to Scott Dixon, Alexander Rossi and Joseph Newgarden in Saturday night's Bommarito Automotive Group 500 at Gateway Motorsports Park: he's not giving up on this season's championship.
This year's Indianapolis 500 and Indianapolis Grand Prix winner captured his third victory of the season, closing to within 68 points of series leader Dixon in the Verizon IndyCar Series points standings now with two races remaining. However, the season finale — and championship-deciding race — at Sonoma awards double points to drivers, so Power still has a shot at rallying to win the title.
Power came into Saturday night's race 81 points behind Dixon, the last of four drivers still in mathematical contention for the title – but also the furthest behind Dixon.
"Will made some good points there," Dixon said. "He's still a little ways back, but we know how strong they're going to be at Portland and Sonoma.
"It's a bit of a bummer. I'm a little disappointed at myself. … Just bummed. We lost two or three points, but ultimately we want to be stretching it."
Power made one final stop with 16 laps to go for a full fuel load (just 4.2 seconds), and that was the deciding factor that clinched the 35th career IndyCar win for him.
"Roger (team owner Roger Penske) said go and we did," Power said. "We had a great car. I was kind of mad at Dixon because he pushed me up in the marbles, so that gave me extra motivation to get him back and get back to the front.
"Woo, I had so much fun. I've never passed so many cars. I was so stoked when (Penske) said just go hard."
Dixon stopped on Lap 240 for just under three seconds but not for a totally full fuel load, but Power was not to be denied as he cycled around to regain the lead on Lap 241.
Alexander Rossi, who came into the race just 29 points behind Dixon, played fuel-save mode for the last 70 laps and rallied back after falling to eighth to finish second, slightly closing the gap on Dixon to make it just a 26-point margin for the championship.
Rossi, who came into the race just 29 points behind Dixon, played fuel-save mode for the last 70 laps and rallied back after falling to eighth to finish second.
"I don't know that we had enough for Will, even if it was the final race for the finish, but the important thing is we beat Scott and closed the gap a little bit."
Dixon finished third, followed by Simon Pagenaud, Zach Veach, Spencer Pigot, Josef Newgarden, Ed Jones, Takuma Sato and Graham Rahal.
"I think we had a winning car," Pagenaud said. "When Will passed me, I was saving fuel, I tried to hold the high lane but it didn't work. I lost about six, seven positions but we came back because the car was so good."
Veach earned his second-best finish of the season.
"You've got to push," Veach said. "Just so thankful to have another top-10 finish and another top-five."
Newgarden, who was the defending race winner coming into Saturday's race, falls to 78 points behind Dixon with two races left.
Power passed Dixon on Lap 150 of the 248-lap race and with the exception of that stop on Lap 232, managed to hold on to the lead the rest of the way.
As the race crossed the 200-lap mark, Rossi was running third when he was passed twice within a two-lap stretch, first by Ed Jones and then Andretti Autosport teammate Zach Veach, dropping Rossi unceremoniously to fifth place.
And then on Lap 207, Simon Pagenaud also passed Rossi, who fell to sixth with 47 laps remaining. Spencer Pigot and Joseph Newgarden also passed Rossi, who was eighth by Lap 222.
But Rossi worked his fuel-save strategy to perfection and still made up some ground on Dixon in the standings.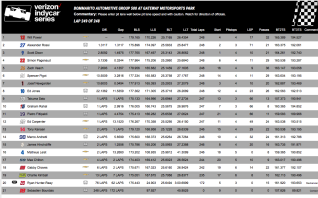 *******************
The race wasn't even one lap old when Sebastien Bourdais got loose and hit the wall in a single-car incident, knocking him out of the race.
"It felt like I was pushed by the air, really," Bourdais told NBCSN. "The car just kind of started to make a slow rear slide. I really have no idea if I made a mistake or if I got touched."
Bourdais finished last in the 21-driver field.
"I didn't try to do anything stupid or special, the car just got away, I guess," Bourdais said. "We'll keep plugging away and see what we can do at Portland and Sonoma (the final two races of the season)."
On Lap 172, just moments after he was making a run on second place, Ryan Hunter-Reay suddenly lost all power in his Andretti Autosport Honda. He tried to make it to his pit, but needed a tow. His team was unable to get the car restarted and RHR retired with a disappointing 20th place finish.
"Something with the fuel pressure, all of a sudden it just died," Hunter-Reay told NBCSN. "It's a real shame. We were marching forward. I was having fun out there. It's a bummer, but that's racing."