Courtesy of the Mazda Road to Indy Presented by Cooper Tires
PALMETTO, Fla. – The Mazda Road to Indy Presented by Cooper Tires season will conclude this weekend in the Pacific Northwest when all three feeder categories for the Verizon IndyCar Series – Indy Lights Presented by Cooper Tires, the Pro Mazda Championship Presented by Cooper Tires and the Cooper Tires USF2000 Championship Powered by Mazda – return to Portland International Raceway after a lengthy hiatus. Two races for each series will be held on the 1.967-mile, 12-turn road course situated just a few miles from downtown Portland, Ore.
A total of more than $2.5M in scholarships and awards will be presented at the Mazda Road to Indy Championship Celebration in Portland on Monday evening, when drivers and teams of the world-renowned open-wheel development ladder, representing at least a dozen nations and 14 different States, will be honored.
Kyle Kirkwood, from Jupiter, Fla., has already clinched the USF2000 title following a stellar rookie season with Cape Motorsports. He will claim a $325,000 scholarship to advance to Pro Mazda in 2019. The outcome of the other two series is still to be determined, although Dutch teenager Rinus VeeKay (Juncos Racing) has a substantial lead over Canadian Parker Thompson (Exclusive Autosport) in the quest for a Mazda Scholarship worth almost $800,000 to step up to Indy Lights in 2019, and Mexico's Patricio O'Ward (Andretti Autosport) holds a 25-point edge over California's Colton Herta (Andretti-Steinbrenner) in Indy Lights. At stake is a scholarship valued at $1M to guarantee entry into at least three Verizon IndyCar Series races in 2019, including the 103rd Indianapolis 500.
Herta Seeks to Keep the Pressure on O'Ward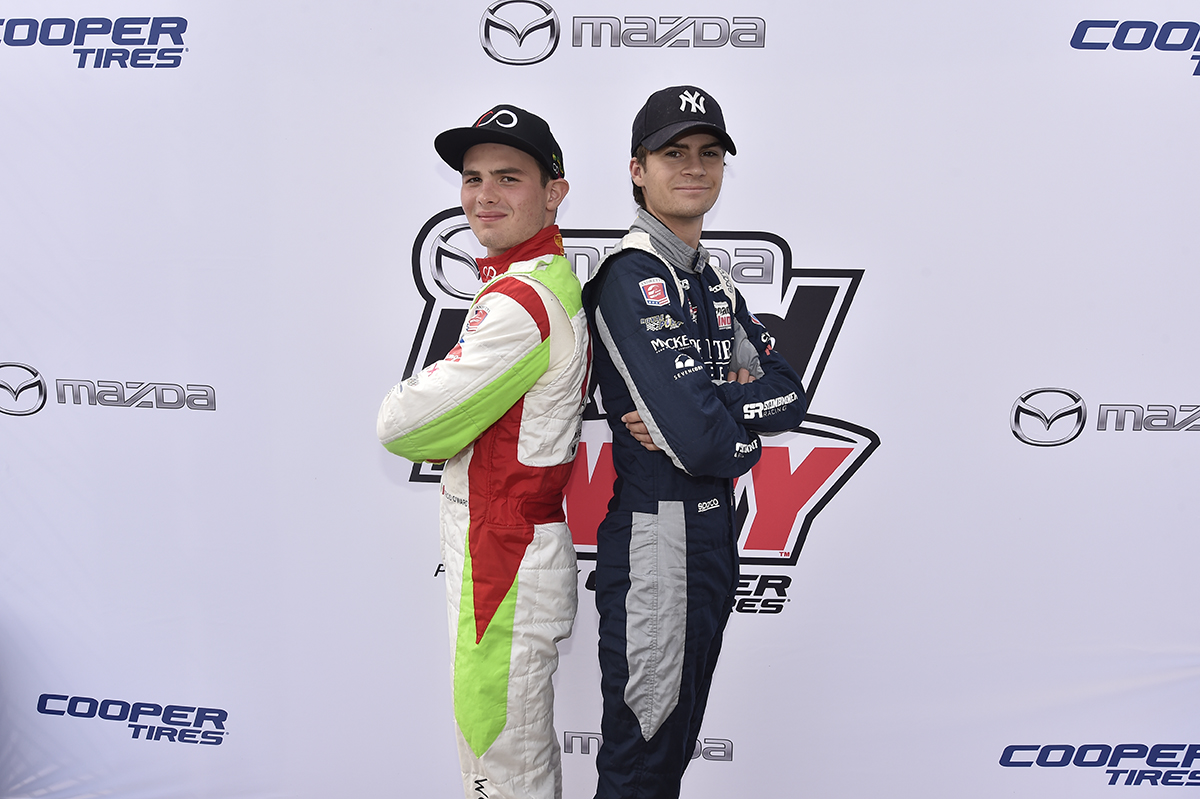 An impressive blend of speed and consistency has been the key to O'Ward's current position atop the points table. The 19-year-old from Monterrey, Mexico, has won the most races this year (seven out of 15) and has started eight times from the pole position, tying the existing record for most poles in a season. He has completed all but one of the season's 585 laps and led an impressive 55.21 percent of the time (323 laps). O'Ward also has recorded a series-high 11 podiums, including a streak of six in a row.
Herta, 18, from Valencia, Calif., has four wins to his name and three poles, and has led a total of 116 laps. The second-generation racer (his father Bryan claimed the Indy Lights Championship in 1993) came agonizingly close to adding a fifth victory last Saturday at the Gateway Motorsports Park oval in Madison, Ill., only to be edged out by yet another Andretti team car, driven by Ryan Norman, following a titanic battle with just a handful of laps remaining.
The point permutations are plentiful heading into the final weekend of the 17-race season, although Herta knows that, realistically, only a pair of wins – as well as sweeping all the bonus points for pole and leading most laps – will give him a decent shot at pipping O'Ward to the crown. If he is able to achieve that goal, O'Ward will require at least a third- and a fourth-place finish (or any combination totaling 40 points) to keep the title out of Herta's grasp.
Uruguayan charger Santiago "Santi" Urrutia's hopes of winning the championship for Belardi Auto Racing after two straight years of finishing second in the points table have unfortunately expired, although the 2015 Pro Mazda champion retains high hopes of finishing his season on a high note. Ditto teammate and 2016 Pro Mazda champion Aaron Telitz, from Birchwood, Wis., with whom he enjoyed a thrilling tussle for fourth place at Gateway last weekend.
Norman, too, will be a challenger for the wins. The 20-year-old from Aurora, Ohio, has enjoyed a strong sophomore season, highlighted by a pair of front row starts in the last three races and, of course, his exquisitely judged maiden victory last weekend.
Brazilian Victor Franzoni, last year's Pro Mazda champion, already has one win to his name this year, and Canadian Dalton Kellett (Andretti Autosport) has twice finished on the podium, while Korea's Heamin Choi will make a welcome return to the series aboard a second Juncos Racing Dallara-Mazda IL-15.
The Cooper Tires Indy Lights Grand Prix of Portland Powered by Mazda will commence with a 40-minute practice session at 9:50 a.m. on Friday, August 31, followed by qualifying for Race One at 1:50 p.m. Saturday will comprise another qualifying session (to set the grid for Race Two) at 9:50 a.m., with the green flag for Race One slated for 2:05 p.m. Race Two will start at 9:55 a.m. on Sunday, September 2. All times are PDT.
VeeKay on the Brink in Pro Mazda
A recent sequence of misfortunes for mid-season championship leader Parker Thompson has left Rinus VeeKay needing merely to take the green flag for one of the two races which will comprise this weekend's Pro Mazda Grand Prix of Portland Presented by Cooper Tires in order to clinch his maiden Mazda Road to Indy crown.
VeeKay, who is still a couple of weeks shy of his 18th birthday, finished a strong second to Oliver Askew in last year's USF2000 title-chase. He stepped up to Pro Mazda this season and began with a flourish, sweeping both of the opening two races on the streets of St. Petersburg, Fla. VeeKay's momentum was broken by a disappointing sequence of results, but he has rebounded in style by winning each of the five most recent races – on the streets of Toronto, at the Mid-Ohio Sports Car Course and, last weekend, at the Gateway Motorsports Park oval – to take a virtually unassailable lead into the Oregon finale.
But spare a thought for the popular Thompson, 20, from Red Deer, Alb., Canada, who has enjoyed an impressive rookie season with the Canadian-owned Exclusive Autosport team. Three wins represents an excellent haul, but he will forever rue an obscure electrical failure which prevented him from qualifying at Gateway last Saturday. Thompson started at the back of the field, then mounted a spirited comeback to finish sixth and keep his championship hopes flickering. Thompson also posted the fastest lap of the race and took home the Tilton Hard Charger Award. He will be pressing for much more this weekend.
The battle for third place in the final championship standings also is up for grabs, with young Americans Askew, David Malukas and Robert Megennis all separated by just 15 points after 14 races. Brazilian Carlos Cunha also is in the mix but is not on the entry list for Portland.
After winning the 2017 USF2000 championship, former karting star Askew, 21, from Jupiter, Fla., has unsurprisingly encountered some struggles during just his second full season of car racing but already has three pole positions and three podium finishes to his name for Cape Motorsports. He is the only driver to have completed every one of the 432 laps of competition this year.
Malukas, 16, from Chicago, Ill., also is taking part in just his second season of car racing for BN Racing. His speed isn't in question – witness two wins and three poles – but he is still seeking some consistency. Fellow Pro Mazda rookie Megennis, meanwhile, has rebounded from a challenging middle portion of the season to strike a rich vein of form which has included podium finishes in each of his last four starts for Juncos Racing.
Mexico's Moises de la Vara will be looking to build on a strong fourth-place finish at Gateway for DEForce Racing, while another teenager, Sting Ray Robb, also has high expectations for Team Pelfrey, especially since he is the only driver to have raced previously at PIR. Robb has four top-five finishes to his name and is hoping to benefit from a strong contingent of family and supporters numbering close to 200 who will make the journey to Portland from his home town of Payette, on the western edge of Idaho.
The remainder of the Pro Mazda contingent will have an opportunity to learn the track during two test sessions totaling 100 minutes on Thursday, August 30, followed by 25 minutes of official practice at 9:10 a.m. PDT on Friday. Two 20-minute qualifying sessions (at 1:15 p.m. on Friday and 10:35 a.m. on Saturday will set the grids for the pair of races which will start at 4:50 p.m. on Saturday and 2:15 p.m. on Sunday, immediately after the Verizon IndyCar Series headline event.
Who Can Challenge Kirkwood?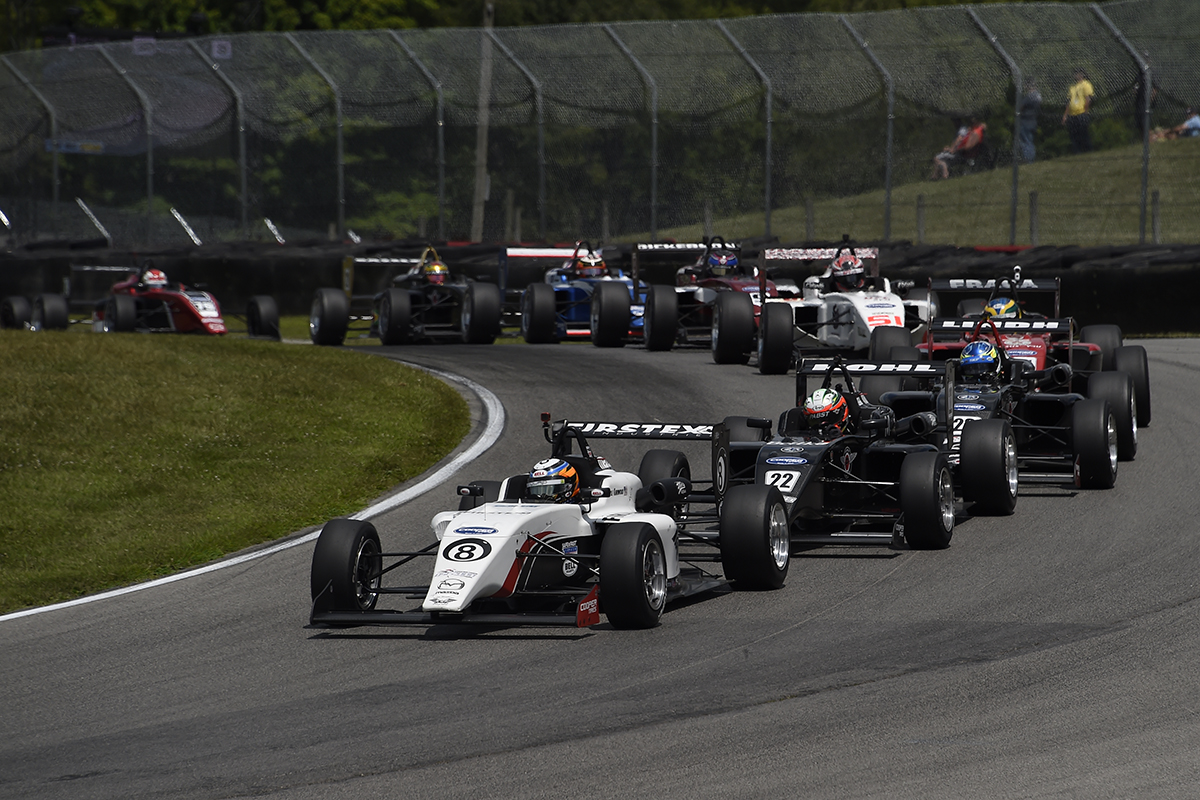 Kyle Kirkwood has enjoyed a remarkable season for Cape Motorsports. The 19-year-old from Jupiter, Fla., already has the championship wrapped up, thanks to a record-breaking sequence of nine consecutive victories dating back to the Indianapolis Grand Prix circuit in May. With only two races remaining, he cannot quite reach the record tally of 13 USF2000 race wins, accumulated in 1992 and 1993 by Chris Simmons (who now serves as race engineer for Verizon IndyCar Series championship leader Scott Dixon), but he can match the single-season mark of 12 wins established by J.R. Hildebrand in 2006, which, coincidentally, was the last time USF2000 visited Portland International Raceway.
Kirkwood, though, will have no shortage of challengers. Prime among them will be the Pabst Racing pair of Rasmus Lindh, from Sweden, and Lucas Kohl, from Brazil, who, along with Japanese-born Brazilian Igor Fraga (Exclusive Autosport), are all bracketed by just 13 points in the quest for second place in the championship standings. All have multiple top-six finishes to their credit.
Pabst Racing also will field cars for Guyana's Calvin Ming and Potomac, Md., native Kaylen Frederick, who hold fifth and sixth in the championship as the Oconomowoc, Wis.-based team aims to cling onto a slender seven-point advantage over Cape Motorsports in the Team Championship standings.
Additional likely contenders include last year's South African F1600 champion Julian Van der Watt; Team Pelfrey teammate Kyle Dupell, who hails from nearby Salem, the capital city of Oregon; F4 U.S. Championship leader Dakota Dickerson (ArmsUp Motorsports), from San Diego; and the DEForce Racing trio Colin Kaminsky, from Homer Glen, Ill., Jose Sierra, from Mexico City, and Kory Enders, from Sugarland, Texas.
Much interest also will be centered on Canadian F1600 Super Series champion Kellen Ritter, from North Vancouver, B.C., and recent F1600 Championship Series race winner Braden Eves, from Columbus, Ohio, who will be making their USF2000 debuts respectively with Exclusive Autosport and Newman Wachs Racing.
The full field of drivers in the Cooper Tires USF2000 Grand Prix of Portland Presented by Allied Building Products will gain their first taste of the 1.967-mile road course on Thursday, August 30, with 100 minutes of testing split into two sessions. Thirty minutes of official practice session will start at 11:45 a.m. PDT on Friday, followed by the first of two qualifying sessions at 4:15 p.m. The grid for Race Two will be set during a separate 20-minute session at 9:15 a.m. on Saturday, while the pair of 40-minute races will take the green flag at 1:10 p.m. on Saturday and 3:20 p.m. on Sunday.