Twenty years ago this weekend, Don Schumacher and then 28-year-old Tony Schumacher set out on a father-son journey. They didn't know where it would take them, but they were hoping for a fast ride in more ways than one.
It was at the 1998 U.S. Nationals in Indianapolis, the biggest annual drag race in the National Hot Rod Association, where Don Schumacher Racing – with Tony in the driver's seat of a Top Fuel dragster – debuted. It was one of those situations where they'd give it a shot and see where things would go from there.
Indeed, things went pretty well, pretty fast and pretty quick — and they've continued to go that way for the last 20 years:
* In 1999, DSR's first full season together in the NHRA ranks, Tony won the Top Fuel championship.
* That title would be the first of what would become 16 world championships across Top Fuel, Funny Car and Pro Stock Bike for DSR, born in Chicago but now based in Brownsburg, Indiana.
* Equally as noteworthy, DSR has notched 329 NHRA national event victories as a team in the organization's two decades of operation.
* And Tony Schumacher has gone on to become the winningest driver in Top Fuel history with eight of DSR's 16 championships, as well as 84 national event wins.
And to think it all began as something simple as a bonding experience between father and son, with their equal passion for drag racing being the foundation of incredible success two decades later.
"Tony's the one that caused me to get back into the sport, to say the least," Don concedes. "The Peak brothers (a Denver-based team that Tony had driven for part-time in 1996 and 1997) were going to get out of the sport, so he said, 'Come on, dad, let's go do this together.' So I put together a sponsorship with Exide Batteries and we came out and started doing it.
"And now we've won 16 world championships, Tony has won eight of them and he's the winningest Top Fuel driver of all time. Hopefully, he gets his ninth (championship) this year."
HEY BUDDY, HAVE 'YA GOT A MATCH – A MATCH RACE, THAT IS
Don Schumacher's drag racing story didn't just begin in 1998. Rather, it began more than 50 years ago. Schumacher was quite the drag racer himself in his youth and young adulthood. He earned five national event wins in his own NHRA career, including a win in the 1970 U.S. Nationals.
But it was in nearly a decade in the 1960s and early 1970s as a match racer – a driver who would be lured across the U.S. and Canada by track owners and promoters to race for bragging rights and money – that the elder Schumacher excelled.
During that time, Don Schumacher wound up winning 70 percent of nearly 600 starts, making him one of the greatest match racers ever.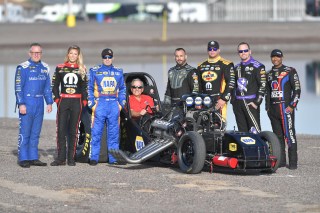 But with two young kids underfoot and a third on the way, plus a fledgling business – Don Schumacher Electric Corporation – that was trying to grow, Don walked away from drag racing cold in 1975.
"I totally stepped away from it," Schumacher said. "It was the right thing for me to do. It was a different world back in the 1970s. And it's very different today. It was a step that I took and one that I'm glad I took (at the time)."
While he'd occasionally still attend drag races as a spectator over the next 20-plus years, especially his beloved U.S. Nationals, the suburban Chicago native vowed to never race again. That lasted 23 years until Tony convinced him to get back in the game, but as a team owner while Tony did the driving.
And the rest is NHRA history.
Today, Don Schumacher Racing is the largest and winningest organization in drag racing. It has grown from Tony's one-car Top Fuel operation to one that now boasts nine cars under one roof:
* 3 cars in Top Fuel: The afore-mentioned eight-time champ Tony Schumacher, three-time champion Antron Brown and Leah Pritchett.
* 4 cars in Funny Car: 2016 champ Ron Capps, two-time champ Matt Hagan, "Fast Jack" Beckman and Tommy Johnson Jr.
* 2 Factory Stock cars driven by Pritchett and longtime drag racing veteran Mark Pawuk.
At 73 years old, you'd think Don Schumacher would be easing towards a second retirement. Nothing could be further from the truth. The man thrives on competition – and beating – rivals in both the electric supply business, as well as on the drag strip.
"I am a driven individual," the man nicknamed "Shoe" says. "I've always believed and always worked by the belief that the harder and longer you work, the better results you'll get and you'll beat your competition every time.
"And surround yourself with the greatest people you can find. They'll make you look good and give you results. That's what I try to do. I'm not happy when I lose some of my key people. Those things happen, competitors will step in and do things that affect me that way, I try to do the best job I can and go out there and win races."
Schumacher employs 2,150 people in his electric supply business worldwide, with another 140 employees at DSR.
Even after all his years in the sport and all the wins he's seen, Schumacher will never, ever get tired of winning.
"Every time we win, I feel ecstatic," he said. "It's just fantastic. I love beating the Forces, the Torrences, the Alan Johnsons, the Kalittas and McMillans and Millicans, right on down the line.
"They're all my friends. I consider them all family. But while I love beating every one of them on the starting line, I'll help every one of them in the pits."
Now, losing is a much different story for Schumacher. He absolutely hates to see the win light go on in the opponent's lane.
"It's terrible, devastating to me, even when our drivers have to race each other," he said. "I hate when, say, Antron Brown has to race Leah Pritchett or Tony (Schumacher) or Ron Capps has to race Matt Hagan or Jack Beckman or Tommy Johnson Jr. It's terrible for either one of those teams that one of them are going to lose."
But at the end of the day, win or lose, going head-to-head vs. friend or foe, Schumacher has a very surprising attitude about his competitors. While other owners can be vengeful and even spiteful against the competition, that's not the way Don Schumacher was raised, nor is it the way he does business.
"I'd have to say it's the competitors," he said when asked why he's still so involved in racing. "Really, we're a family out here. It doesn't matter who it is, whether it's Connie Kalitta or John Force, Cruz Pedregon, Steve and Billy Torrence, or any of the teams out here, we're really a family here and we're here to take care of each other, which is a very special thing in business.
"In my other business, you don't have those kinds of relationships with your competitors. The sponsors are all very special to me, they're personal to me, I undoubtedly use all of the products and I support the products emphatically. The two foundations I have onboard – Infinite Hero and Make-A-Wish – is really a special, special situation. It shows me and brings me things that I never would have experienced.
"And the U.S. Army relationship is the same, being involved in the Pentagon, and Tony has gone over to Afghanistan and Iraq, it's really a special relationship. But I have that with all my sponsors. Last but not least are the fans. Super, super fans, the access they have to us, the time they take to be with us and visit us, not only at the races, but for me, all over the world."
Unfortunately, the Army is parting ways with DSR following this season after a nearly 20-year relationship, leaving Schumacher to have to find a new primary sponsor for his son's dragster, as well as a co-primary sponsor on Brown's Top Fueler, as well.
WHAT SCHUMACHER MEANS TO THE WORLD OF DRAG RACING
Don Schumacher isn't just one of the fiercest competitors in the sport, he's also one of the most well-respected.
"The thing about Don Schumacher is that, here is a guy that had Hall of Fame success early in his career in the NHRA," Capps said. "The bigger story is that he was smart enough to go back and run the family business, to build it to what it is today, and come back into the sport and be a successful owner.
"He reminds me a lot of Roger Penske in that here is a guy running a multi-billion-dollar business and yet still has the passion to show up at the racetrack every day to compete."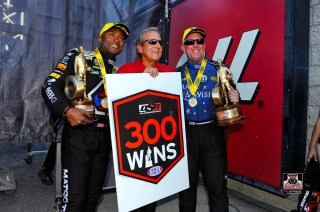 Added Brown, "Don has elevated our sport to higher levels and particularly has been the contributor to championships and innovations beyond belief. His 20 years as a team owner in drag racing, if it wasn't for him, I wouldn't be a three-time world champ, I wouldn't have over 50 Top Fuel wins or 16 Pro Stock Bike wins.
"He has affected and influenced our sport in ways that only he could, period. Not just me, but the entire sport, has grown and prospered from the dedication and the hard work that this man has put in. So I'm truly grateful, in 20 years of drag racing, he's helped many people's dreams reality, including mine."
And then there's the guy who kind of helped start it all, Tony Schumacher, now 48.
"Many people pass through this great sport and are remembered for great accomplishments," Tony said. "Few will be remembered like my father.
"A man who not once, but twice entered this sport with a passion like no other and took a single-car team and turned it into a multi-team winning machine. He innovated the sport in many ways and made drivers and crews safer."
Indeed, safety is one of the most significant contributions Don Schumacher has brought to the sport. While he's modest when it comes to accepting accolades, there's no question Schumacher has helped generate a number of safety equipment and rules changes over the last two decades.
He was one of the first to have his Funny Cars adopt roof-mounted escape hatches so that drivers could quickly escape when all-too-frequent fires erupted. He also was one of the first to implement a fire suppression system inside Funny Cars, with a lever attached to the brake handle, allowing drivers to apply both while using the other hand to steer the race car.
And in Top Fuel, Schumacher was the first team owner to introduce a protective canopy cover over the driver's compartment for even greater safety.
Schumacher is particularly close with NHRA not just for safety initiatives, but also because, well, a strong relationship with the sanctioning body is good business in and of itself.
"We are two separate businesses that I find remarkable how closely we work together, not just with DSR, but also with the Professional Racers Organization," Schumacher said. "We're all on board for the same thing, we all want the sport to excel, to continue growing, continue getting bigger, getting more sponsors in.
"We work closer together now than we ever have. They are the sanctioning body. They have rules and regulations that I push the boundaries on all the time. That's just my nature in business, and I will continue to do that.
"But we work very closely together, have a great relationship and a lot of respect for each other. I look to maintain that and continue to grow that."
During the interview for this story, Schumacher remarked how he wasn't looking to get back into drag racing until his son approached him in 1998.
But now, he wouldn't have had it any other way, given how things have evolved and all the success he and his organization have enjoyed.
"I came back into the sport because Tony wanted to race," Don Schumacher said. "It wasn't something I was driven to, it was something I was pulled back into. I'd go to Indy every year (as a spectator) and I would thank God that I walked away and didn't get back in another race car.
"But once racing is in your system, you're possessed by it. It's always in your system, always in your blood, once you come out and do it."
WHERE TO FROM HERE?
Like his drag racing teams, Schumacher, who will be inducted into the Motorsports Hall of Fame of America next March, has no plans of slowing down any time soon.
On the contrary. He is hoping to add a fourth Top Fuel dragster to the team, expand the Factory Stock program to three or four teams, and will continue to grow both his electric and drag racing businesses.
"I have no plan to retire," he said. "My daughter Meghan and my son Tony will continue on with this once I drift away, if I ever do that.
"But I have no plans of stepping away. I love the sport, I love what I do, we continue to expand the racing operations in Brownsburg, Indiana.
"Right now, I have nine teams. I'd never have imagined that. That isn't anything that was ever a plan or desire on my part. I try to do the right thing for my company, for my employees, for the sport, for my sponsors and the fans.
"I'm a businessman. I always look at business where you can't just stay status quo. If you do that, you'll start to go down. So I look to continue to grow."