PORTLAND, Ore. (AP) — Santino Ferrucci has spent most of his life trying to be the next American driver in Formula One. His journey took him from go-karting in Connecticut to European junior racing in Italy and a development deal with the Haas F1 team.
Then Ferrucci torpedoed his career in spectacular fashion.
The 20-year-old in July purposely crashed into his teammate at the end of an F2 race, refused to appear before race stewards to discuss his actions and was later reprimanded for driving with a gloveless hand holding a cellphone. He was fined almost $80,000, suspended for four races and dropped by his team, which sided with Ferrucci's teammate for the "unsportsmanlike and above all uncivilized behavior that he was forced to endure … by Santino Ferrucci and father, who accompanied him."
Haas has not dropped Ferrucci from its development program, but the driver is essentially persona non grata in European racing circles right now.
So Ferrucci has been back in the U.S. the last month, roaming the IndyCar paddock. He raced the doubleheader in Detroit in June and liked IndyCar, so that's where he returned after his F2 debacle.
Ferrucci has scraped together a deal for the remaining two races of the season with Dale Coyne Racing, and he'll be in the field Sunday in IndyCar's return to Portland International Raceway.
It could be argued that IndyCar is Ferrucci's only option right now and that unless he completely rebuilds his reputation, he may never get another chance to race in Europe again. But if he's settling, Ferrucci is saying all the right things in an effort to show IndyCar is where he wants to race.
"This is where I want to be," Ferrucci said of IndyCar. "This atmosphere, this series, this is where my focus is now. I've reprioritized where I'm trying to be and this is it now."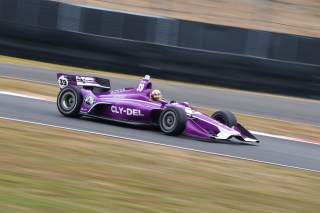 He talks about the welcoming paddock in IndyCar and competitors who want to help each other learn. Ferrucci noted IndyCar became a viable route first when Alexander Rossi abandoned his climb through F1 – Rossi is now an Indianapolis 500 winner and in the thick of IndyCar's championship race – and Robert Wickens, who chose IndyCar this season when he left touring cars in Germany. Wickens is currently hospitalized with a spinal injury suffered in an Aug. 19 crash.
Ferrucci is also embedded with the Coyne team, giving him access to studying craft with Sebastien Bourdais, a four-time series champion and former F1 driver. Bourdais is blunt, sugarcoats nothing, and has no time or tolerance for arrogant young drivers.
Ferrucci over the last month has figured out how to work with the French champion.
"Seb is very direct. When you ask him a question, there's a good chance you won't like the answer," Ferrucci said. "I've worked on learning to like his answers."
Ferrucci said he's worked on many things since his meltdown at Silverstone in July, including how to handle his emotions and learning not to erupt when he's frustrated or angry. He maintains he crashed into his teammate out of anger and dismisses a sponsorship flap with his F2 team as an "internal team matter that should not have been made public." Ferrucci tried to run a "Make America Great Again" sticker on his car but the FIA rejected the request because political slogans or symbols are banned.
Ferrucci is vague on the MAGA incident. But he notes that he's not from a wealthy family and needed outside backers to continue his career through his teenage years. In exchange for funding, Ferrucci runs decals and branding that are dictated by his sponsors.
Ferrucci said he was never any good at traditional sports and, because he idolized Michael Schumacher, he decided very early to become a driver. It was a quirky hobby for an Italian kid in Connecticut, and Ferrucci says he was often bullied at school.
"I don't talk about it that much because it's embarrassing," Ferrucci said. "But I was bullied because I did something different, because I wasn't like the other kids."
His early experiences hurt him later in Europe, where the competition is cutthroat for every sponsorship dollar and available seat. Friendships were hard to come by, the opposite of the close-knit IndyCar paddock, and Ferrucci said he feels accepted in this series.
Ferrucci's future beyond the IndyCar season finale at Sonoma is up in the air. He assumes he'll be at F1's U.S. Grand Prix with the Haas team in Texas, but reiterated he'd like to put together a future in IndyCar.
He could get a step closer, he believed, with two clean finishes in the Coyne car and a chance to change his image.
"People think I'm this rich, arrogant kid and that's not accurate," Ferrucci said. "I'm 20 years old and I've made mistakes, and I'm emotional and have done stupid things. I've learned from it and now I have to show that I'm not who people think I am."