Patricio O'Ward clinched the 2018 Indy Lights Presented by Cooper Tires championship on Saturday with a Race 1 victory following a hard-fought duel with Andretti Autosport teammate Colton Herta.
O'Ward led early on after starting on the pole, but Herta took the lead on Lap 5 after an aggressive inside pass entering Turn 1.
However, after regrouping and closing back in on Herta, O'Ward returned the favor on Lap 12, making the same move entering Turn 1 to retake the lead – Herta tried to defend, but was pushed out wide and bounded over the curbing in the Festival Curves.
O'Ward pulled away from there, leading Herta at the finish by 1.6 seconds.
The victory also comes after O'Ward crashed in qualifying for Race 2 earlier on Saturday. O'Ward drifted off the track approaching Turn 4, and slid all the way into the tire barrier, making hard contact with the left-front corner of his Dallara IL-15.
However, the Andretti Autosport team quickly repaired the car, allowing O'Ward to make the start for Race 1.
"I was screaming in the car! You work for it all year, so many months of just hard work and focus, and finally all that weight is off my shoulders," said an elated and emotional O'Ward afterward.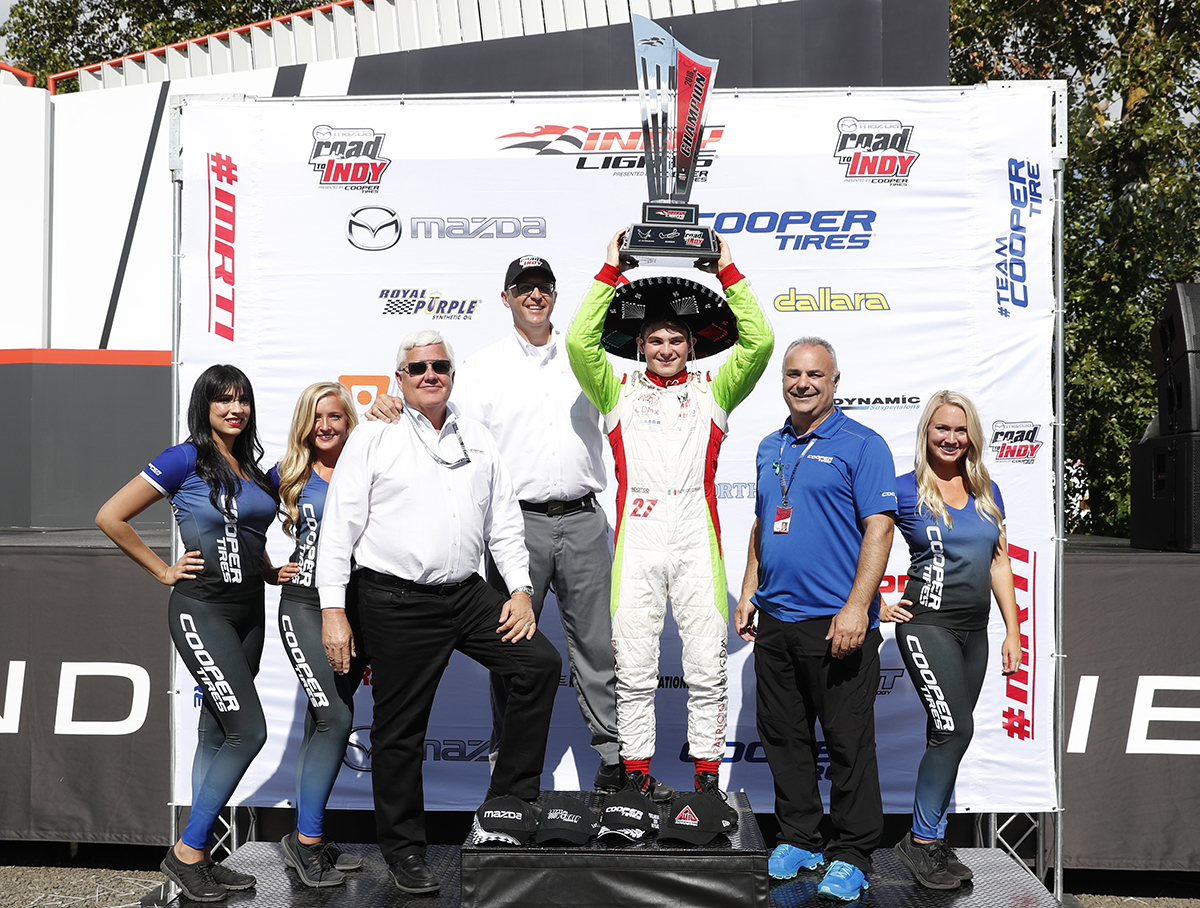 "I knew it would be a battle with Colton (in Race 1), and I had to beat him, because that's the only way you can be a champion. My pass on him was pretty much the same pass he did on me; he just didn't give me as much room as I gave him. It was hard racing: we both want to win. I knew I had the car and I just had to get around him. It's been this way all year, just hard-fought races. We have been pushing each other so hard, and IndyCar owners have realized that. Hopefully you'll see us both in IndyCar next year!"
Herta finished second, with Victor Franzoni rounding out the podium.
Santi Urrutia, Ryan Norman, Aaron Telitz, Dalton Kellett, and Heamin Choi completed the running order.
Results are below. The 2018 season finishes on Sunday with Race 2 at 12:55 p.m. ET (9:55 a.m. local time).