PORTLAND, Oregon – The start of Sunday's Grand Prix of Portland has begun with a real bang.
Seven drivers were involved in a Turn 3 crash on the opening lap. James Hinchcliffe and Zach Veach made the initial contact, then collected Sebastien Bourdais, Graham Rahal, Ed Jones and the worst for the wear, Marco Andretti, whose car wound up on its side, almost completely upside down.
Rescue workers righted the car and Andretti was able to climb out uninjured. In fact, all drivers involved were unhurt.
"I was a little worried about my head, that was a little scary, but we're good to go," Andretti told the IndyCar Radio Network.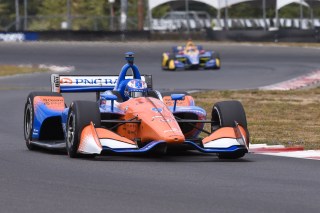 But perhaps the biggest victim of the crash was Verizon IndyCar Series points leader Scott Dixon. Dixon's car was hit hard in the rear but suffered only minor damage.
Dixon started the day with a 26-point lead over Alexander Rossi. But following the Lap 1 incident, Dixon has mathematically dropped out of the lead – he restarted in 21st place – and now trails Rossi by 14 points as the race resumed.
On Lap 8, shortly after the restart, pole sitter Will Power unexpectedly slowed, allowing several cars to pass him and allowed Alexander Rossi to grab the lead. Power fell all the way back to 12th position — the problem appears to be a first gear issue — but he's trying to work his way back up the pack.
Still, this is a 105-lap race on the 1.964-mile permanent road course, so look for a lot of other action still to come.