There's no question about it: the 2018 season has been a coming of age for Alexander Rossi.
We're not talking about Rossi's actual age (although he turns 27 on September 25th). Rather, in 2018 the Auburn, California native has come into his own as one of the most successful and consistent drivers in IndyCar.
The stats he's amassed this season have more than doubled his overall performances in his first two seasons in IndyCar, 2016 and 2017.
Sure, he won the 100th Indianapolis 500 in 2016 as a rookie. And while that will likely be the pinnacle for the rest of his career – unless he wins the Greatest Spectacle In Racing a few more times – Rossi has gone from curious spectacle after winning the 500 to a legitimate championship contender.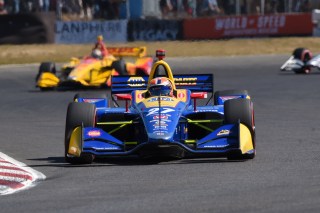 Consider the facts:
* Rossi earned one win (Indy in '16 and Watkins Glen in 2017) in each of his first two seasons. He's already won three races in 2018, with one more race remaining next weekend, the season-ending Grand Prix of Sonoma at Sonoma Raceway.
* Rossi had a combined four podium finishes in his first two seasons. He's doubled that in 2018 with eight podiums in the first 16 races.
* He led 23 laps in 2016, including 14 en route to his win at Indy, and led 99 laps in all of 2017. Thus far in 2018, he's led 415 laps.
* He had an average start and finish of 14.3 and 11.8, respectively, in 2016. He improved to 8.6 and 9.5 last season. But this season, Rossi has really shined, with an average start of 6.3 and average finish of 5.6.
* He had 11 lead lap finishes in both 2016 and 2017, a mark he's already eclipsed in 2018 (15). He's also been running at the finish in every race this season, as opposed to 15 in 2016 and 16 in 2017.
If that's not a breakout season, what is?
"It's been great," Rossi said during a Thursday morning IndyCar media teleconference. "It's been a continuation of really the second half of 2017 where I think the whole Andretti Autosport organization made a pretty big step forward. It's been a pleasure to be part of the team and watch the progress that's been made since I came onboard in '16.
"The fact that we've been able to win three races this year, run towards the front most weekends, has been kind of just the result of a lot of hard work and a lot of very good people on the team."
Now Rossi will have the biggest race of his career on Sept. 16. Yes, even bigger than his win at Indy.
If the driver of the No. 27 Andretti Autosport NAPA Auto Parts Honda can overcome the 29-point deficit he has to series leader Scott Dixon, Rossi will become an IndyCar champion for the first time – and potentially the first of perhaps several more to come in the future.
Dixon will not make it easy on Rossi. The New Zealander also has great incentive: he is going for his fifth IndyCar championship at Sonoma.
In fact, Dixon has had a very Rossi-like year – or you could say Rossi has had a very Dixon-like year – with three wins, eight podiums, 357 laps led, a 7.9 starting average and the best average finish of all IndyCar drivers in the series at 4.4.
Rossi knows what's on the line next Sunday. He also knows that he pretty much has to drive the race of his career, yes, even bigger and better than at Indianapolis.
He can't wait for Dixon to slip up and make a mistake, because that's a rarity. If Rossi expects that to happen, he could potentially be in for a rude awakening.
Rather, he has to make things happen on his own. And while he has to drive aggressively as he traverses Sonoma, he also has to reign in over-aggressiveness, lest that leads to an incident with another driver that could potentially end his championship hopes early.
"To actually be going into this weekend with a goal in mind of trying to win the thing outright, it's just a privilege," Rossi said. "It's a privilege to be mentioned in the same sentence at Scott Dixon, to be able to race against someone of his caliber week in and week out, hopefully get the better of him."
Rossi acknowledges that if it wasn't for a string of fair to mediocre mid-season showings, he might actually be leading the championship battle heading to Sonoma, not Dixon. At the same time, he and his team rallied back hard and fast to be right in the middle of the title bout.
"I think there's always points in the season which you look back on as a missed opportunity," he said. "You talk about that, then you look forward, you try and maximize the best that you have. We had three pretty rough weekends in a row with Road America (16th, his worst finish of the season), Iowa (9th) and Toronto (8th). We knew that it was going to take something pretty special to get ourselves back in the fight.
"Going to Mid-Ohio, we just focused on just doing our job on Sunday. We always had a fast car, but we weren't executing, sometimes making mistakes, generally up and down throughout the whole team. You can't win a championship that way. I think everyone just really refocused and recentered going into Mid-Ohio. We've seen the results of that (he won there and again in the following race at Pocono, as well as was runner-up at Gateway)."
Now with one race left, you'd think Rossi would have at least one advantage over the other three championship contenders: Dixon, Will Power and Josef Newgarden.
The reason: Sonoma Raceway is only about 90 miles from Rossi's hometown. He considers it his home track and he realizes how many family members and friends will be in attendance next Sunday, cheering him on – hopefully to the championship..
First, the good news about his family and friends being at-track next weekend.
"The past couple of years I've had probably a bit more than 75 guests," Rossi said. "It's an amazing weekend from that standpoint. Obviously with it being the last time we're racing at Sonoma (IndyCar will race starting next year at Laguna Seca instead of Sonoma Raceway), we'll hopefully end on a high personally, because that track has a lot of personal history for me and my family.
"Yeah, we're just going to try to go out there, put on a show for everyone, make it a pretty awesome season finale."
Will having so many friends and family there put more pressure or act as more of a distraction for the business at hand for Rossi?
"I don't really think either," he said when asked by NBC Sports. "It makes my weekend busier because there's a lot more kind of meet-and-greets, stuff like that.
"At the end of the day, you don't really realize, I mean, who is there or what's there as soon as you get to pit lane, put your helmet on.
"Yeah, it doesn't really matter to me. I'm really happy there will be friends and family and such there. Hopefully it's a good enough weekend that we can all have a big celebration Sunday night."
But even though Sonoma Raceway is his home track, surprisingly, Rossi doesn't consider it one of his favorite tracks.
"It's not in the top five," he admitted. "I don't know where to go from there. I mean, it's a great track from the standpoint of it's in a beautiful part of California, it's very challenging to drive.
"It's a track most affected by weather conditions because it's on the hill. The performance and pace you have in the morning to where you are in the afternoon is drastically different. I mean, it definitely keeps you on your toes.
"No, I wouldn't consider it a favorite of mine."
That could change, of course, if he wins next Sunday. But one thing that won't change, no matter what, is Rossi's mindset and his team's strategy going into Sonoma.
"You don't change your approach," Rossi said. "I mean, I'm going to win, I'm going to try to beat people, do exactly what we've been doing all year. That's our only responsibility.
"If we win, we've done our job right. If it doesn't happen, that doesn't really matter. We have to go into the weekend and do all we can do to maximize ourselves, our potential.
"We have had a car in contention to win a race probably 90 percent of this year. There's no reason to change that now."