Courtesy: IMSA Wire Service
MONTEREY, Calif. –
Derani Joins No. 31 Whelen Cadillac Team Alongside Nasr for Full 2019 WeatherTech Championship
Action Express Racing today confirmed its full-season driver lineups for the 2019 IMSA WeatherTech SportsCar Championship. The lineup for its No. 5 Mustang Sampling Cadillac DPi-V.R came as no surprise, as the team confirmed current drivers Filipe Albuquerque and Joao Barbosa will continue in the car, along with Christian Fittipaldi in the Rolex 24 At Daytona in what will be his final race as a driver.
The big surprise was the addition of current Tequila Patrón ESM driver Pipo Derani, who will share the No. 31 Whelen Engineering Cadillac DPi with incumbent driver Felipe Nasr for the full year. Eric Curran, the 2016 WeatherTech Championship Prototype co-champion and current Prototype class points co-leader with Nasr, will move to a Michelin Endurance Cup-only role with the No. 31 team next year.
In short, there's going to be a lot of Portuguese being spoken under the Action Express tent next year between Portugal natives Albuquerque and Barbosa, and the pair of Brazilians in Nasr and Derani.
"I've told (team manager) Gary (Nelson), 'If you have someone who speaks Portuguese on this team, you'd better not tell us who it is, because we're going to be speaking a lot of Portuguese here, that's for sure," Derani said. "It's been very nice to be able to confirm that I'll be racing with Action Express, a team that I've been racing against for the past three years.
"They're a championship-caliber team and every time I raced against them, they were so hard to beat. Most of the times, we were beaten by them, so it's a great opportunity to join forces."
Derani and Nasr have known each other for quite some time, but this will be their first time sharing the same race car.
"It's another Brazilian on the team and I couldn't be happier," Nasr said. "It's a great addition for the team as a teammate. He's a winning driver. He's proven out there that he's able to win, able to be consistent and fast. He's won Daytona and Sebring, so he's a proven winner. I've known Pipo since our go-karting days back in Brazil when we were probably aiming to be a professional driver. Now, we are sharing a car together."
Before next year, however, there's still the matter of this year's championship. Nasr and Curran currently lead the Prototype standings by seven over Albuquerque with two races remaining, and Curran would like nothing more than to finish out his full-time run in the No. 31 with another title.
"Obviously, there's a lot of conversation and things changing here, but the main focus for Felipe and I is to win the championship," Curran said. "We've got here at Laguna Seca and off to Road Atlanta and Petit Le Mans. There's two races to go and we'll just keep doing what we've been doing all year. It'd be amazing to come out with a championship again here in 2018. It'd be a big thing for Whelen Engineering, a big thing for Cadillac and Action Express."
Recovering Dwyer Returns to Site of Most Recent Continental Tire Challenge Win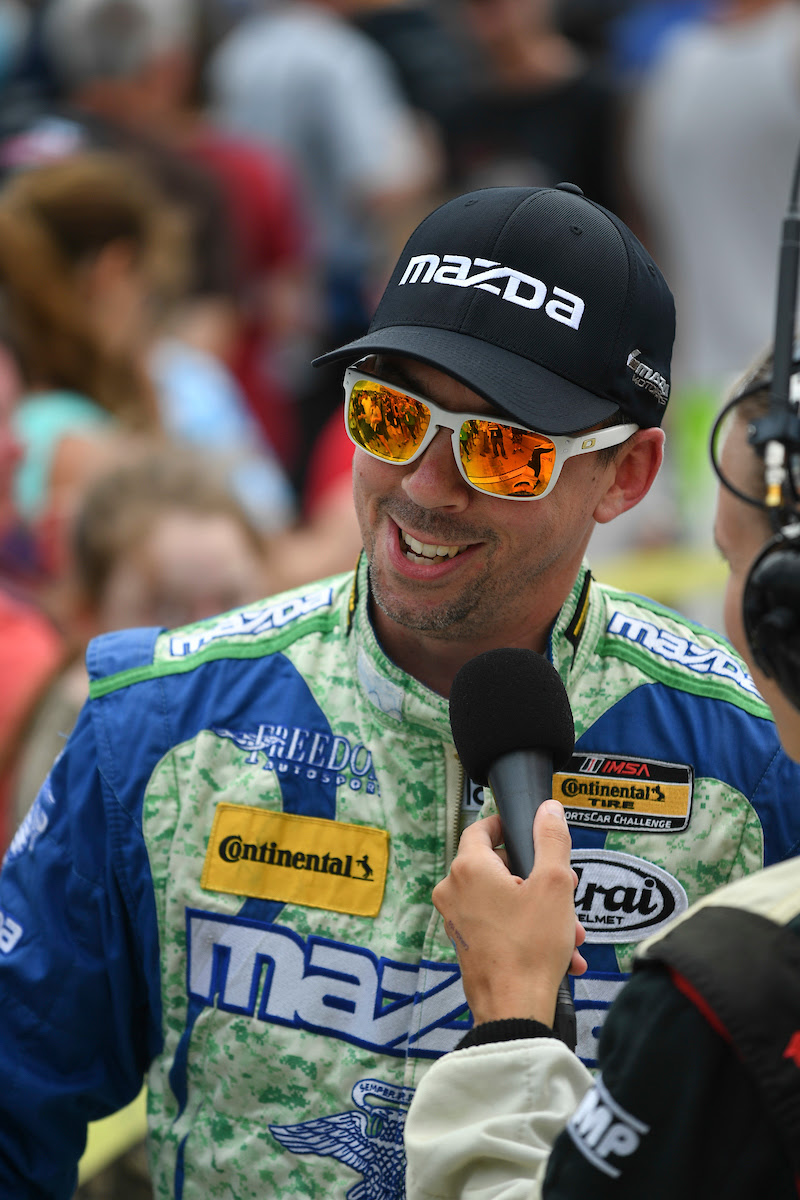 One of the most popular drivers in the WeatherTech Raceway Laguna Seca paddock on Friday was Liam Dwyer. Countless drivers and team members were thrilled to see the former U.S. Marine Corps Staff Sergeant and two-time IMSA Continental Tire SportsCar Challenge race-winner, who took the 2018 season off as he recovers from surgeries to both of his legs, which were lost in an explosion during a tour of duty in Afghanistan.
Dwyer was just as happy to see them as well. And he was particularly pleased to be back at the site of his most recent Continental Tire Challenge victory, which came in 2015 with Sgt. Aaron Denning – the man who slowed the bleeding and carried him to safety after Dwyer's 2011 injury in Afghanistan – in attendance at the race.
"The biggest thing about being back here at this track and something that I think about every time we're coming to Laguna, is that race win that we had," Dwyer reminisced. "Aaron Denning, the guy that saved my life, was here for it. He was part of the crew, he waved the green flag, but Mazda and Freedom (Autosport), we finished 1-2 that race.
"I'll never forget that day. It's the whole collective team atmosphere at Freedom. We brought Aaron in for the weekend and Aaron got to experience it to see what I'm doing with my life post-injury. It's not that I'm just going out there and just driving laps around. No, this is real, true, hard-core racing.
"You think about all the drivers that have raced in the series and how many of them have wins? The most wins in Conti is, I think, 20? 22? Something like that. I think it's Matt Plumb (Ed. Note – Plumb and Billy Johnson are tied for the all-time series lead with 23). You're like, 'Wow. There have been guys that have raced in the series for years and they don't have 20 wins? It's like, wow.' For me to have to two under my belt, that's huge. But to experience that win with the guy that saved my life, that's the biggest and best memory I have here about Laguna Seca."
Van der Zande, Cameron Relive Last Year's 'The Pass', Run 1-2 in Opening Practice Session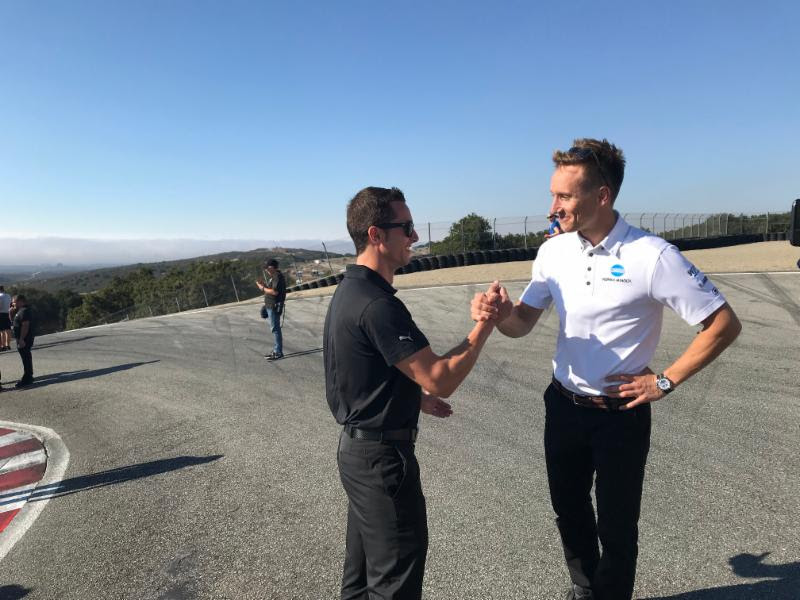 Renger van der Zande and Dane Cameron picked up right where they left off one year ago at WeatherTech Raceway Laguna Seca, posting the two fastest times Friday in the opening IMSA WeatherTech SportsCar Championship practice. This comes one year after the two delivered an instant classic in the closing minutes of last year's America's Tire 250.
In that race, van der Zande made a daring move from nearly five car lengths back, outbraking Cameron at the top of WeatherTech Raceway's famed Corkscrew with three laps remaining. Van der Zande went on to win by 2.248 seconds in the No. 90 Spirit of Daytona Racing Ligier LMP2 car started by co-driver Marc Goossens.
Both are driving for different teams this year, but van der Zande and Cameron again were 1-2 in the morning session. Van der Zande's No. 10 Wayne Taylor Racing Cadillac DPi-V.R. set the fastest time of the session with a lap of one minute, 16.828 seconds (104.794 mph). Cameron, who last year drove a Cadillac DPi-V.R. for Action Express Racing, but this year joins Juan Pablo Montoya in the No. 6 Acura DPi for Acura Team Penske, was second with a lap of 1:17.553 (103.914 mph).
Late in Friday's second practice and final WeatherTech Championship practice session of the day, Cameron improved his best time with a lap of 1:16.865 (104.817 mph). He led the afternoon session and wound up second on the day.
Prior to on-track activity, the two drivers met Thursday evening at the top of the Corkscrew to relive 'The Pass' and share their thoughts from the closing minutes of their epic battle.
"Somewhere at the top of the hill I told myself 'This is the moment, let's do it,' and I just braked super late and all the way to the inside," said van der Zande. "We touched a little, but it was all safe and clean."
Mueller Paces Friday GTLM Practice in No. 66 Ford GT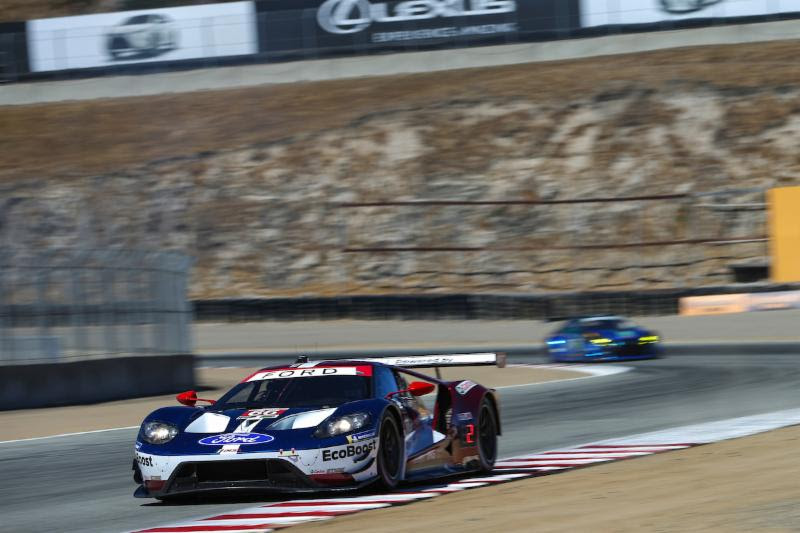 With nine points separating first from third in the GT Le Mans (GTLM) standings and two races to go, teams are pulling out all the stops in their final push for the championship.
No. 66 Ford Chip Ganassi Racing Ford GT co-drivers Dirk Mueller and Joey Hand – who come into the weekend third in the standings – had the upper hand on Friday at WeatherTech Raceway. Mueller posted the fastest lap of the day in the second and final session at one minute, 23.265 seconds (96.760 mph).
"First of all, to be here at WeatherTech Raceway Laguna Seca, it's always something special," Mueller said. "It's a really challenging place. It's a lot of fun, but secondly, you have so many different corners, which recommends a trick setup on the car. I'm really happy to have all the smart brains behind us. Ford Chip Ganassi Racing, our engineers, they're doing a really great job. Being on top of the charts at the end of Day 1 is fine, but we know it's a long way to go. It's definitely a good step."
Ryan Briscoe was second quickest in the No. 67 Ford GT was second at 1:23.427 (96.572 mph). Briscoe and co-driver Richard Westbrook come into the weekend second in the GTLM standings, four points behind the lead.
GTLM points leaders and defending champions Jan Magnussen and Antonio Garcia were third Friday n the No. 3 Corvette Racing Chevrolet Corvette C7.R. Magnussen posted a best lap of 1:23.605 (96.367 mph).
Park Place's Lindsey, Bergmeister Hoping Final Drive of 2018 Brings Good Result at Home Track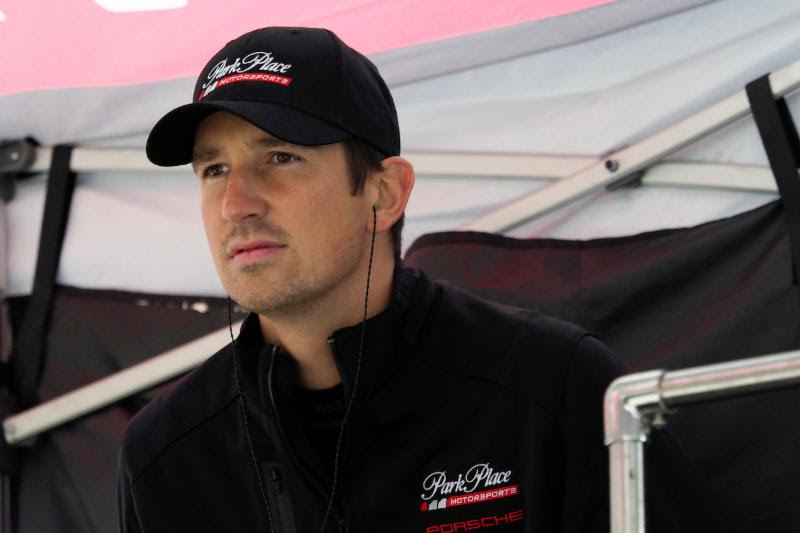 While the Continental Tire Monterey Grand Prix weekend at WeatherTech Raceway Laguna Seca marks the penultimate round of the 2018 IMSA WeatherTech SportsCar Championship season, it'll be the final drive of the year for co-drivers Patrick Lindsey and Joerg Bergmeister.
Piloting the No. 73 Park Place Motorsports Porsche 911 GT3 R, the pair has contested four previous races this season and the car will be on the grid at the season-ending Motul Petit Le Mans at Road Atlanta on October 10 – 12, albeit with different drivers as Lindsey and Bergmeister are tapped for the conflicting 6 Hours of Fuji in the World Endurance Championship.
For Lindsey, however, there's no place like WeatherTech Raceway Laguna Seca to finish off the season for the team based in Santa Barbara, California, which is just under four hours from the 2.238-mile road course in Monterey.
"Monterey is the closest geographically for where our team is racing this year," said Lindsey. "Laguna in the past has been a tricky track for everybody. We've had strong results here especially when we moved from May to September races and I feel like our team generally grooves and closes the season a little stronger.
"The guys are amped up. They haven't skipped a beat even though we haven't been full season participants. They've been really on it at Watkins Glen, Road America and of course the start of this race week. The guys have been really strong. Even though we haven't been here the whole year, it's nice to unload and be competitive no matter where we are."
And the team has been competitive, despite what the results may show. While the No. 73 Porsche recorded top-10 finishes at the Mobil 1 Twelve Hours of Sebring in March and the Sahlen's Six Hours of The Glen in July, it hasn't been a season without challenges. The car was involved in a qualifying incident at Watkins Glen that required significant damage repair before the race and in August at the Continental Tire Road Race Showcase at Road America, was closing in on the lead before being involved in a race-ending incident.
"To be able to close one out from the standpoint of getting a result before Joerg and I pack it up for the year, it would mean a lot," Lindsey said. "It would also mean a lot because going forward, Park Place is looking to grow next year in some of its client programs. Having strong results always helps sell the program.
"Everybody in this paddock is in the same boat and that's why we like racing. It's very objective, you get to live and die by your results. For this year, it would mean a lot to have a result here. And if not, so be it. Racing is not the easiest sport out there, especially with the competitive field that IMSA has here, but that's why we're drawn to it because we're competitive people and we want to race against the best. That's why we do it."
For good measure, Bergmeister was quickest of the day Friday in GTD practice at WeatherTech Raceway, posting a best lap of one minute, 25.148 seconds (94.620 mph).
Wilson Continues Automatic Racing's Momentum at WeatherTech Raceway with Fastest Continental Tire Challenge Time of the Day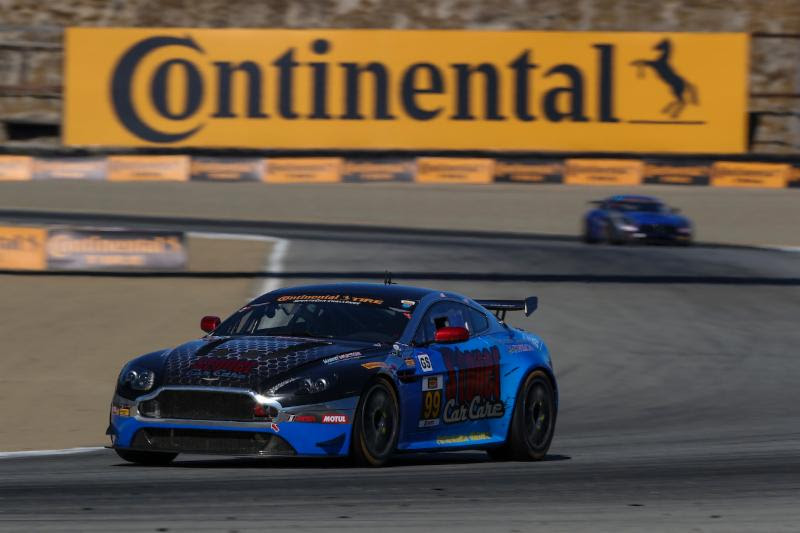 It was one year ago that Automatic Racing took the underdog victory during the four-hour IMSA Continental Tire SportsCar Challenge race at WeatherTech Raceway Laguna Seca with Al Carter and Steven Phillips in the No. 99 Aston Martin Vantage.
Following Friday's on-track activity at WeatherTech Raceway, the No. 99 was once again on top of the leaderboard, topping the day's two Grand Sport (GS) practice sessions with a best time of one minute, 33.123 seconds (86.517 mph). It'll be a different duo behind the wheel though this weekend, with Kris Wilson and newcomer Gary Ferrera piloting the Aston Martin.
Wilson, who posted the day's fastest lap and owns 75 starts in the Continental Tire Challenge, will be guiding Ferrera, who is making his first series start and also competing at WeatherTech Raceway this weekend in the GT3 Trophy series.
Yet while the day started strong for the No. 99, the afternoon practice session didn't go quite as planned.
"We showed what we had and the first session was awesome," said Wilson. "But we opened up the fuel tank between sessions just to get the capacity right and something didn't get plugged back in correctly so we didn't make the second session. We were planning on doing our pit stop practice with driver changes and all that. Gary's new this weekend, he's never done this before, so we were going to go through stuff and we missed out on that. But it's all good, this is the winning car from last year so there's big pressure."
After winning the most recent Continental Tire Challenge race at VIRginia International Raceway two weeks ago with co-driver Kenton Koch, Tom O'Gorman continued to top the TCR class charts in the No. 12 eEuroparts.com Racing Audi RS3 LMS, with a fastest time of the day at 1:34.671 (85.102 mph) set during Practice 2.
In the Street Tuner (ST) class, it was Mat Pombo in the No. 73 MINI JCW leading the way. His time of 1:39.853 (80.686 mph) was set during Practice 1 and he'll be co-driving this weekend with Mike LaMarra. The IMSA Continental Tire SportsCar Challenge has a brief 15-minute practice session on Saturday before qualifying begins at 10:15 a.m. PT. The WeatherTech Raceway Laguna Seca 120 goes green on IMSA.tv with IMSA Radio commentary at 3:15 p.m.